America 2.0
Thousands turn out for the unveiling of artist Kehinde Wiley's 'Rumors of War,' which many cited as a turning point from a Confederate past toward a more inclusive city
George Copeland Jr. | 12/13/2019, 6 a.m.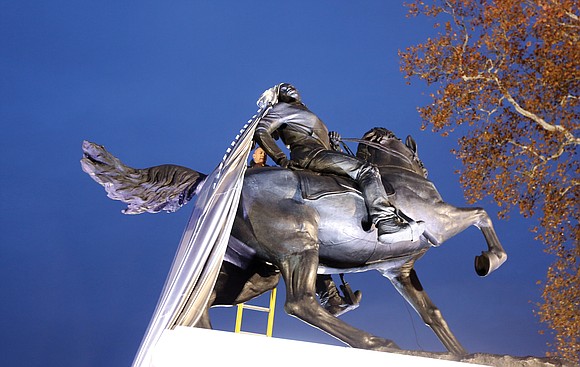 Kehinde Wiley's monumental statue, "Rumors of War," was unveiled Tuesday at its new home at the entrance of the Virginia Museum of Fine Arts, just steps from the headquarters of the United Daughters of the Confederacy and a brisk walk from the controversial Confederate statues on Monument Avenue it was created in response to by the artist.
"I'm nervous and overwhelmed by not just the amount of people, but the sheer history that we're dealing with," said Mr. Wiley, dressed in an eye-catching Nigerian print suit and Converse sneakers, in addressing an enthusiastic crowd of thousands gathered on the museum grounds.
The sculpture, depicting a young African-American man on horseback sporting dreadlocks tied atop his head, a hoodie, ripped jeans and Nike high-top sneakers, stands 27 feet tall, 25 feet long and 16 feet wide, not including the limestone base.
It provides an "alternative narrative" to the city's many Confederate monuments, Dr. Monroe E. Harris Jr., chairman of the VMFA Board of Trustees, said in a brief Free Press interview.
"This statue means so much to so many on so many levels," Dr. Harris said earlier Tuesday in addressing the crowd. "A black man on a horse in all of his regal splendor — it's never been seen before on this scale. It says that no matter what your background or your lot in life, you are important. This is a turning point for Richmond."
It is the largest sculpture created by the 42-year-old Mr. Wiley, who was commissioned to paint the official portrait of President Barack Obama in 2017.
The inspiration for "Rumors of War" came during a trip Mr. Wiley took to Richmond in 2016 for the VMFA premiere of an exhibit of his work, "Kehinde Wiley: A New Republic." Seeing for the first time the equestrian statue of Confederate Gen. J.E.B. Stuart among the five memorials to Confederates lining Monument Avenue, Mr. Wiley sought to create a piece that would reflect and respond to the imagery of "domination" the sword-wielding Stuart statue presents.
"I want this sculpture to be not about an individual, but rather about black men and their place in this society and, in a much broader way, a society that can say 'Yes' to black men."
He called the statue and the moment "consequential on a scale that goes beyond museum walls. It's about how we choose to give birth to the next group of people," he told the crowd.
While "Rumors of War" carries the element of destruction common to equestrian artwork and the Stuart statue, Mr. Wiley said it also carries an element of creation, while hopefully inspiring others "to feel just as engendered to the power that this sculpture represents."
"I think that what this thing represents is not just a story about race or gender, but a story about openness," Mr Wiley said. "It's a story about America 2.0. The 21st century will have to be a series of yeses to moments like this."
Alex Nyerges, director and chief executive officer of VMFA, said the statue was funded entirely through private donations, rather than state funds. The Associated Press reported that it cost $2 million, with the museum spending about $600,000 to $700,000 for additional expenses, including the cost of having the 30-ton sculpture shipped to Richmond and installed. It initially debuted on Sept. 21 in Times Square in New York City.
Programs at the ceremony listed the names of 56 donors, not including several founda- tions and family groups. Many are well-known area art patrons, including Dr. Harris and his wife, Dr. Jill Bussey Harris; Richmond Circuit Judge C.N. Jenkins Jr. and his wife, Dr. Pamela Royal; JMI founder and chief executive officer Ken Johnson and his wife, Dr. Lydia Johnson; University of Richmond President Ronald A. Crutcher and his wife, Dr. Betty Neal Crutcher; Jershon Jones, director of the transportation and logistics group for Harris Williams & Co.; Ken Dye, re- tired Comcast executive, and his wife, Sam Seeley; and William A. Royall Jr., founder of Royall & Company and former rector of Virginia Commonwealth University, and his wife, Pamela K. Royall.
The actual unveiling of the statue was briefly stymied by the rain, which caused the silvery drape that covered the statue to get caught in the figure's dreadlocks. Much of the crowd remained in place, however, as roughly 30 minutes passed before Richmond Firefighter John Lukhard climbed a ladder and used a pocketknife to cut the material away from the statue.
The crowd cheered and snapped photos of the fully revealed statue as the Richmond All-City High School Marching Band continued to play.
Deanna Scott-McDaniel, who drove from Virginia Beach to attend the ceremony with her mother, Davine Scott, and son, toddler Andrew McDaniel Jr., was excited, calling it "an honor" to be a part of a ceremony for a sculpture located on Arthur Ashe Boulevard on a day "celebrating African- American people and their accomplishments."
Richmond Mayor Levar M. Stoney expanded further on that connection in his remarks to the crowd. He said "Rumors of War," along with the street being renamed in June for Richmond native and tennis great Arthur Ashe Jr. and the 2017 unveiling of the statue of Maggie L. Walker, the first African-American woman to charter a bank, represents a cultural shift within the city to move past a "complex" history while embracing inclusivity and equity.
"This moment firmly establishes that our city is not living in the past, but embracing the future and the good," he told the crowd. "Today, Richmond is embracing a future that is happening right before our eyes."
Other speakers Tuesday included Gov. Ralph S. Northam; Valerie Cassel Oliver, the Sydney and Frances Lewis Family Curator of Modern and Contemporary Art; and Sean Kelly of Sean Kelly Gallery in New York City, who represents Mr. Wiley.
While the sculpture is the latest effort in Richmond to reckon with a troubling past, many people are offering additional steps to create a more inclusive future in the city.
Wendy Martin, a longtime volunteer tour guide at the museum, recalled a suggestion made by Chris Dovi of CodeVA, of turning the nearby UDC building into a slavery museum. It could be "a healing act of reconciliation" that would "show such grace on behalf of our city," Ms. Martin said.
Richmond City Councilwoman Kim B. Gray, 2nd District, this week announced she is seeking the council's support for a proposed monument to be placed on Monument Avenue to honor the 14 African-American soldiers who received the Medal of Honor for their heroism at the Battle of New Market Heights in Henrico County during the Civil War.
Councilman Michael J. Jones, 9th District, also has introduced a resolution seeking local control of the city's Confederate monuments. Virginia cities have been hamstrung in removing monuments because of a state law that protects memorials to war veterans.
Mr. Nyerges said during a Free Press interview after Tues- day's ceremony that "Rumors of War" represents "a huge and seismic change for Virginia and America." Its presence, he said, could "change the conversation" surrounding the Confederate memorials and the Lost Cause narrative they champion.
Mr. Wiley didn't speak on the future of the Confederate statues during the unveiling, but he acknowledged the changing cultural tides.
"Art has always been about what we as a people say yes to. And those things change; culture evolves," he said. "There's something moving in the culture. There's something changing in these winds."