Kehinde Wiley statue unveiled in Times Square; next home, Richmond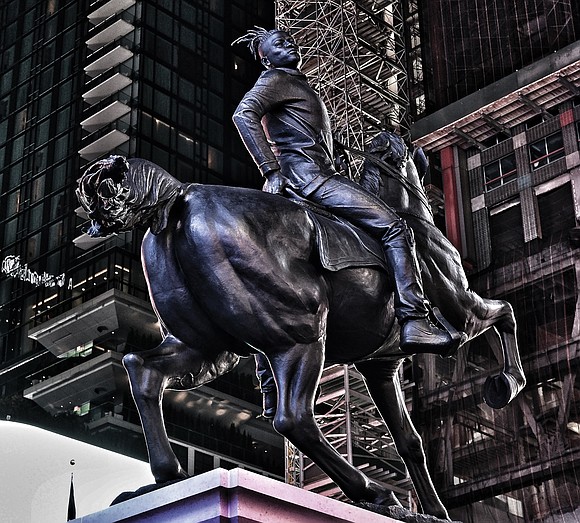 NEW YORK CITY - Artist Kehinde Wiley unveiled his biggest work ever last Friday — a massive bronze statue of a young African-American man in urban streetwear sitting astride a galloping horse. Called "Rumors of War," it flips the script on traditional statues in Richmond and through-out the South commemorating white generals.
Mr. Wiley described his bold work as a call to arms for inclusivity.
He told The Associated Press afterward that he hoped young people would see it and "see a sense of radical possibility — this, too, is America."
The project was born when Mr. Wiley saw the 15-foot-tall bronze statue in Richmond of Confederate Gen. J.E.B. Stuart astride a horse. That statue is among the string of Confederate memorials along Monument Avenue that includes statues of Robert E. Lee, Jefferson Davis and Stonewall Jackson.
"I'm a black man walking those streets. I'm looking up at those things that give me a sense of dread and fear. What does that feel like, physically, to walk a public space and to have your state, your country, your nation say, 'This is what we stand by.' No. We want more. We demand more," he said to the crowd of about 350 people at the Times Square unveiling. "Today we say 'Yes' to something that looks like us."
The horse-riding figure in the 27-foot-tall "Rumors of War" — on the Broadway Plaza between 46th and 47th streets — has turned in his saddle, his attention seemingly toward an American Eagle store. His Nikes are firmly in the stirrups and his majestic horse is in movement, focused on something across the street.
"Rumors of War" will be on display in Times Square until Dec. 1 before being moved to its permanent home in Richmond outside the Virginia Museum of Fine Arts on Arthur Ashe Boulevard, where it will be unveiled again on Dec. 10.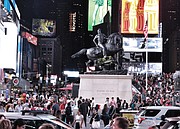 The unveiling ceremony in New York was attended by several Richmonders, including Alex Nyerges, director of the VMFA, Dr. Monroe E. Harris Jr., chairman of the museum's board, and Richmond Mayor Levar M. Stoney, who spoke at the event.
The event was bookended by performances from the marching band from Malcolm X Shabazz High School in Newark, N.J.
"Today is a monumental day," said Mayor Stoney in addressing the crowd. "In Richmond we have 10 Confederate monuments to the Lost Cause. I think that is 10 too many."
The mayor's Monument Avenue Commission recommended in July 2018 that Richmond's statue of Jefferson Davis be removed from the tree-lined street and that contextual signs be added to the others.
"Our friends who worked on the Monument Avenue Commission stated that addition has to be part of the recipe for us balancing the scales in Richmond in terms of the monuments we currently have to the Lost Cause and balancing that with heroes and sheroes from African-American culture," Mayor Stoney said.
Morgan Edwards of the VCU Capital News Service contributed to this report.