Baseball great Frank Robinson dies at 83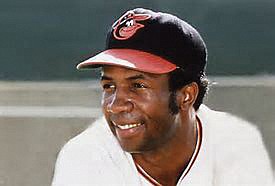 The world of baseball has lost a legend.
The great Frank Robinson died Thursday, Feb. 7, in Los Angeles following a lengthy illness at age 83.
Mr. Robinson was the only player to win MVP honors in both the National and American Leagues, and became the sports' first black manager.
He is survived by his wife, Barbara Ann Cole Robinson, and daughter Nichelle. 
As a slugger and outfielder, Mr. Robinson deserves comparisons with Willie Mays, Hank Aaron, Ken Griffey Jr. and Barry Bonds as premiere African-American players of all time.
"Frank Robinson's résumé is without parallel, a trailblazer in every since, whose impact spanned generations," Baseball Commissioner Rob Manfred told the Los Angeles Times.
How it started: The youngest of single mother Ruth Shaw's 10 children, Mr. Robinson was born in Beaumont, Texas. The family moved to Oakland, Calif., when he was a small child.
At Oakland's McClymond High, he was basketball teammate of future NBA great Bill Russell and baseball teammate of future big leaguers Curt Flood and Vada Pinson.
Mr. Robinson signed a pro contract with the Cincinnati Reds in 1953 for $3,500.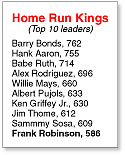 Star-studded career: Mr. Robinson was an MVP with Cincinnati in 1961 and Baltimore in 1966. He led the Orioles to World Series titles in 1966 and 1970, and won baseball's Triple Crown in 1966 with 49 homers, 122 runs batted in and a .316 batting average.
He possessed awesome power. On May 8, 1966, he became the first player to ever hit a home run completely out of Baltimore's Memorial Stadium.
Mr. Robinson also drew notice on the base paths, stealing 204 bases. Within the rules, he was feared by infielders for his cleats-flying "take out" slides.  
In a career spanning 1956 to 1976, he swatted 586 homers, drove in 1,812 runs and collected 528 doubles. He was walked 1,420 times.
A 14-time All-Star, he was inducted into the Baseball Hall of Fame in 1982 in his first year of eligibility.
Upon his retirement, Mr. Robinson ranked fourth all time in homers, behind only Aaron, Babe Ruth and Mays. He is now 10th on the career list.
Manager Robinson: Nearly three decades after Jackie Robinson (no relation) shattered baseball's color barrier in 1947, Frank Robinson became the first African-American manager in 1975 with Cleveland.
He was a rare "manager-player" in 1975. Filling in when needed, Manager Robinson played 49 games for the Indians, swatting nine homers. Dramatically, he slugged a home run in his first at bat as a manager-player.
Held in the highest esteem by players and owners alike, he later managed the San Francisco Giants, Baltimore Orioles and Montreal Expos. In all, he managed 2,241 major league games.
Legacy: Three franchises have honored Mr. Robinson with bronze statues.
In 2003, Cincinnati dedicated a statue at Great American Ballpark.
In 2012, Baltimore unveiled a statue at Oriole Park at Camden Yards.
In 2015, Cleveland dedicated a statue at Progressive Field.
Also, in 2005 President George W. Bush honored Mr. Robinson with the Presidential Medal of Freedom.