Powerhouse Elexis 'Lexi' Edwards a force on national gymnastics scene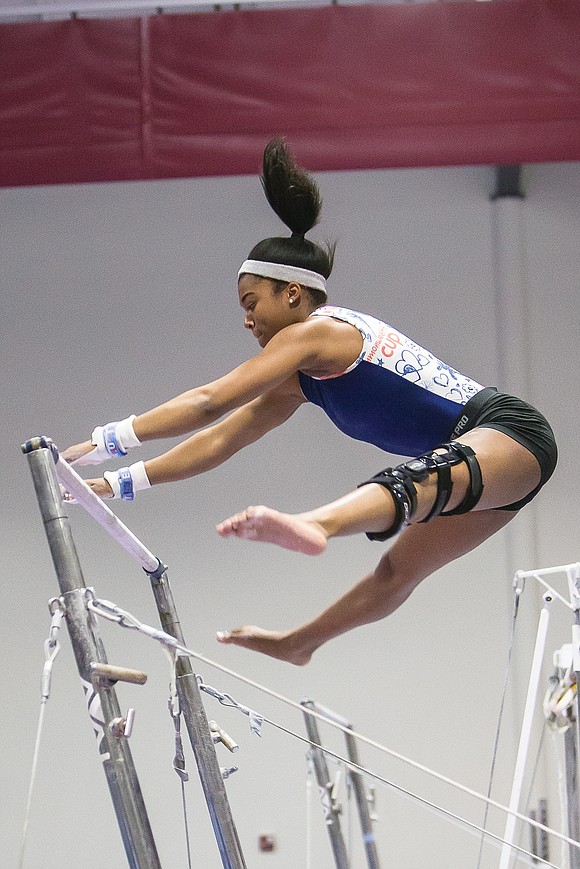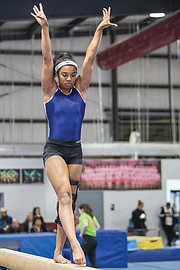 When all was well, an abundance of physical power helped Elexis "Lexi" Edwards climb to the top peg of her sport.
Unwavering willpower kept her from losing her grip when hard times struck.
Edwards, a 17-year-old senior at Monacan High School, recently signed a full gymnastics scholarship with Ohio State University, which is ranked No. 22 in the nation.
It hasn't always been all seashells and balloons, however, for this Chesterfield County athlete.
In March 2018, Edwards took a terrifying tumble on a vault and suffered a devastating knee injury. The accident required two surgeries. She missed months of practice at her home away from home, Virginia International Gymnastics School in Midlothian.
Damage was extensive. Her kneecap was dislocated and three ligaments were torn, forcing her to take her foot off the accelerator.
"I went from going 100 miles per hour down to zero miles per hour," she said.
Now Edwards is kicking up a cloud of dust on the comeback trail.
"I'd say I'm 80 percent," she said, and getting stronger every day.
She trains about four hours per evening under the direction of VIGS coaches Marshall Long and Laura Toro.
Edwards made a verbal commitment to Ohio State in 2016 after university recruiters spotted her at the Nastia Liukin Cup competition in Newark, N.J., where she finished sixth all-round.
Following what might have been a career-ending injury, OSU maintained confidence in Edwards and she kept the faith in herself.
"I never considered quitting. I'd come too far," she said.
OSU, a Big 10 Conference school located in Columbus, Ohio, can't wait to add Edwards to its active roster. The Buckeyes compete on the highest level of collegiate gymnastics.
"Lexi is the total package," said Buckeyes Coach Meredith Paulicivic. "She brings a wealth of talent and experience and we look forward to her making an immediate impact."
Despite being sidelined from competition for nearly a year, the muscular 5-foot-5 dynamo will take a glistening résumé to OSU. She was a three-time Junior Olympics national qualifier and member of the U.S. Junior Team.
The daughter of Sonya and Ernest Edwards — her dad is a former George Wythe High School athlete — Edwards has performed throughout much of the United States and as far away as Germany.
Her top scores all flirt with 10.0 — gymnastics' version of perfection. Her bests are 9.8 in vault, 9.55 on the bars, 9.7 on the beam and 9.75 in the floor exercise. Her best ever combined score was a 38.62 two years back at the Excalibur Cup in Virginia Beach.
There is no shortage of role models. The last two Olympic All-Around champions were African-Americans Gabby Douglas in 2012 and Simone Biles in 2016.
Closer to home, Chesterfield native Alex McMurtry went on to win the 2017 NCAA All-Around gold medal for the University of Florida.
Edwards' goal is the same as McMurtry's, meaning a pursuit of college stardom rather than chasing the Olympic dream.
"I made the decision that my main goal was to win a Division I scholarship," Edwards said.
Coach Long explains. "To have gone after the Olympics might have involved moving, or being home-schooled — it's just so hard.
"The U.S. is such a strong nation for gymnastics," Coach Long continued. "But for most other countries, Lexi would be a serious Olympic contender. She has competed against some of the top girls from other countries and done very well."
Edwards was still in kindergarten when she was introduced to gymnastics. It all started when she tagged along with her older sister, Erin Edwards. Erin, nearly a head taller at 5-foot-10, reached Level 8 and is now on a volleyball scholarship at Carson-Newman University in Jefferson City, Tenn.
"Right away, from day one, you could see Lexi was special," said Coach Long. 
Nothing has happened since to change anyone's high opinion. Like most champions, Edwards resides at the corner of perspiration and inspiration.