Lt. Gov. Fairfax compares 'rush to judgment' against him to Jim Crow-era lynching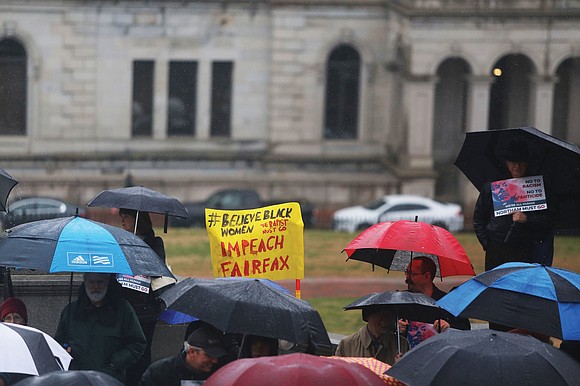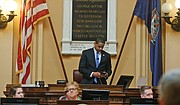 With his political career in tatters, embattled Democratic Lt. Gov. Justin E. Fairfax took a stand against his critics in the final moments of the 2019 General Assembly session.
He likened himself to Jim Crow-era lynching victims as he decried the "rush to judgment" he has faced since two women went public with allegations that he sexually assaulted them long before his election to statewide office.
Lt. Gov. Fairfax, who has stoutly resisted calls to resign and has repeatedly asserted that he never assaulted the women or anyone else, vented his frustration Sunday that he is assumed to be guilty before any attempt is made to back up the allegations with evidence.


Speaking impromptu from the rostrum of the state Senate where he serves as presiding officer, Lt. Gov. Fairfax renewed his plea for a full investigation of the charges rather than allowing "political lynchings without any due process or any evidence being given."
He said it's as if Virginia has turned back the clock to the era of segregation when that was the way things were done.
"I've heard much about anti-lynching on the floor of this very Senate, where people were not given any due process whatsoever, and we rue that," referencing legislation that both the Senate and the House of Delegates passed expressing "profound regret" for lynchings in Virginia between 1877 and 1950.
"And we talk about hundreds, at least 100 terror lynchings that have happened in the Commonwealth of Virginia" in which people were killed based solely on often false accusations, he said. For the accused, there was no trial and no need for proof.
Yet despite the apology for lynchings, "we stand here in a rush to judgment with nothing but accusations and no facts and we decide that we are willing to do the same thing," Lt. Gov. Fairfax said.
He was largely addressing the announcement from the Republican chairman of a House of Delegates Committee that his committee would provide a platform at some point in the future for the two accusers to repeat their allegations.
Neither of the women have filed criminal charges.
After Lt. Gov. Fairfax finished his surprise remarks, the 40 senators responded with complete silence.
The lieutenant governor spoke after Senate Majority Leader Thomas K. Norment, R-James City County, praised Lt. Gov. Fairfax "for his professionalism" and his "even-handed approach" in presiding over the Senate despite his situation, which drew standing applause from the Senate for Lt. Gov. Fairfax.
The allegations involving Lt. Gov. Fairfax, only the second African-American to hold statewide office, have come to overshadow the uproar involving his two 2016 running mates, Gov. Ralph S. Northam and Attorney General Mark R. Herring, for wearing blackface decades ago to impersonate African-American entertainers.
Gov. Northam and Mr. Herring also have rejected calls for their resignation.
Lt. Gov. Fairfax's career took a nosedive Feb. 3 when a California university professor, Dr. Vanessa Tyson went public with an allegation that Mr. Fairfax forced her to perform oral sex in his hotel room during the Democratic National Convention in Boston in 2004.
Her lawyer has said Dr. Tyson has plans to meet with prosecutors in Massachusetts to detail her 14-year-old allegation, but she has yet to do so.
After Dr. Tyson's allegation went viral, Meredith Watson of Maryland, added to Lt. Gov. Fairfax's troubles in airing her allegation that he raped her in 2000 while they were students at Duke University.
Ms. Watson, who has never returned to Durham, N.C., to speak with authorities about a criminal charge, has repeated her accusation in interviews and also clamored for the General Assembly to hold a public hearing to allow her to speak to them.
Two days before the 2019 legislative session adjourned on Feb. 24, Republican Delegate Robert B. "Rob" Bell III of Albemarle County announced that the House of Courts of Justice Committee he chairs would hold that hearing, though he did not give a date or provide much detail.
He said that Ms. Watson, Dr. Tyson and Lt. Gov. Fairfax all would be invited to testify before the committee, a move that Lt. Gov. Fairfax and many Democrats have panned as a political ploy aimed at publicly shaming the lieutenant governor.
Lt. Gov. Fairfax has indicated he won't participate in the hearing, leaving it an open question whether Delegate Bell and his GOP colleagues would try to compel him to appear, even if he would not testify.
Lt. Gov. Fairfax has said the accusations should be investigated by law enforcement authorities. In his Senate remarks, he said, "I am confident in the truth" and believes that he would be cleared.
Republican House Majority Leader Del. C. Todd Gilbert of Shenandoah County called Lt. Gov. Fairfax's comments about lynchings highly inappropriate.
"That is the worst, most disgusting type of rhetoric he could have invoked," Delegate Gilbert said. "It's entirely appropriate for him to talk about due process, and we would intend to offer him every ounce of it, and he's welcome to take advantage of that anytime he would like."
However, African-American legislators disagreed.

"He said what he needed to say," said Democratic Sen. Mamie Locke of Hampton.
Virginia Legislative Black Caucus Chairman Delegate Lamont Bagby of Henrico said he has heard similar rhetoric from his constituents, whom he said have expressed concerns that Lt. Gov. Fairfax is being treated unfairly because of his race.
Petersburg Delegate Lashrecse D. Aird also took Republicans to task on the House floor, noting that they are treating Lt. Gov. Fairfax differently in deciding to hold a hearing on his situation when they never took such action when other delegates and statewide leaders were "actually charged with criminal activity."
Describing the Republican-led hearing as a "political game," Delegate Aird noted that such a hearing could only be for show.
"What happens after the hearings?" she asked. "We can offer no conviction, we can offer no real action and we would have taken all parties involved through a political exercise that in the end can actually cause more harm than good and could have a chilling effect on others seeking justice.
"Let me make it crystal clear, as called for in earlier statements, due process is needed and should be afforded to all involved," she said. "The justice and due process that we seek should be by a law enforcement entity and not by individuals who will be on the ballot in November."