Rep. Omar, anti-Semitism and Islamophobia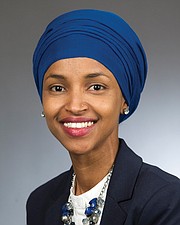 A Muslim civil rights organization has called on Fox News to fire host Jeanine Pirro for questioning Rep. Ilhan Omar's loyalty to the United States in a monologue on her weekend show "Justice with Judge Jeanine" and suggesting the Minnesota Democrat's decision to wear a hijab is "antithetical" to the U.S. Constitution.
"Such an open and un-American expression of religious bigotry should be rejected by any media outlet seeking even a modicum of credibility," said Nihad Awad, national executive director of the Council on American-Islamic Relations. "Jeanine Pirro should be fired, and Fox News should apologize to its viewing audience."
Ms. Pirro, who is a legal pundit for the conservative Fox News outlet, accused the Muslim congresswoman of advocating for Shariah law in America and for condemning Israel because of her religious beliefs.
"She's not getting this anti-Israel sentiment doctrine from the Democrat Party. … Then where is she getting it from?" Ms. Pirro asked in the first segment of her show last Saturday night. "Think about it. Omar wears a hijab. … Is her adherence to this Islamic doctrine indicative of her adherence to Shariah law, which itself is antithetical to the United States Constitution?"
Hufsa Kamal Khan, a Muslim woman who is an associate producer for Fox News host Bret Baier, criticized Ms. Pirro online.
"Can you stop spreading this false narrative that somehow Muslims hate America or women who wear a hijab aren't American enough?" Ms. Khan tweeted Sunday. "You have Muslims working at the same network you do, including myself."
Ms. Pirro responded to the backlash on Sunday by denying that she had called Rep. Omar "un-American."
"My intention was to ask a question and start a debate, but of course because one is Muslim does not mean you don't support the Constitution," Ms. Pirro said.
In a separate statement on Sunday, Fox News said "we strongly condemn" Ms. Pirro's statements and have addressed them with the host directly. In a tweet, Rep. Omar thanked Fox News for its statement.
"No one's commitment to our Constitution should be questioned because of their faith or country of birth," Rep. Omar said.
The Pirro segment comes amid continued backlash over recent comments made by Rep. Omar, one of the country's two first Muslim women in Congress, that were critical of a pro-Israeli lobbying group's influence on U.S. foreign policy. Democrats and Republicans alike have condemned her statement as anti-Semitic, saying they played into tropes about Jewish power and loyalty to Israel.
But according to Muslim Advocates' 2018 report "Running on Hate," language suggesting that American Muslims are orchestrating a conspiracy to take over the U.S. government and replace the U.S. Constitution with Shariah law is a common anti-Muslim trope used by politicians, pundits and online trolls.
Muslim civil rights groups have said the criticism of Rep. Omar, both from colleagues in Congress and among constituents, shows a "clear double standard."
Rep. Omar was the target of accusations of anti-Semitism and supporting terrorist groups throughout her campaign last fall. Last week, the FBI told media that it had begun investigating an assassination threat against Rep. Omar found scrawled on a bathroom stall in Minnesota.
"The attacks on Congresswoman Ilhan Omar are part of a coordinated, decades-long effort to paint American Muslims as inherently foreign, violent and deeply hostile to women, the LGBTQ community and Jews," said Farhana Khera, executive director of Muslim Advocates.
In response to Rep. Omar's comments on Israel, members of the U.S. House of Representatives approved late last week a broad, bipartisan resolution condemning anti-Semitism and, after a last-minute revision, other forms of hatred and bigotry, including Islamophobia.
According to the Council on American Islamic Relations, the resolution was the first piece of legislation mentioning Islamophobia to pass either chamber of Congress and the second to ever be introduced.