Rep. Ilhan Omar, others encourage U.S. to rebuild refugee resettlement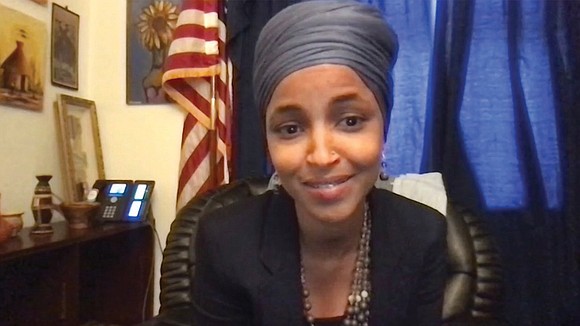 Congresswoman Ilhan Omar of Minnesota thanked Lutheran Immigration and Refugee Service during an online event June 17, in the name of "all the refugees you have settled and the millions around the world who have benefited from your work."
Rep. Omar knows, she said, because she is one of those refugees.
"After fleeing my home country of Somalia, I lived in a refugee camp in Kenya for four years before seeking hope and opportunity in the United States. And it was thanks to the support of LIRS that I and my family found a home in the United States," the Democratic lawmaker said.
Rep. Omar is just one of the lawmakers, religious leaders and former refugees who stressed the importance of restoring the United States' long-standing commitment to resettling refugees during a virtual panel hosted by LIRS, one of nine agencies contracted with the U.S. government to do resettlement work.
The panel was held to call attention to World Refugee Day, which was Sunday, June 20.
The speakers also pointed out the work ahead of refugee resettlement agencies as they rebuild programs decimated by four years of cuts, capped by a pandemic. Former President Trump dropped the refugee ceiling — the maximum number of refugees allowed into the country — to historic lows each year he was in office.
President Biden has raised the refugee ceiling from 15,000 to 62,500 for the remainder of the 2021 fiscal year, which ends in October. In May alone, his administration tripled the rate of resettlement this year, according to Krish O'Mara Vignarajah, LIRS president and chief executive officer.
But, as of this week, the United States still has resettled only 4,000 refugees this fiscal year, Ms. Vignarajah added.
While acknowledging the "moral and strategic imperative to continue our nation's legacy of welcome" and vowing to "do everything in our power to reach President Biden's stated goal of resettling 125,000 refugees in 2022," she cautioned that "we cannot ignore the Trump administration's efforts to dismantle the entire resettlement infrastructure."
With federal funding following each refugee who is resettled, those cuts forced more than 100 local resettlement sites to either suspend services or shut down entirely, Ms. Vignarajah said.
"A system that took 40 years to build was devastated in just four years," she said.
LIRS also celebrated the contributions of former refugees.
Ms. Vignarajah pointed to the work of Rep. Omar and U.S. Sen. Ron Wyden of Oregon, another Democrat, who shared in a pre- recorded message that his parents had fled Nazi Germany to come to the United States.
Dr. Lubab Al-Quraishi, a former Iraqi refugee who had been a pathologist in Baghdad, explained that thanks to an executive order by New Jersey Gov. Phil Murphy that licensed foreign-trained health care workers to help fight COVID-19 in his state, she spent the past year leading a team that tested nursing home residents for coronavirus.
"Me and my husband — he's a physician, as well — we decided to join in the battle on the front line to inspire others that although we are refugees, we are now part of this community, and trying to pass a message that immigrants and refugees are a vital part for the American economy and the American society," Dr. Al-Quraishi said.
Caring for others is at the heart of all the Abrahamic faiths, said the Rev. Emmanuel Jackson, a former Liberian refugee who now leads Living Word Lutheran Church, in Katy, Texas.
Rev. Jackson recalled the help he received from Catholic Social Services and from a local church when he arrived in Hastings, Neb. The church helped him get college scholarships and grants, and one congregant drove him to doctor's appointments and to get a library card, even encouraging him to go into ministry.
"It makes all of us better when we open our hearts to the greatest ideas of faith and the greatest call, which is a call to be compassionate, because at some point, someone was compassionate to us," he said.
Rep. Omar encouraged those tuning in to the panel to continue to advocate for refugees and asylum-seekers like those who had shared their stories.
She also voiced her support for proposed legislation such as the Lady Liberty Act and the GRACE Act, or Guaranteed Refugee Admission Ceiling EnhancementAct, which would set a minimum number of refugees the United States must resettle every year.
"I know that we can still achieve that American dream I dreamed about as a young refugee girl," Rep. Omar said. "And I will keep fighting until America once again fulfills its obligation to accept refugees and puts these hateful policies into the dustbin of history where they belong."