Report notes U.S. Jews of color overlooked, undercounted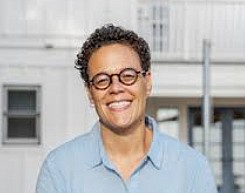 The typical photo of American Jews on synagogue websites, camp brochures and Jewish organizations' fliers features happy-looking white people.
A new report, however, suggests that picture is incomplete.
A review of national and regional Jewish population studies found that Jews of color represent 12 percent to 15 percent of the American Jewish population and that many younger Jews who grew up in multiracial households identify as nonwhite.
"Counting Inconsistencies," a meta-analysis undertaken by researchers at the Stanford Graduate School of Education, estimates there are 1 million Jews of color in the United States of about 7.2 million Jews in all.
The report found vast inconsistencies in how Jews of color were counted in recent population studies of American Jews. Many studies didn't ask about race or ethnicity. Others were inconsistent in their questions or used nonstandard language. The report recommends that future population studies follow federal guidelines for collecting data on race and ethnicity.
Jewishness is typically passed down through the mother; if the mother is Jewish, her children are, too. In recent years, the Reform movement has begun recognizing the children of a Jewish mother or father as Jewish.
But interracial marriages and children adopted from South America, Africa and Asia are increasingly accounting for the growth in the number of Jews of color. Judaism also welcomes converts.
Jews of color say they consistently face discrimination in Jewish institutions. Jared Jackson, founder and executive director of Jews in All Hues, said he keeps his cellphone handy on Yom Kippur, the Day of Atonement, because he frequently gets calls from Jews of color denied entrance to synagogues because they aren't recognized as Jewish.
"Some of it is ignorance," Mr. Jackson said. "Some of it is willful ignorance. Some communities don't want Jews of color in their communities."
Others say subtle or overt racism keeps many nonwhite Jews from fully participating in Jewish communal life, whether attending worship, joining a Jewish community center or attending a Jewish school.
But not enough has been done to place Jews of color in top leadership positions of major Jewish organizations, Ilana Kaufman of the Jews of Color Field Building Initiative said.
"We don't want a situation where all our organizations, all our leadership, all our visionaries don't represent the reality of who is the Jewish community," she said.
The largest concentration of nonwhite Jews was found in the San Francisco area, where a 2017 study found 25 percent of Jewish households included people of color.