Joy from pain
2 women impacted by gun violence work to bring comfort to others at Thanksgiving and throughout the year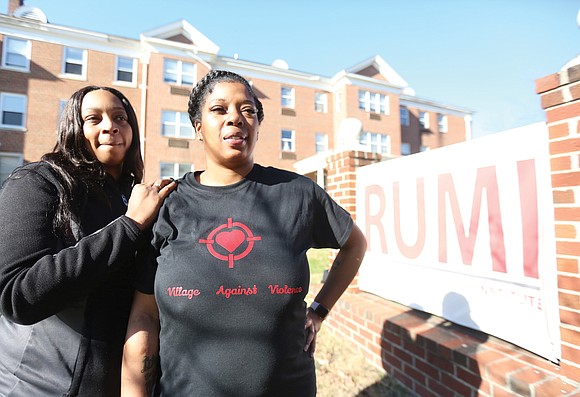 Turning tragedy into something positive for the community — that's what two Richmond area women are striving to do even as they grieve losses from gun violence.
Shavon M. Ragsdale, 33, who lost a close friend, and Kele A. Wright, 35, who lost a daughter, have created a nonprofit, The Village Against Violence, and are hosting benefit events ranging from a back-to-school rally to feeding the homeless, all in seeking to make a difference for others.
Ahead of Thanksgiving, they are grateful they can honor those they lost by uplifting others.
For example, the two are busy collecting Christmas gifts for selected families in honor of Amiya Moses, Ms. Wright's 12-year-old daughter who was killed by a stray bullet in December 2015 while playing outdoors with friends on Old Brook Road in North Side.
"We plan to bless 16 families as she would be 16 this year," said Ms. Wright, a call center supervisor who serves as president of the organization she and Ms. Ragsdale launched in June to partner with other groups.
The gift distribution is to take place at 5 p.m. Sunday, Dec. 15, in collaboration with the Richmond Urban Ministry Institute, which is sponsoring a community caroling event at the same time at its headquarters, 3000 Chamberlayne Ave., where The Village Against Violence also has space.
In another example, The Village Against Violence joined with Good Shepherd Baptist Church and other groups last Saturday to serve free dinners to the homeless and others in need at the sanctuary in Church Hill.
Volunteers and monetary support came from the church, United Healthcare, a DTLR store, the Excel to Excellence sports program, the Lady Duchess Social Club, and the Polished PEARL Society.
"More than 100 people were served a hot meal, and we had plenty left over to deliver to others," said Ms. Ragsdale, The Village Against Violence's founding chairwoman and a businesswoman who produces and sells natural hair products. "It was a wonderful event that shows what we all can do when we work together to make our community a better place."
The Village Against Violence is hardly alone in seeking to halt the pain and devastation that strikes shooting victims and their families. From the United Communities Against Crime to Moms Demand Action, a host of groups are engaged in the work of consoling families, helping to deal with the aftermath of violence or advocating for a change in state and federal gun laws.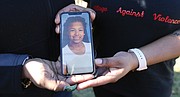 The Village Against Violence supports such efforts but puts most of its focus on people-helping activities.
"Whatever we can do to help people, that's what we are about," said Ms. Ragsdale.
She said the motivation for the group came from the shooting death of 9-year-old Markiya Dickson during the Memorial Day holiday weekend, who was hit by a stray bullet while playing in a South Richmond park during a community cookout.
"This is has been on my heart for awhile as the result of my own experience," Ms. Ragsdale said. "But after this, I knew I could no longer sit still. I had to do something," she said, explaining how she came to join with Ms. Wright, who personally felt the kind of pain that Markiya's family was experiencing.
Ms. Ragsdale said she got her own lesson in the devastating impact of such violence while celebrating her graduation from Virginia State University.
"About 16 of us who just got our diplomas went to a club in Emporia to do something different. As we left, someone got into an argument in the parking lot, guns got pulled, bullets started flying and one came through the trunk and struck my best friend as we were driving off," Ms. Ragsdale said.
Remembering these tragic deaths can start tears flowing.
"It still hurts so much," Ms. Wright said. "But now we want to move forward. The best way to for me to remember my daughter and for (Ms. Ragsdale) to remember her friend is to honor them with activities that make a positive impact. We need to show that there is a better way, and that's what we are trying to do."