VSU 'Trojan Express' rolls over Shaw; now heading to Elizabeth City
Fred Jeter | 10/11/2019, 6 a.m.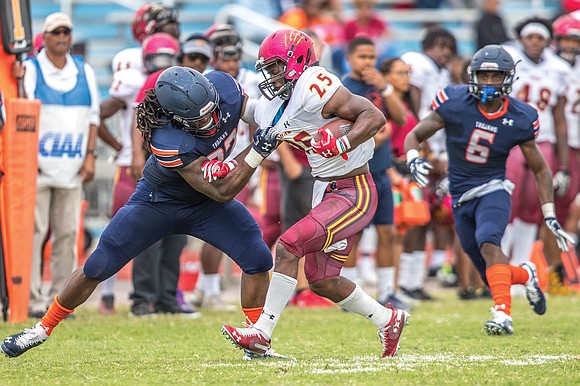 All aboard the Trojan Express.
It's hard to say what's rumbling louder nowadays — Virginia State University's offense or the Amtrak trains passing within earshot of campus.
Clearly, VSU is back on track following an uncharacteristically ho-hum 2018 season with a 4-5 record.
The Trojans are heading to Elizabeth City State University this Saturday, Oct. 12, with whistles steaming and the furnace burning overtime.
After dismantling Shaw University 35-0 last Saturday in Ettrick, the VSU Trojans under Coach Reggie Barlow are 4-1 overall and 2-0 in the CIAA this season.
In a four-game winning streak, VSU has overpowered its opponents 135-38.
The Trojans have weapons aplenty starting with senior quarterback Cordelral Cook. The third-year starter from Atlanta is the epitome of the run-pass option quar- terback. He's as likely to lead the team in rushing as in passing.
For the season, Cook has passed for 649 yards and four touchdowns and run for 343 yards and another four touchdowns.
There is no shortage of qualified ball carriers to hand off to, either.
Darius Hagans took the lead against Shaw University last Saturday, with 89 yards and a touchdown. The Trojans are averaging 259 yards overland, with 14 touchdowns and a 5.7-yard per carry average.
The Orange and Blue introduced a new weapon against Shaw in freshman Donavan Goode from Trinity Episcopal High School in South Richmond.
Goode, who had a 14-yard touchdown run, ranks with the fastest Trojans in memory. As a senior at Trinity, he set the state private schools' record with a scorching 6.39 seconds in the 55-meter dash.
The whippet-like newcomer is a second-generation Trojan. His dad, Ed Goode Sr., was a star defensive back for VSU under Coach Lou Anderson in the 1990s.
VSU made life miserable for Shaw quarterback Torrin Campbell, the CIAA's leading passer. Facing a relentless Trojans rush, Campbell completed just 18 of 45 passes and was sacked twice.
Native Floridian William Lulu was VSU's leading tackler with 10 stops. Lulu plays what VSU calls the MIKE position, similar to a middle linebacker.
VSU will be the top-heavy road favorite this week against the struggling ECSU Vi- kings. Elizabeth City State is 1-4 this season, with its lone win coming last Saturday over St. Augustine's University, 27-17.
VSU beat the Vikings 41-19 last year in Ettrick.
The Trojans' journey could get bumpy. On Saturday, Oct. 19, defending CIAA champion Bowie State University will come to Ettrick for a Northern Division showdown.
Despite losing CIAA all-time passer Amir Hall to graduation, Bowie State continues to dominate. The Bulldogs are 5-0 following a 23-13 win over Winston- Salem State University last Saturday.
Bowie State will provide the opposition for what will be homecoming weekend in Ettrick for the Trojans.
The Amtrak trains will be making loud noises nearby as they always do. VSU fans can only hope for the same from their Trojans.


Road trip
Saturday, Oct. 12:
Virginia State University plays Elizabeth City State University in North Carolina.
Kickoff: 1:30 p.m.
Game to be broadcast on WVST Radio, 93.1 FM.