Stay at home
Gov. Northam issues order through June 10
George Copeland Jr. | 4/2/2020, 6 p.m.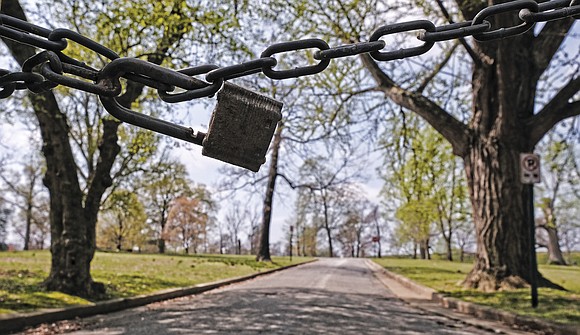 Life during the continuing coronavirus pandemic is taking a fresh turn following Gov. Ralph S. Northam's stepped-up effort to stem the spread of COVID-19 in the state.
On Monday, Gov. Northam turned his request for people to stay at home into an order.
The order, which mirrors those in adjoining states and the District of Columbia, requires all residents to remain in their homes, and allows those who flagrantly disobey to be hit with a misdemeanor charge that could carry jail time.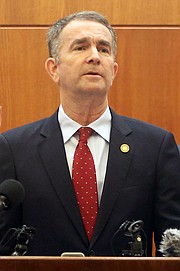 Despite the new teeth, the order makes allowances for shopping for food, seeking medical treatment and other essential activities, while continuing to urge people to follow health guidelines for social distancing by staying 6 feet apart from others.
There are plenty of loopholes, including exceptions for essential businesses such as groceries and pharmacies and for individuals going to work or undertaking other activities deemed essential. Restaurants can offer take-out or curbside service.
"Go out when you need to, not when you want to," Gov. Northam, a physician, stressed during Wednesday's press briefing. "The sooner we can put this health crisis behind us, the sooner our lives can return to normal."
The order is in place until June 10, barring any future amendments or dismissals. Gov. Northam said that based on various models, the surge in cases in Virginia could come between late April and late May.
The order also brought dismay from the state Republican Party that the date will impact the GOP's June 9 primary to choose a candidate to challenge incumbent Democratic U.S. Sen. Mark R. Warner.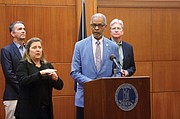 The order comes as the number of cases of COVID-19 in the state rose to 1,484, with 34 deaths and 305 hospitalizations as of Wednesday, according to the Virginia Department of Health. Of those hospitalized, state Health Commissioner M. Norman Oliver said during Wednesday's update, 145 are in intensive care units and 108 are on ventilators.
More than half of those who tested positive for coronavirus are said to be under age 50, and the highest concentration of positive cases centered in Henrico and Ches- terfield counties, Northern Virginia and cities on the Peninsula.
Among the deceased are the first Richmond residents to die from the virus, two men in their 70s who recently worked in New Jersey. Health officials are currently working to trace their movements and potential contacts.
"Every loss we experience at the hands of this disease is tragic," said Dr. Danny T.K. Avula, director of the Richmond City and Henrico health districts. "I hope this news gives our community even more resolve to stay home, strictly follow the isolation and quarantine guidelines and to limit our physical interactions with others."
Last week, Gov. Northam downplayed the need for a stay-at-home order, while emphasizing that state officials are treating the presence of coronavirus as "a very dynamic situation" that requires constant monitoring.
Concern that people were not getting the message ratcheted up during the last weekend as crowds gathered at Virginia's beaches and recreational centers in clear defiance of guidelines and restrictions already in place. Even after the stay-at-home order went into effect, some residents across the state continued to ignore it and the threat of getting sick or making others ill.
"It is clear more people need to hear this basic message — stay home," Gov. Northam said.
The concern is that the number of people needing hospitalization will soon overwhelm available health care bed space and intensive care units. The virus is insidious as it is easily transmitted by contact through respiratory droplets when an infected person coughs or sneezes. People who have the virus can spread it even if they show no symptoms of illness or have a mild case. Because there is no vaccine and no mass testing for the virus, health experts and government officials are encouraging people in increasingly stronger terms to keep their distance from one another.
A Liberty University student was diagnosed with COVID-19 days after the college reopened to students over the objections of Gov. Northam and in contrast to other public and private colleges and universities that sent students home to complete their coursework online.
President Trump, who has downplayed the severity of the threat as America outpaces every other country in terms of the number of infections, was in Norfolk last Saturday to see the launch of the 1,000-bed naval hospital ship Comfort to New York. The ship reached Manhattan on Monday afternoon and seeks to aid the city's hospitals with an influx of medical staff, hospital beds and space for patients who need care but aren't infected with the virus.
Even as the Comfort was welcomed with applause, problems with other national and local health responses remain. Despite receiving this week a third shipment of face shields, gowns and masks from the national stockpile, Virginia continues having problems getting critical medical equipment, the governor said, as the state is forced to bid against other states and their own health systems for it.
Various efforts are underway to fill the gaps in equipment, testing and potentially needed bed space. Multiple colleges and health systems are working to establish temporary medical spaces to lessen the load on hospitals, with Virginia Commonwealth University converting its Honors College dormitory, formerly Metropolitan Hospital, into a temporary hospital for non-COVID- 19 patients ahead of an expected surge in patients.
The governor also announced Wednesday that the Hampton Convention Center, an Exxon-Mobil facility in Northern Virginia and a site in Richmond, which was not disclosed, have been selected as temporary hospital sites by the U.S. Army Corps of Engineers to handle the anticipated surge. Additional sites west of Richmond also are being considered, he said.
Last Friday, Virginia's Title 32 request was approved, allowing federal funding for the state's National Guard units that are helping during the pandemic. A separate request for federal major disaster status is under consideration after being submitted Monday, officials said.
As for local elections scheduled for some jurisdictions in May and congressional primaries in June, Gov. Northam urged voters on Wednesday to request and cast absentee ballots by mail to avoid going to the polls.
But questions remain about how Virginia officials should proceed in the weeks to come.
Virginia Republicans, in a letter to Gov. Northam on Tuesday, called for vetoes of or amendments to an array of energy and business regulatory bills approved during the recent General Assembly session, calling them an unnecessary burden on economic stability. There also are calls for Gov. Northam to veto or delay enactment of bills to raise the state's minimum wage and other pro-worker legislation that are seen as raising business costs at a time when such increases would be unaffordable.
Richmond Mayor Levar M. Stoney affirmed the city's commitment to the stay-at-home order in a statement on Monday. He ordered the closure of the city's school playgrounds and recreation areas and restricted access to the James River for recreation. He kept parks open for individual biking, walking, running and hiking. He also continued to keep City Hall and other city buildings, including libraries, closed.
"We will get through this crisis, but for the sake of our neighbors, especially the most vulnerable among us, I beg Richmonders to take this seriously," Mayor Stoney said. "We are all safer and stronger at home."