University of San Francisco broke unwritten 'two black max' rule to win NCAA in the 1950s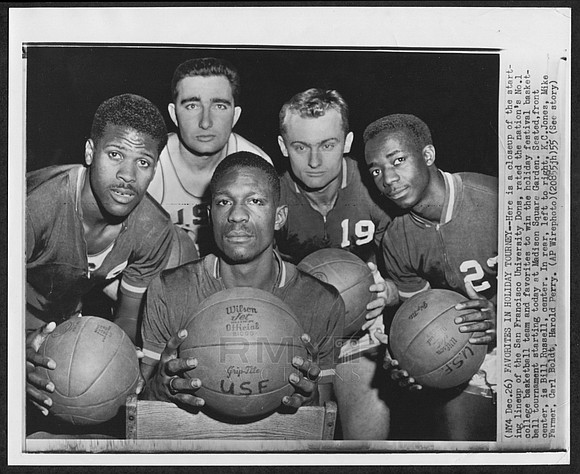 During NCAA basketball's early years, there was a "gentleman's agreement" not to play more than two African-American players at a time.
Fortunately, not everyone shared that same bigoted mindset.
The University of San Francisco Dons broke that "rule" and, not coincidentally, proceeded to win the NCAA championship. In fact, the Dons won a pair of NCAA championships – in 1955 and 1956.
The 1955 and 1956 squads featured three African-American starters – Bill Russell, K.C. Jones and Hal Perry. It marked the first time in NCAA Tournament history that three African-American players started a game together.
Previously, City College of New York won the 1950 NCAA title with two African-American players. CCNY was the first team to have African-American players in NCAA Tournament play.
The University of San Francisco, under Coach Phil Woolpert, ranks with the most dominant repeat acts in hoops annals. The Dons were 28-1 in 1955 and 29-0 in 1956, at one point winning 55 straight games over two seasons.
Rarely were games close. USF defeated LaSalle University in the 1955 final by 14 points and the University of Iowa in 1956 by 12 points.
Unfortunately, it wasn't always a smooth ride off the floor. On a trip to Oklahoma City in 1954 for the All College Tournament, the team's hotel denied lodging to the African-American players. In a show of unity, all the players – African-American and white players alike, along with the coaches – camped out at a nearby college dorm.
The 6-foot-9 Russell was MVP of the NCAA Final Four in 1955 and 1956. As a junior, he averaged 21.4 points and 20.5 rebounds. During his senior year, he averaged 21 points and 21 rebounds. Blocked shots, an art that Russell took to another level, were not tabulated at the time.
Russell, who went to USF from McClymonds High School in Oakland, Calif., was remarkably fast and agile for a man his size. Also excelling in track and field, he had personal bests of 49.6 seconds in the 400 meters and 6-91⁄4 in the high jump.
The winning ways were far from over. Both Russell and Jones went on to spearhead one of the greatest dynas- ties in pro sports history with the NBA Boston Celtics, capturing nine titles from 1957 to 1966.
Perry would go on to play briefly for the Harlem Globetrotters before returning to UCF to pursue a law degree.
USF's decision to place talent above skin color couldn't have been more successful.
Both Russell and Jones are members of the Naismith Memorial Basketball and College Basketball halls of fame. Also, they were teammates on the 1956 U.S. Olympic team that won the gold medal in Melbourne, Australia.
Soon after USF's back-to-back titles, other schools around the nation washed their hands of the "gentleman's agreement."
The 1960 NCAA champion, Ohio State University, relied heavily on African-American talent. The same for the University of Cincinnati in 1961-62 and Loyola University of Chicago in 1963.
No school has ever dominated college hoops like UCLA during the Coach Johnny Wooden seasons from 1964 to 1975. The Bruins won 10 titles during the 12 seasons, with a cast brim- ming with African-American talent.
During that historically brilliant reign, UCLA produced 10 first-team All-Americans – Henry Bibby, Walt Hazzard, Gail Goodrich, Curtis Rowe, Dave Meyers, Kareem Abdul-Jabbar,
Bill Walton, Sidney Wicks, Jamaal Wilkes and Lucious Allen. All but Meyers and Walton are African-American.
Texas Western, now the University of Texas- El Paso, took it to another level in 1966. The Miners started five African-American players in defeating the all-white University of Kentucky team in the NCAA final at Cole Field House in College Park, Md.
Inspiring the 2006 movie, "Glory Road," the Miners' five African-American starters were David Lattin, Bobby Joe Hill, Willie Cager, Willie Worsley and Orsten Artis. Both subs, Harry Flournoy and Nevil Shed, also are African-American.
Time had run out on racial prejudice. The "two black max" rule had been laid to rest.
Repeat Acts
Schools winning NCAA Division I championships back to back:
• Oklahoma A&M – 1945 and 1946
• University of Kentucky – 1948 and 1949
• University of San Francisco –1955 and 1956
• University of Cincinnati – 1961and 1962
• UCLA – seven in a row, 1967 to 1973
• Duke University – 1991 and 1992
• University of Florida – 2006 and 2007
Note: 2019 NCAA champion University of Virginia was denied – at least for now – the opportunity to repeat winning the crown because the tournament was scratched because of the coronavirus. The Cavaliers would be eligible to repeat in 2021 because no champion will be crowned in 2020.