Basketball icon Bill Russell dies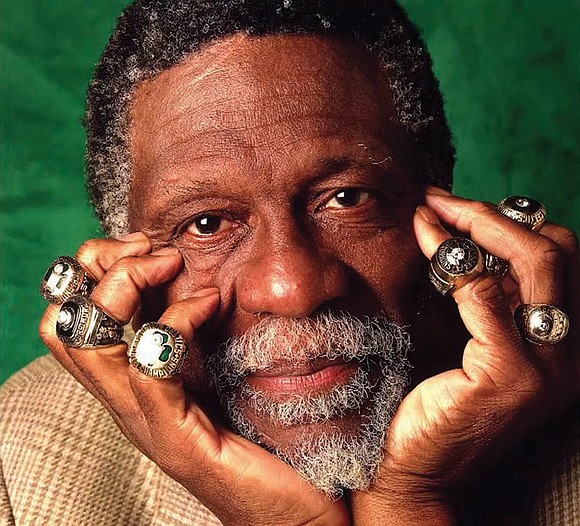 William Felton "Bill" Russell, the greatest team sports champion of all time and the NBA's first Black superstar, died Sunday, July 31, 2022.
Mr. Russell was 88 and lived in Mercer Island, Wash.
Listed as 6-foot-10 and renowned for his brilliant rebounding, defense and a team-first attitude, Mr. Russell led the Boston Celtics to 11 NBA titles, from 1957 to 1969, including eight in a row.
The intimidating, goateed center was a five-time league MVP, 12-time All-Star and four-time rebounding leader.
In his illustrious career, Mr. Russell scored 14,522 points (15.1 average), col- lected 21,620 rebounds (22.5 norm) and passed for 4,100 assists (4.3).
His intense battles in the paint against 7-foot-1 Wilt Chamberlain are legendary. Chamberlain usually scored more points, but Russell's Celtics more often prevailed.
With his long arms, precision timing and leaping ability, Mr. Russell is almost surely the NBA's all-time leader in blocked shots, although that statistic was not kept during his career.
The Boston Celtics Ownership Group made this statement following Mr. Russell's death:
"Bill embodied character and commitment and is one of the finest people to ever live. He will be remembered forever and deservedly so."
Formative years: Born in Monroe, La., the Russells moved to Oakland, Cal., when he was eight. Far from being an overnight success, he was cut as an eighth-grader from the Herbert Hoover Middle School hoops team and was hardly recruited by colleges while at McClymonds High, even though the team won two California state titles.
Despite his height, he had only one scholarship offer, from nearby University of San Francisco, where he came into his own. The Dons claimed NCAA titles in 1955 and 1956, both times winning the championship game by double digits.
A touch of Gold: Led by Mr. Russell and his San Francisco teammate, K.C. Jones, the Americans overwhelmed in the competition at the '56 Olympics in Melbourne.
The U.S. routed Uruguay 101-38 in the semifinals, and the Soviet Union 89-55 for the gold. Mr. Russell was nearly Olympic caliber in track and field, too, having high jumped 6 feet, 91⁄4 inches and run the 400 in 49.6 while at San Francisco.
1956 NBA Draft: With the first overall pick, Rochester took guard Si Green from Duquesne, then the St. Louis Hawks picked Russell No. 2 overall.
Somehow, Boston owner Red Auerbach worked out a deal with the Hawks to send Ed McCauley and Cliff Hagan to St. Louis for rookie Russell. That trade shifted the course of NBA history for more than a decade.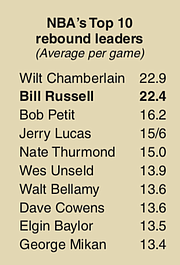 Celtics dynasty: To be fair, Mr. Russell was surrounded by sensational talent at Boston Garden.
His teammates include Naismith Hall of Famers-to be- K.C. Jones, Sam Jones, John Havlicek, Satch Sanders, Don Nelson, Tom Heinsohn, Frank Ramsey, Bill Sharman, Bob Cousy and JoJo White.
From 1964 to 1966, Mr. Russell's backup center was John Thompson, later named to the Naismith Hall as a col- lege coach.
All-time coincidence: In 1966 Mr. Russell became the NBA's first Black coach following Auerbach's Boston retirement. In 1975, Frank Robinson became the first Black major league baseball manager, with Cleveland.
Mr. Robinson and Mr. Russell were basketball teammates at McClymonds High.
Legacy: Mr. Russell in 1975 became the first Black man elected to the Naismith Hall of Fame. In 2011 he was presented the Presidential Medal of Freedom by Barach Obama.
His No. 6 jersey is retired by the University of San Francisco and the Celtics.