Personality: Lashawnda S. Singleton
Spotlight on president of the Richmond Chapter of the National Association of Black Social Workers
8/13/2020, 6 p.m.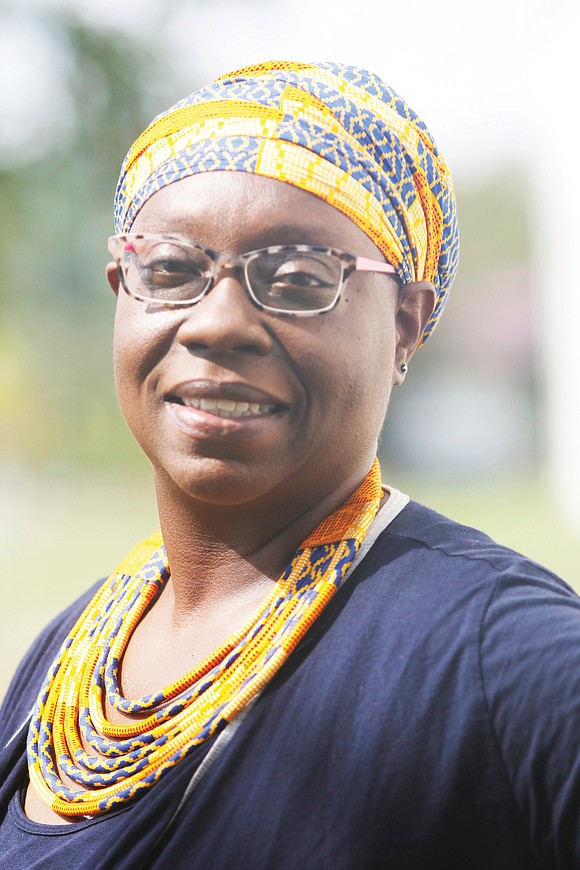 From Miami to New York and finally Richmond, Lashawnda Shanell Singleton has seen and experienced the struggles of the poor and disadvantaged.
Now, as the number of those in need grows during the COVID- 19 pandemic, Ms. Singleton is working to aid them as president of the Richmond Chapter of the National Association of Black Social Workers.
Founded in 1971, the RABSW is "committed to advocating for social change, justice and enhancing the well-being of Black people throughout the city of Richmond and surrounding counties," Ms. Singleton says.
"Our aim is to build a network of practitioners, researchers, scholars and community members who will leverage relationships, share knowledge and utilize their skills for the benefit of those we serve."
Guided in their efforts by a code of ethics, the principles of Nguzo Saba, which are celebrated and discussed during Kwanzaa, and the seven cardinal virtues of Ma'at from ancient African culture, the RABSW has been focusing its Afrocentric efforts toward providing resources and support for those impacted by COVID-19. That includes advice, fellowship and solidarity through video streaming, and mental health support services from the multiple members with private practices.
Ms. Singleton first became involved with RABSW through its student chapter at Virginia Commonwealth University, where she earned her bachelor's in social work.
At the time, Ms. Singleton was aware of the need for Black and brown people to be able to have help from people with similar experiences who could identify with and address their issues. She said her own background growing up with two siblings and a single mother in subsidized housing and personal experiences with the criminal justice system gives her lived experiences that are beneficial in helping others.
"I was looking to find clarity and understanding of what it is to be African-centered and interested in figuring out how to include this perspective with culture, including its trauma, to better assist the Black community," Ms. Singleton says.
She balances her volunteer work with the RABSW with her own re-entry service, We the PLUG Consulting LLC, her job as community outreach coordinator for the Virginia Department of Corrections and a myriad of other community work, including serving on Mayor Levar M. Stoney's Task Force to Reimagine Public Safety.
Ms. Singleton's connection to the plight of the underserved has continued with the COVIS-19 struggle. During the pandemic, she was out of work for six weeks after an "encounter" with the coronavirus after visiting her mother in New York and attending church there in March. All of the church members, including her mother, were affected, she says.
To hear Ms. Singleton tell it, she isn't the only person in RABSW with experience gleaned on the margins of society and connections in some way to the foster care system to incarceration to substance abuse and more. It's that breadth of experience that she believes makes the organization, its members and its mission so special and vital.
"That's what I really love and appreciate," Ms. Singleton says. "You have individuals who have that life experience and have become educated in those fields to change that experience and be able to work with those individuals, where people that look like you can definitely say 'I understand. I know where you're coming from.' "
Meet an advocate committed to helping people and this week's Personality, Lashawnda S. Singleton:
No. 1 volunteer position: President, Richmond Chapter of the National Association of Black Social Workers.
Other community volunteer service: Board member, Storefront for Community Design and Virginia Center for Restorative Justice.
Date and place of birth: Oct. 5 in Miami.
Current residence: Richmond.
Education: Bachelor's in social work, Virginia Commonwealth University, 2014; and master's in public administration, Virginia Tech, 2020.
Occupation: Community outreach coordinator for the Virginia Department of Corrections. Family: Jason Young, lifelong partner of 28 years, and daughter Shaniya Young; my mother, a retired case manager for the City of New York; my father, deceased, murdered in 1978 gun violence; older brother, Twon Singleton, a Desert Storm vet living in Georgia; and younger brother, Marcus Conyers, a graduate of Virginia State University who died in November 2012.
When and why I became involved with Richmond Association of Black Social Workers: I became involved in RABSW while working to obtain my bachelor's degree in social work. I graduated from VCU in 2014 and the student chapter and transitioned into the Richmond chapter.
Mission of RABSW: The Richmond Chapter of the National Association of Black Social Workers comprises people of African ancestry committed to enhancing the quality of life and empowering people of African ancestry through advocacy, human services and research.
What RABSW does: The chapter is guided by the principles of Nguzo Saba, which are unity, self- determination, collective work and responsibility, cooperative economics, purpose, creativity and faith, and the seven cardinal virtues of Ma'at, which are right, truth, justice, order, reciprocity, balance, and harmony.
A social worker is: A change agent. We meet individuals, families, communities and various other entities where they are in life and assist them in establishing a better plan of action for their lives. There are three levels of practice — micro, macro and mezzo — which guide on specification and area of expertise. Social workers are policy driven/makers, advocates and direct service delivery. They are diverse practitioners.
Importance of social workers: Engaging and empowering communities through the implementation of our code of ethics. As stated in RABSW's Code of Ethics, our primary obligation is the welfare of the Black individual, Black family and Black community and will engage in action for improving social conditions.
How social workers help during COVID-19: RABSW provides resources and support for members of our community faced with COVID-19 challenges. We have multiple members with private practices that offer mental health support services. RABSW also provided a healing circle for members via Zoom to express their own concerns, ask for healing, share remedies and allow for fellowship during this time of separation. COVID-19 was a challenge because I was personally affected. I was out of work for six weeks. I believe I encountered it at church when I went for a visit in March. My mother and her entire New York church family were affected. She is doing well but we lost some members and some are still recovering.
Challenges social workers face: The challenges are community support, funding and advocacy/ legislative support. We often are challenged in our role due to the lack of understanding of the need for social workers and the expertise they bring. Social workers have unique tools that assist in working with others to break down the walls and get to the root of many causes of trauma. Personally, in my role working with the returning citizen population, the challenge is changing the narrative of these individuals within legislation, community and personal ideology.
How I start the day: I am not a breakfast person. My day starts by writing my to-do list because of my busy schedule of running my own re-entry service — We the PLUG Consulting LLC; working on Mayor Levar Stoney's new Task Force to Reimagine Public Safety; being president of RABSW; being the community outreach coordinator for VADOC and the many boards I sit on.
Three words that best describe me: Passionate, persistent and inquisitive.
Best late-night snack: Coffee ice cream.
How I unwind: Listening to music and taking walks along the river.
Something I love to do that most people would never imagine: Visiting museums and historic places.
A quote that I am most inspired by: "I'm sick and tired of being sick and tired." — Fannie Lou Hamer.
The top of my "to-do" list: Work on my bookstore business plan.
The best thing my mother ever taught me: My mom taught me to be driven, resilient and to never give up on my goal.
The person who influenced me the most: My mother. She moved us from the dangers of Miami to New York and provided in a way that I never thought I was poor. She was a single mother of three who achieved a bachelor's degree in early childhood education.
Book that influenced me the most: "From the Browder File: 22 Essays on the African American Experience" by Dr. Anthony T. Browder.
What I'm reading now: "The African Origins of Civilization, Religion, Yoga Mysticism and Ethics Philosophy" by Dr. Muata Ashby.
Next goal: To open a Black bookstore in Richmond.