Eric English to become Henrico's first Black police chief
George Copeland Jr. | 8/27/2020, 6 p.m.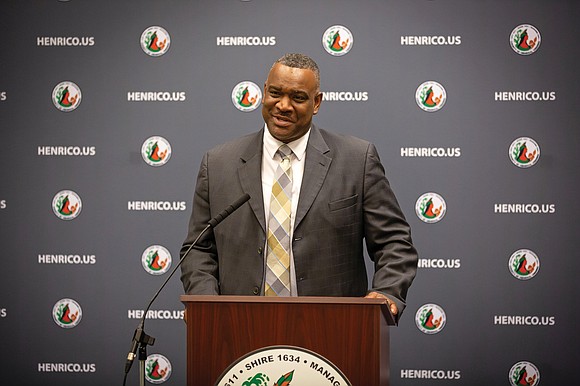 For the first time in its history, Henrico County will have an African-American police chief.
Eric D. English was named Monday to lead the county's police department. He will take over Sept. 14, succeeding Chief Humberto Cardounel, who announced earlier this summer that he would retire Sept. 1.
Mr. English, who earned a bachelor's degree from the University of Richmond and a master's in public administration from Virginia Commonwealth University, worked 28 years in the Richmond Police Department, rising through the ranks to become Richmond's deputy chief of operations in 2011 and deputy chief of support and business services in 2016.
Since 2018, he has served as the police chief in Harrisonburg.
In Henrico, Mr. English will lead an agency with 863 personnel, including more than 600 sworn officers, and a budget of $80.3 million for the 2020-21 fiscal year.
"I'm looking forward to a positive working, constructive relationship with the new chief," Raiford Beasley, president of the Henrico Branch NAACP, told the Free Press this week. "I'm also happy that they hired the best man for the job who happens to be Black."
Henrico officials have been deliberating over ways to address police accountability as protests against police brutality and for racial equality continue across the country following multiple police killings and shootings, including the deaths of George Floyd in Minneapolis in late May and Breonna Taylor in Kentucky in mid-March and the severe wounding of Jacob Blake in Wisconsin earlier this week.
The same day Mr. English's hiring was announced, the majority of the Henrico County Board of Supervisors voiced their support for a civilian review board for police.
"I don't think it makes me or anybody else a bad person because we're asking questions about the people who should be protecting us," Varina District Supervisor Tyrone E. Nelson, said during Monday's supervisors' meeting.
"I don't see anything wrong with taking transparency to the next level."
Joining him in supporting a civilian oversight board for the police were Fairfield District Supervisor Frank J. Thornton and Three Chopt District Supervisor Tommy M. Branin.
Reached for comment, Rev. Nelson expressed his enthusiasm both for Mr. English's selection and his previous record as police chief.
"Based upon what I've seen of his work in Harrisonburg, it definitely seems like Mr. English is focused on being transparent and getting information out to the citizens," Rev. Nelson said. "I'm looking forward to seeing how that can translate in Henrico County."
According to media reports, Mr. English pushed in Harrisonburg for a number of measures focused on police transparency, including detailed documenting of arrests and incidents where force was used by officers, as well as seeking community input on police conduct.
He also spoke about the need to better fund mental health officials so they are able to handle mental crises alongside or separate from the police, according to reports.
During Monday night's meeting, some members of the Henrico Board of Supervisors floated the idea of discussing the civilian review board with Mr. English. Rev. Nelson stressed that regardless of if and how that meeting occurs, the board will have the final decision on the matter.
"I'm looking forward to just meeting with the chief in general," Rev. Nelson told the Free Press. "I'm looking forward to building a relationship with him and hearing about what kind of ideas he has for Henrico County."