Tyson and Jones give fight winnings to pandemic victims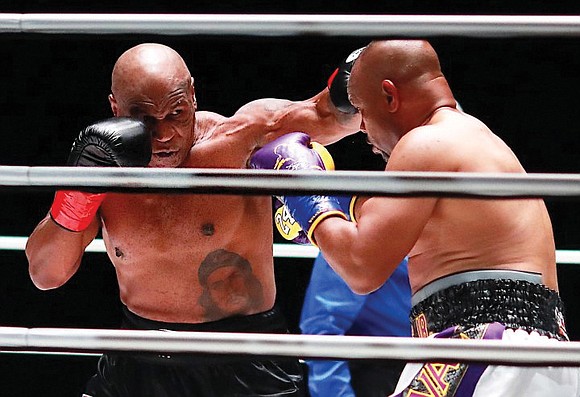 For old time's sake, and for the good of charity, Mike Tyson and Roy Jones Jr. put on quite a show Nov. 28 in Los Angeles.
The former world boxing champions battled to a spirited pay-per-view draw despite Tyson landing the most punches by far.
Tyson, 54, scored on 67 punches — 57 power punches and 10 jabs. Jones, 51, connected on 37 punches — 28 power and nine jabs.
With no ringside seating, the fight was judged remotely. One judge favored Tyson, 79-73; another gave Jones an 80-76 edge; the third judge called it even, 76-76.
The eight-round exhibition held at the Staples Center in Los Angeles was sanctioned by the World Boxing Council.
There were no knockdowns and neither man suffered any visible facial damage.
While the middle-aged men should be commended for lasting eight rounds, both were noticeably thicker around their midsection than during their heydays.
Each man was awarded $1 million, with both pledging their purses to those affected by the coronavirus pandemic.
Tyson drew some added attention by revealing a prominent tattoo of the late Chairman Mao Zedong of the Chinese Communist Party on his right shoulder and the late Argentine Marxist revolutionary Che Guevara, a major figure in the Cuban revolution, on the left side of his torso.
Tyson also has a tattoo of Richmond native, tennis great and humanitarian Arthur Ashe Jr. and the words, "Days of Grace," the title of Ashe's memoir, on his left shoulder.
Tyson and Jones rank with the rings' all- timegreats.During his illustrious pro career, Tyson posted a 50-6 pro record that ended in 2005. Jones went 66-9 before calling it quits in 2018.
There were celebrities on the undercard, too. YouTuber Jake Paul knocked out former NBA standout Nate Robinson in the second round. Both earned $600.