AL's MVP award: Judge or Ohtani?
Don't be surprised if both take the prize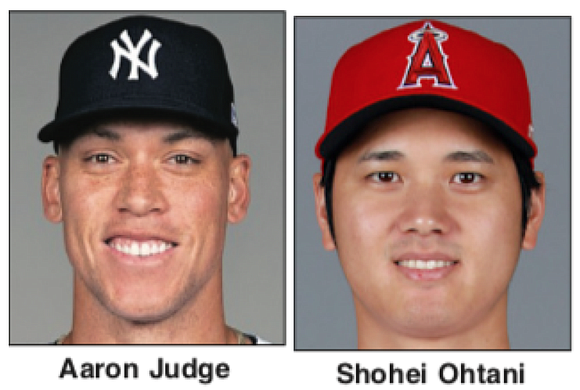 Aaron Judge is enjoying one of the greatest and most celebrated seasons in baseball history.
But will the New York Yankees slugger be the American League MVP?
That will be the subject of much barstool, office room and social media debate in coming weeks as voters decide between Judge and the reigning MVP, Shohei Ohtani, of the Los Angeles Angels.
If there were ever to be co-MVPs, this would be the season.
Both Judge, who answers to "All Rise," and Ohtani. nicknamed "Sho'time," classify as true phenoms.
Case for Judge being MVP:
Judge's quest for the Yankees' and American League home run record and Triple Crown have been all over the news. The cable stations can't stay away from him and his Pinstripe teammates. The "City that never sleeps" wouldn't dare nod off when Judge comes to bat.
Case for Ohtani: Starring as a left-handed hitter and right-handed pitcher, the Japanese native is clearly a "once-in-a-century" player. He was MVP a year ago and he's been even better this go-round. Historians must go back to Babe Ruth in early 1900s to find anything remotely comparable.
One upmanship: On Sept. 28, in Toronto, Judge blasted his 61st home run, tying the AL and Yankees' record set by the late Roger Maris in 1961.
Among those honoring Judge afterward was Roger Maris Jr., son of the famous Yankee of same name.
On Sept. 29, in Anaheim, Ohtani (serving as pitcher/designated hitter) took a no-hitter into the eighth inning in a 4-2 win over Oakland. He finished with 10 strikeouts and, for good measure, had two hits of his own, stretching his hit streak to 14 games.
You make the call: As of Oct. 1, here is the evidence:
Judge: batting .314 with 61 home runs, 130 runs batted in, 28 doubles, 16 stolen bases, 168 strikeouts, 108 walks.
Defensively, 272 putouts in center and rightfield, six assists, zero errors. WAR (wins above replacement) 10.5
Ohtani: batting .276 with 34 homers, 94 RBI, 29 doubles, six triples, 71 walks, 153 strikeouts, 11 stolen bases. WAR 9.8.
On the mound: 15-8 with 2.35 earned run average, 213 strikeouts in 161 innings.
Babe Ruth connection: In the Bronx, the ghosts of The Babe are still sighted. In 1927, at old Yankee Stadium, Ruth hit 60 homers in 154 games.
In 1961, again at the old stadium, Maris eclipsed Ruth in 163 games, earning an asterisk (*) in the record book. Judge, who plays same position as Ruth and Maris, will be trying to beat them both with more than 61 homers in 162 games.
Ruth was primarily a Boston pitcher from 1914 to '19, posting a 94-46 record with 2.28 ERA. Upon going to Yankees in 1920, he turned to the outfield and hitting. His 714 career homers were most until Hank Aaron broke the mark in 1974.
"The Bambino" basically had two careers, as a pitcher and then as a hitter. Ohtani is the only player to ever combine both tasks for an extended period.
In the beginning: Aaron James Judge is biracial. One day after birth in Sacramento, he was adopted by a white couple, Patty and Wayne Judge of Linden, Calif.
He starred in baseball, basketball and football at Linden High and then drew attention of pro baseball scouts at Fresno State. He joined the Yankees farm system in 2013 as a first-round draft choice.
In 2015, then with the Trenton Thunder, Judge saw action vs. the Richmond Flying Squirrels in Eastern League play.
Ohtani was born in Oshu, Iwate, Japan. He began playing with Nippon Ham Fighters in his county's top pro league at age 19. He was a five-time Japanese League All-Star as a pitcher and first baseman. He also plays outfield when asked.
In 2017 he signed a rich contract with the Angels and in 2018 became the AL Rookie of the Year.
Size matters: At 6-foot-7 and 280 pounds, Judge is among the tallest and heaviest non pitchers to ever play big-league baseball. Even his jersey number is big, No. 99.
Ohtani is 6-foot-4 with extraordinary broad shoulders and thin waist on his imposing 215-pound frame.
$$$: The Angels have signed their two-way superstar to a $30 million fully guaranteed contract for 2023.
Judge rejected the Yankees' seven-year, $213.5 million offer earlier this year. He could become a lucrative free agent in 2023.
History book: The Yankees have had 22 MVPs over the years, most recently Alex Rodriguez in 2007. The Angels have had six MVPs, most recently Ohtani in 2021 and Mike Trout in 2014, '16 and '19. Ohtani is the second Japanese player to win MVP, following Seattle's Ichiro Su- zuki in 2001.
The jury is out: The MVP, along with all other individual awards, is voted on by the Baseball Writers of Association of America (BBAA).
Only regular season statistics are considered. No postseason stats enter the equation. The decision is not announced until after the World Series.
With two primetime candidates this season, Babe Ruth would probably give thumbs up to either. The Babe could see some of himself in both.