Personality: Robert M. Lester
Spotlight on president of Club 533
2/14/2020, 6 a.m.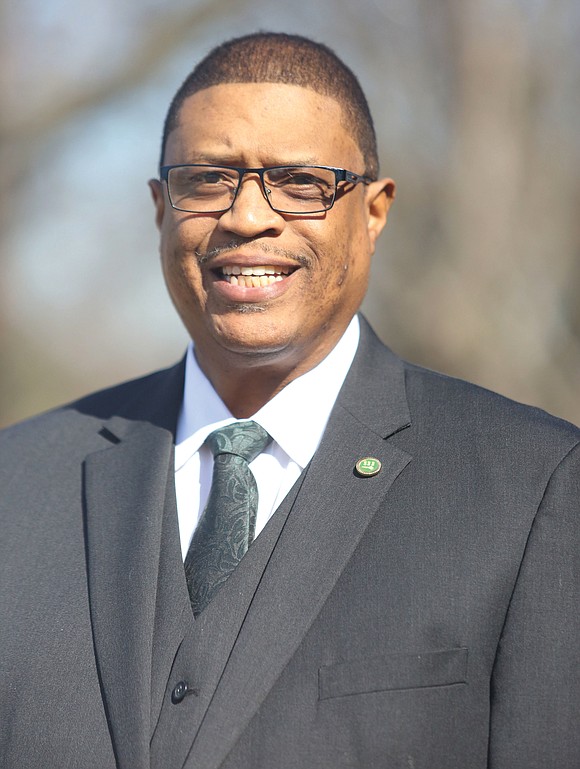 An invitation from a friend and fraternity brother brought Robert M. Lester to Club 533 in 2012, offering him the opportunity to meet and listen to members from across decades.
That night sparked Mr. Lester's interest and desire to be a part of the club, now 64 years old, that still brings together men of accomplishment dedicated to improving the social and civic welfare of the community.
"I knew that I wanted to be a part of the camaraderie, unity and wisdom that was in the room," Mr. Lester says. "I wanted to play a part in making new stories with these gentlemen."
Now, eight years later, Mr. Lester is stepping into a new role — as the 32nd president of Club 533.
Elected to a two-year term just two weeks ago, the Penn- sylvania native already is developing strategies for his administration. He has served in the past on various committees and was vice president for three years.
Because of those years of dedication, balanced alongside his career and other volunteer work, Mr. Lester has earned a great deal of trust from club members; he was unopposed for president.
"Nobody put their name in against mine," Mr. Lester says, remarking that some members were calling him president as far back as six months. "I've been working very, very hard in the club."
Club 533 began in 1956, the brainchild of seven African-American men with similar interests and ideas for improving the social, political and economic status of Richmond's African-American community. They recognized the need for a venue that would allow people to gather and plan.
The club has always been located in Jackson Ward. It was located on 2nd Street for decades before moving to its current home at 3rd and Jackson streets in 1999.
Currently 160 members strong, the club has served as a meeting space for groups and organizations ranging from the Richmond Branch NAACP to the Richmond Crusade for Voters.
Mr. Lester is seeking to ensure the club's continued vitality and presence, in part by expanding on the club's various community initiatives, from Thanksgiving baskets and scholarships for those in need to potentially educating the public ahead of the November presidential election.
Mr. Lester also wants to highlight the heritage and history of the club, which boasts a membership that includes Virginia Union University Athletic Director Joe Taylor and former Gov. L. Douglas Wilder, among many others. The late Raymond H. Boone, founder of the Richmond Free Press, also was a member.
"We have been fortunate to have the 'Who's Who' of Richmond as the groundwork for our heritage," Mr. Lester says. "On any given evening, you can speak freely with a former governor, former sheriff, captain in the police department, educator or engineer."
The biggest focus for Mr. Lester' s administration is growing the club's membership, with a specific goal of bringing in younger members. Currently, the average member is older than 60.
"My goal is 40 new members in the next two years," says Mr. Lester. "I've already committed to getting 10 myself. We've got to keep the club alive."
New members will become part of a group looking to continue a legacy of brotherhood, knowledge building and positive community outreach, the same values that spoke so strongly to Mr. Lester almost a decade ago.
"Everybody knows everybody," Mr. Lester says. "When you come in, they greet you with a smile. It's a beautiful thing. It really is. And I wish more people could take advantage of it."
Meet this civic leader and this week's Personality, Robert M. Lester:
Occupation: Operations manager, Epiq Global Business Transformation Solutions.
What I do: I manage operation support to several large law firms located in Richmond, Tidewater, Washington and Raleigh, N.C. The primary responsibilities are document imaging, copying, shipping and receiving and conference center services.
No. 1 volunteer position: President, Club 533.
Other community engagement: Currently, I volunteer as secretary of the Theban Beneficial Club; Reclamation and Retention chair of the Upsilon Nu Chapter of Omega Psi Phi Fraternity; and basketball coach for ages 11 to 13 at the Manchester YMCA.
Why I wanted to serve: My goal is to continue to provide leadership toward our membership enrollment goals and empowerment of the club for the future.
Date and place of birth: Jan. 16 in Philadelphia.
Current residence: Woodlake in Chesterfield County.
Alma mater: Bachelor's in political science, Rutgers University.
Family: Wife, Denise D. Lester, and sons, Robert M. Lester II and Richard Lester.
Reason Club 533 is relevant today: Through the years, Club 533 has been used as a meeting place to develop strategies for social, political and economic gains that would benefit the minority community. Club 533 has played a large part in the historical significance and revitalization of Jackson Ward. In the mid-1950s and 1960s, 2nd Street, primarily the 500 block, was flourishing with entertainment and activities for black people in the Richmond area. Mission of Club 533: There is still a viable interest in improving social and civic conditions in the community. The name, Club 533, has been and continues to be synonymous with men of distinction who are known throughout the country for their high level of accomplishments.
When and how I got involved: In 2012, I was invited by my friend and fraternity brother, Larry Everette, to visit the club. I sat and listened to the many stories from the members and I admired the friendship between the members across the decades in the room. I knew I wanted to be a part of the camaraderie, unity and wisdom that was in the room. I wanted to hear more stories about things that happened years ago that are still important to this day in our communities. I wanted to play a part in making new stories with these gentlemen as well. On any given evening, you can speak freely with a former governor, former sheriff, captain in the police department, educator, engineer, etc.
Number of members: 160. Member profile: Distinguished members in our community and registered voters.
No. 1 objective as president: Expand the club's membership and share our club's heritage. Our heritage has involved many past presidents and members that have shaped Richmond and Virginia. We have been fortunate to have the "Who's Who" of Richmond as the groundwork for our heritage.
How I plan to reach it: We have a large membership drive in place. A person can join only through recommendation. However, in Richmond, everyone knows someone/member. We have challenged each member to bring in one new member in 2020.
Time I devote to Club 533: 10 to 15 hours weekly.
Club's relationship to community: We have been known for providing gifts to the community, such as Thanksgiving baskets and also scholarships for people in need. Under my administration, we plan to expand this service.
Efforts the club is making to develop young leaders in our community: If you are in leadership on any committees at Club 533, you will increase your tools in leadership development. Leading a committee that will interact with 160 members will refine your leadership skills immensely.
How I start the day: Open minded.
Quality I most admire in another person: Honesty.
Three words that best describe me: Hard-working, committed and passionate.
Something I love to do that most people would never imagine: I love to watch baseball. I am a true baseball fan. I also love the game of chess.
A quote that I am inspired by: "Whatever your life's work is, do it well. A man should do his job so well that the living, the dead and the unborn could do it no better. " — Dr. Martin Luther King Jr.
A perfect day for me is: Time with family and friends.
Favorite recreational activity: Coaching the kids in basketball at the YMCA.
Best late-night snack: Italian ice.
How I unwind: Watching old television shows such as "Columbo," "Curb Your Enthu- siasm" and "Good Times."
At the top of my "to-do" list: To continue to serve and invest in the Richmond community using all of the avenues provided me. I am always available and ready to help.
Person who influenced me the most: My father, Robert Lester. He was blind since the age of 13 and, despite that, he provided for our entire family. He was the sole provider for a wife and three children until his death in 1977. He provided us with education and the value of hard work.
Book that influenced me the most: "It's Good to Be Alive" by Roy Campanella.
What I'm reading now: "Blowout: Corrupted Democracy, Rogue State Russia and the Richest, Most Destructive Industry on Earth" by Rachel Maddow.
Next goals: I'd like to grow Club 533 by 40 members who are under the age of 40; coach at the YMCA for another two years for a total of 20 years; support my fraternity; continue to support my employee team members until my retirement; and continue to love, protect and enrich my two sons and my wife.