Thelma M. Robinston, longtime Richmond educator, dies at 99
2/21/2020, 6 a.m.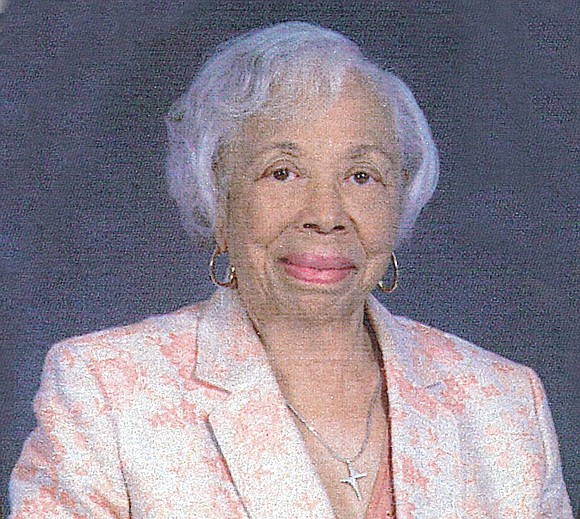 Fueled by a love of education, Thelma Mealy Robinson rose from teacher to principal to assistant superintendent during a career largely with Richmond Public Schools that spanned more than 40 years.
Mrs. Robinson also played a role in honoring outstanding teachers in the Richmond region, funded a scholarship to assist African-American students and helped develop a leadership training program for RPS students to educate them about serving on nonprofit and corporate boards.
Her life and contributions to education and community betterment are being remembered following her death on Friday, Feb. 7, 2020. She was 99.
Family and friends celebrated her life Monday, Feb. 17, during a funeral Mass at the Cathedral of the Sacred Heart, where she had been a longtime member.
A native of Cleveland, Mrs. Robinson relocated with her family to Richmond after her father died. She graduated from Armstrong High School and earned a bachelor's in mathematics in 1941 from Virginia Union University.
She began teaching high school math in Spotsylvania County for three years, before securing a teaching position in Richmond.
While teaching, she earned a master's in curriculum development from Columbia University in 1949 and took postgraduate courses at several colleges and universities, including the University of Virginia and Virginia Commonwealth and Virginia State universities.
She continued to advance in her career, serving as principal of A.V. Norrell Elementary and Mosby Middle schools. She went on to become RPS' coordinator of instruction, director of sec- ondary education and assistant superintendent before retiring in 1981.
Ms. Robinson also served for 16 years on the Greater Richmond Community Foundation's R.E.B. Awards Committee that annually recommends grants to teachers and principals nominated for outstanding service to students and education.
She was a former member of the board of Richmond Community High School and of the Catholic Diocesan School Board. She also served on the boards of Commonwealth Catholic Charities and the Maymont Foundation.
She founded the St. Perpetua Scholarship Fund for minority students and also advocated for school awareness of the threat from lead poisoning and for attention to the mental and physical health and nutritional needs of students.
Mrs. Robinson also was active in the Richmond Heritage Federal Credit Union, where she was one of the earliest members in 1936.
Among other things, her family said she "believed that all young people should be on a board and be knowledgeable of how boards operate," leading to the creation of the credit union's Board Membership Leadership Training Program now in use in Richmond Public Schools.
In 2000, she was part of the credit union committee whose work led to the financial institution buying its current home on Commerce Road.
She also was active at Cathedral of the Sacred Heart, serving as chair of the Pastoral Council for 12 years.
Mrs. Robinson was a founder and charter member of the Richmond-based National Epicureans. She also was a Diamond Member of Alpha Kappa Alpha Sorority and a past president of the Upsilon Omega Chapter in Richmond.
She also the American Association of Retired Persons and the Virginia Capital Chapter of the American Red Cross.
"She was an inspiration to all who knew her," wrote her family, many of whom knew her as "Aunt T." "She loved to care for others. She was kind, enjoyed gardening, traveling, reading and spending time with family and friends."
Predeceased by her husband of 44 years, Milton J. Robinson Jr., Mrs. Robinson is survived by her son, Milton J. Robinson III, and two grandchildren.