Court documents show pastor targeted by government for officiating at immigrant weddings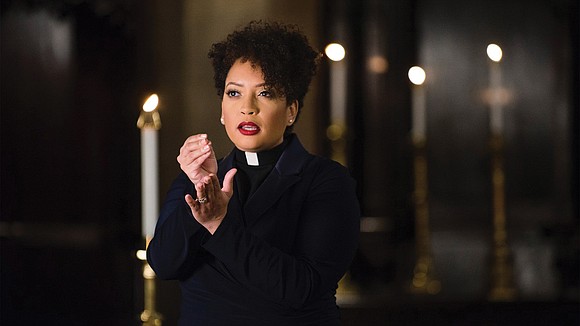 New documents unearthed in an ongoing federal lawsuit indicate the U.S. government surveilled and investigated a New York pastor and immigrant rights activist over allegations that she committed marriage fraud by officiating immigrant weddings along the U.S.-Mexico border.
But the cleric said she did nothing wrong and is accusing the federal government of violating her religious freedom by targeting her.
"My faith and belief in ministering to the vulnerable brought me to the border," the Rev. Kaji Douša, senior pas- tor of Park Avenue Christian Church in New York, told Religion News Service in a statement. "It's now undeniably clear the government targeted me for this very calling, based on the language contained in its own documents. This evidence reinforces the need for me to fight this injustice — to stand up for my First Amendment rights and the dignity of the people I serve."
The documents, which RNS has seen, were uncovered as part of a lawsuit filed against the federal government in July. Rev. Douša, who regularly ap- pears on MSNBC to comment on immigration issues, claims government officials infringed on her religious liberty in Janu- ary 2019 when they detained and surveilled her after she began ministering to Central American asylum-seekers in the migrant caravan along the southern U.S. border.
The pastor first learned the scope of the government's surveillance in March, when a San Diego NBC affiliate published leaked U.S. Depart- ment of Homeland Security documents believed to be part of an "Operation Secure Line" program overseen by the U.S. government to track and scru- tinize immigrant rights activ- ists. Among those listed in the documents was Rev. Douša, whose face was crossed out with a yellow "X" to indicate that her SENTRI pass — a system that allows for expedited screening along the Southwest U.S.-Mexico border — had been revoked.
In a brief filed on Dec. 20, Rev. Douša's lawyers point to documents accrued through the legal discovery process showing the government was investigating the pastor because it suspected her of potentially committing marriage fraud, namely by officiating the wed- dings of immigrants camping out on the Mexico side of the border as part of the migrant caravan.
"Identified as perform- ing marriage ceremonies in Tijuana," the Border Patrol Intelligence Unit document states.
According to a separate declaration from Rev. Douša, the pastor did perform "approximately 17 marriages" for asylum seekers with the help of other clergy who were participating in a 40-day "Sanctuary Caravan" designed to aid immigrants at the border.
But Rev. Douša notes that marriages were not an attempt to violate U.S. law, arguing she made "no representations regarding the legal impact our religious ceremonies would have in any application for asylum" and pointing to a document she helped create that encouraged clergy to "make sure the people understand it is a religious ceremony and certificate."
The December brief contends the government targeted Rev. Douša for performing religious ministry to migrants, which is protected under the U.S. Constitution and the 1993 Religious Freedom Restoration Act and is described as a "core part" of Rev. Douša's faith.
Rev. Douša alleges in court filings that the government "chose her as one of their targets because she engaged in 'acts of devotion commanded by the core tenets of her Christian faith'— namely, advocating for and ministering to migrants in New York and at the Southern Border by blessing their marriages, dedicating their children to Christ, hearing their confessions, and providing them other forms of pastoral care."
The brief argues the government's actions have "upended Pastor Douša's ministry," stating that "uncontested evidence shows that Pastor Dousa has curtailed her ministry, both at the Southern Border and in New York, because she fears Defendants will continue to target her based on her protected conduct."
The brief then lists examples, noting the pastor has canceled a planned trip to Mexico and refrained from blessing marriages of migrants.
Rev. Douša "feels compelled to warn penitents about the possibility of government surveillance, chilling her ability to provide pastoral counseling and absolution," the brief stated. "Her church has declined to host a pro se asylum clinic and has seen migrants and refugees deterred from participating in church activities."
The authors added that the government has not indicated that Operation Secure Line — or the database referencing Rev. Douša — has been dismantled or rescinded.
as possibly connected with antifa, a loose group of anti-fascist activists known for violently clashing with white supremacists in the streets of Charlottesville, Va., in 2017.
When asked about the con- nection, Rev. Douša told RNS, "To be honest I don't even know what antifa is."
The pastor has garnered widespread support for her cause. In July, 850 religious leaders signed an open letter backing her lawsuit against the government.
"The work that we do as clergy is crucial to them," the letter states in part. "We believe there to be a right for us to offer our pastoral services. ... In this country, the government cannot decide to whom we may preach or with whom we may pray."