Gun rights demonstration Downtown attracts thousands, fear
George Copeland Jr. | 1/24/2020, 6 a.m.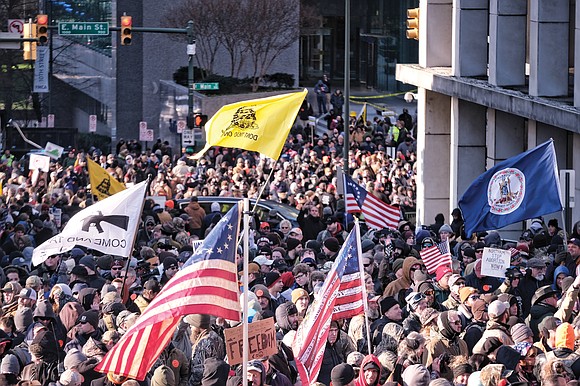 Richmond was on high alert Monday, as thousands of people — many with high- powered weapons — flooded Downtown to show their support for gun rights in Virginia as the General Assembly considers gun control measures.
A crowd estimated by Capitol Police at 22,000 stood in and around a fenced-off Capitol Square to hear speakers from Virginia and as far away as Texas pump up the crowd with claims that Democrats in the Commonwealth are poised to confiscate their guns.
"This is what happens when you threaten the rights of Americans," said Philip Van Cleave, president of the Virginia Citizens Defense League that organized the rally on the Martin Luther King Jr. Holiday, bringing parts of the city to a standstill, disrupting many plans for the annual Lobby Day and bringing the eyes of the world to the State Capitol.
People dressed in clothing ranging from everyday winter wear to full tactical gear carrying military-grade weaponry were joined by groups identified on social media as white supremacist and white nationalist groups, including The League of the South, Patriot Prayer and American Guard.
While Gov. Ralph S. Northam, citing intelligence reports of "credible threats," issued a temporary ban on weapons in Capitol Square beginning last Friday, more than 16,000 people roamed outside the no-gun zone and openly carried firearms, including handguns, long rifles and assault-style weapons, including one with a grenade launcher attachment.
Speakers inside and outside Capitol Square participated in cheers and chants, with some people calling gun safety legislation unconstitutional.
"I'm not sure what part of 'shall not be infringed' they don't understand, said Delegate John J. McGuire III, a Republican who represents parts of Henrico, Goochland and Spotsylvania counties and all of Louisa County, in talking about Second Amendment rights to keep and bear arms.
Culpeper County Sheriff Scott H. Jenkins declared his intention to deputize county residents if tough new gun laws are enacted.
A mass shooting in a Virginia Beach city office last May in which 12 people were fatally shot and four others were wounded prompted a wider public push to strengthen gun laws in the state, with Democratic candidates and some Republicans running on that platform.
For the first time in more than 20 years, Democrats won control of the General Assembly in November's elections, and are committed, along with Gov. Northam, a Democrat, to approve a range of gun safety laws.
Already the state Senate has advanced legislation requiring background checks before all gun purchases; limiting handgun purchases to one gun a month; and authorizing localities to ban guns from public buildings, parks and at and near public events.
A bill to enact a "red flag" law, which is still in committee, would prevent people deemed a threat to themselves or others from possessing firearms.
While the VCDL called for rally-goers to exercise restraint, the FBI arrest last week of six members of a white nationalist group, the Base, heightened concerns and sparked fears that Monday's rally could become another violent and deadly rally like that of white supremacists and neo-Nazi groups in Charlottesville in August 2017.
Organizations typically involved in Lobby Day and events honoring Dr. King opted to cancel their plans out of fear of potential violence.
"Citizens who represent the overwhelming majority of Virginians are prevented from lobbying their officials because of credible threats to their safety," stated Lori Hass, state director of the Coalition to Stop Gun Violence, which revised its plans to lobby for tougher gun laws on Monday. "This is a full-scale rejection of our democratic elections. This is mob rule. It is a grave threat to our democracy."
Virginia Beach filmmaker John Scherig, while voicing support for the rally, noted that its size had made it harder for him to meet with legislators at their offices in the Pocahontas Building on Capitol Square as he has in previous years.
"There's no way I'm getting near the Pocahontas Building," Mr. Scherig said. "The closest I've gotten to lobbying is tweeting at my delegates."
Instead of risking potential confrontation with a rally of their own, those supportive of progressive gun control legislation took a different approach. The Richmond chapters of Moms Demand Action and Everytown for Gun Safety organized volunteers to telephone legislators to thank them for supporting gun safety bills.
A cross on the grounds of Second Presbyterian Church in Downtown was decorated with the names of victims of gun violence in Richmond.
Local religious leaders held a prayer vigil at Centenary United Methodist Church, just blocks from Capitol Square, and a march along Broad Street honoring Dr. King. They called for empathy and solidarity against the "dark and dangerous forces" that had come to the state and city "bringing hate and violence."
"In the face of these threats, we seek to muster Dr. King's moral courage," read their statement signed by more than 30 faith leaders. "In a world of arrested justice and delayed peace, we must choose to speak words of community, affirm our common humanity and build a better world."
Following the rally, Gov. Northam issued a statement Monday saying, "We are all thankful today passed without incident."
Authorities said only one person was arrested. She was charged with wearing a face mask, although many people attending the rally wore masks and other covers that hid their faces.
"I want to thank the residents of our great city for their common sense and patience today," Richmond Mayor Levar M. Stoney said in a statement, "and for the sacrifices they made to accommodate this event in Virginia's capital city."