Ashe sculptor consultant for moves
Reginald Stuart | 7/9/2020, 6 p.m.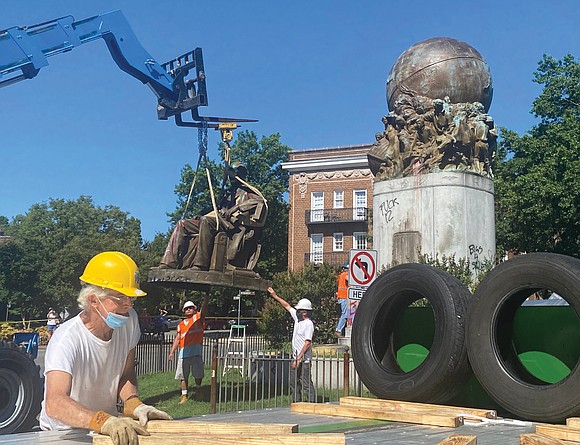 In his four decades of studying history around the world and interpreting it through professional sculpture work, Richmonder Paul DiPasquale has faced many a challenge.
Today, he is in the midst of helping the city turn a major page in its history.
He is consulting for the city on carefully removing the controversial, larger-than-life-size statues of the Confederacy along Monument Avenue.
Removing the symbols of oppression is a long pursued effort whose time finally arrived during the midst of persistent protests in Richmond and across the nation against police brutality and racial injustice following the death in late May of George Floyd at the hands of Minneapolis police.
"What we have seen is more of a turning point in history," said Mr. DiPasquale, explaining Mayor Levar M. Stoney's emergency decision to promptly remove the high-profile statues embraced by many rooted in past generations and a reminder of an agonizing past for many.
"Public historic art creates a dialogue," Mr. DiPasquale said. "People are reconsidering what they think."
Richmond's decision to remove rather than destroy the statues affords residents and visitors an opportunity to dialogue about the truth and "not preserve the falsehood" about the Confederacy, he said. Richmond's response to public appeals for the statues to be removed does not reflect the "mob mentality" demonstrated in some cities around the country, he said, offering last week's toppling in Baltimore of a statue of explorer Christopher Columbus as an example. The task at hand is a "multi-pronged job," said Mr. DiPasquale, who counts among his achievements the statue of Richmond native and tennis great Arthur Ashe Jr. on Monument Avenue, along with the statue of Neptune on the Virginia Beach boardwalk.
The task in Richmond starts with the four bronze monuments weighing up to 2,000 pounds each and sitting atop pedestals on Monument Avenue.
On Tuesday, the last of them on Monument Avenue – Confederate Gen. J.E.B. Stuart – was removed. Demonstrators tore down the statue of Confederate President Jefferson Davis on June 10.
His work on how best to safely dismantle each statue from its base and secure it for removal took several weeks of analysis,
he said. To assess his challenge, Mr. DiPasquale took a myriad of photographs from every possible angle above and below each statue to grasp details about how they were erected and planted in position decades ago.
The photographs helped him decide what sections to take apart at what junctions and in what order. The process takes some figuring, he said.
The statues are hollow, he said, asserting that he and the movers had to calculate the weight, width, circumference and length of each precisely.
Decisions had to be made about arms stretched out, a waving hand, the head or tail of a horse. The whole process of dismantling, loading and moving each statue took anywhere from three to six hours, he said.
He said he is uncertain about the future of the statues. "Over 100 years ago, it was a lot more people" willing to spring forth funds to underwrite the cost of a statue, he said. Today, "it's always hard to get people to pull out a checkbook to build a monument."
Still, "most of it is controversial," he said of Confederate figures. "The enemy is not hate, it is fear."