Coach Willard Bailey reaches mountaintop – Black College Football Hall of Fame
Fred Jeter | 11/25/2020, 6 p.m.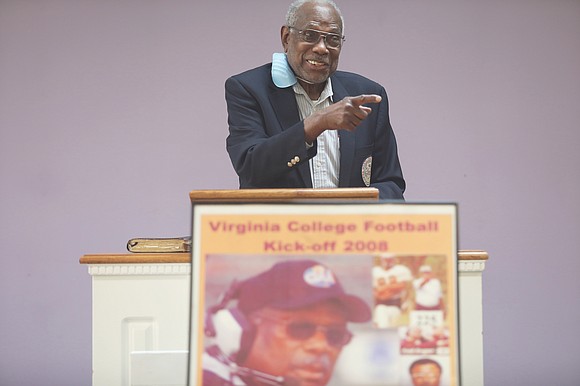 An old sports writer phoned Coach Willard Bailey last week to interview the winningest football coach in the CIAA about being selected for the Black College Football Hall of Fame.
Coach Bailey, who had an illustrious coaching career at Virginia Union University, Norfolk State University, Saint Paul's College and Virginia University of Lynchburg, won seven CIAA championships and took teams to the NCAAs six times.
He retired from coaching in 2013 with a stellar 238-169-7 record and sent seven of his players to the NFL.
He is one of six giants in the sport who will be inducted into the 2021 Black College Football Hall of Fame during a ceremony and Juneteenth celebration in Atlanta on June 19, presented by the Atlanta Falcons.
Coach Bailey, who was a tenured professor while he led football teams, has served since 2015 as president and chief executive officer of Central International College, a private, Baptist-oriented school based in Chester.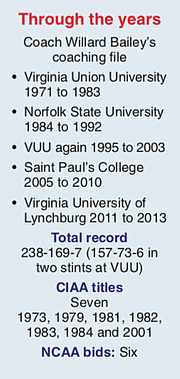 Even with the announcement last week of this latest honor, the conversation with Coach Bailey took a surprising turn. Instead of bragging on himself, something he had every right to do, Coach Bailey chose to turn the spotlight in just about every other direction, giving credit to others and to God.
He began the discussion with his faith.
"As coaches might say, I've made it to the mountaintop," said Coach Bailey, referring to his Hall of Fame tribute. "But it was God who guided me there. I could have never made it without God in my life."
From there, Coach Bailey shifted to his youth growing up in Suffolk.
"I must thank my elementary, junior high and high school teachers," he said. "They were committed to making me and my fellow students the best they could possibly be.
"In many cases, we used hand-me-down books from the white schools. My teachers made the most with less."
Never to be forgotten is Coach Bailey's high school coach, Charles Snead.
"I didn't want to go to college," he recalled. "Coach Snead made me. Without him, I'd have never gone to college and none of this would have happened."
Then there was close buddy Raymond H. Boone Sr., the late Free Press founder and editor, who Coach Bailey calls "my best friend."
"We were rivals in high school. I went to Booker T. Washington; Ray to East Suffolk. But we became friends for life.
"When Ray became sick, I'll never forget visiting him in the hospital. We talked about old times, about running around and laughed as loud as anyone has ever laughed."
Coach Bailey then said his assistant coaches at VUU were more like brothers than employees.
"Anytime you write anything about me, be sure to mention (defensive coordinator) Jesse Chavis," he insisted. "With Jesse, we always had a head start because Jesse's defense never gave up a point."
Then there was Joe Taylor, who Coach Bailey took in as a young assistant. Years later, Coach Taylor succeeded Coach Bailey as VUU coach and enjoyed a historic career of his own. Coach Taylor is the athletic director at VUU.
"Jesse Chavis, Joe Taylor, Waverly Tillar, John Wright, so many. My assistants were great. I'd go on, but I'm sure I'd miss someone," Coach Bailey said.
Then there was the late car dealer Edwin Mugford, who graciously supplied Coach Bailey and VUU with much- needed transportation.
"Ed would never let me pay. He'd give me the car and make it seem like I was doing him a favor."
Another businessman Coach Bailey praised was Bunkie Trinite, the late trophy store owner.
"Bunkie knew we were trying to run a program on nothing in ways of revenue. He made sure we had what we needed."
Insisting on avoiding center stage, Coach Bailey even went so far as to praise the sports-writers who had followed his distinguished career.
That was a first for one old sportswriter. Scribes know only too well that coaches are more apt to heap praise on a cockroach crawling across the Thanksgiving table than a guy with a pad and pen.
Coach Bailey won 238 college games, but rather than boast of that, he elected to bring up a particular loss — a 21-20 setback at North Dakota State in the 1982 NCAA playoffs.
VUU lost in the strangest of ways — on an inadvertent whistle — that voided what would have been a long, game- winning pick six by Dwayne Drew in the closing minutes.
"An 'inadvertent whistle?' Who's ever heard of that? I considered that my championship because, if we'd won there, I think we'd have gone all the way," Coach Bailey said.
"That's OK. God didn't want me to be the champion then. It wasn't my time. But now it is."
So now Coach Bailey has made it to the coaching mountaintop.
But he makes this crystal clear: "This is a blessing, not just for me, but for so many who helped me get here."
The mountaintop would seem empty without Coach Bailey and friends.