Black woman chaplain makes rank of colonel and history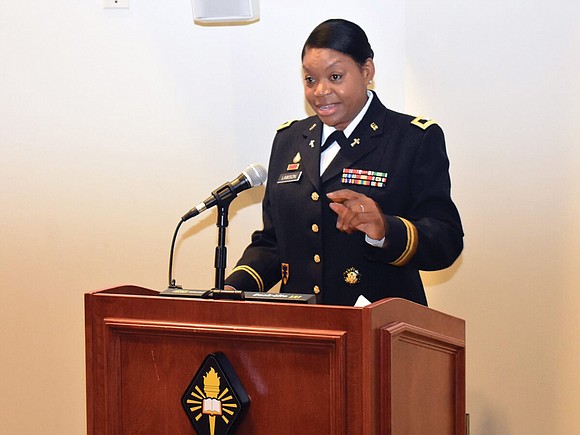 The U.S. Army has promoted an active-duty African- American woman chaplain to the rank of colonel for the first time.
Chaplain Monica R. Lawson was given the new status of colonel in a ceremony streamed live Sept. 2 on the Facebook page of the U.S. Army Chaplain Center and School. The African Methodist Episcopal minister is the chief of recruiting and accessions for the U.S. Army Chaplain Corps.
"As an African-American woman who has always been proud of the skin that I'm in, in this time, this is a bright spot in a sea of what seems to be darkness never-ending," Col. Lawson said during the ceremony in the auditorium of the school at Fort Jackson in South Carolina.
"In a time when we are faced with political polarization, racial unrest, a pandemic and economic uncertainty, it's good to have something to celebrate and to take our minds off of what is going on, if only for a moment."
The hourlong ceremony began with the playing of a recording of "The Star-Spangled Banner" and ended with those gathered in person singing "Lift Every Voice and Sing," also known as the Black national anthem.
Col. Lawson spoke on the historic occasion of "the sin of racism" and the need for "heartfelt, heart-changing dialogue."
"I know many of you are saying 'What does race, race relations and racism have to do with you being promoted?" she said. "Well, just in case you didn't figure it out, it took us 245 years for this moment to happen."
Retired Chaplain Geraldine Manning, an African-American woman who served as an Army Guard and Reserve chaplain, previously was promoted to colonel.
By contrast, Col. Lawson is an active duty service member.
The Scripture reading, from the Book of Isaiah, included the words: "But those who hope in the Lord will renew their strength. They will soar on wings like eagles; they will run and not grow weary, they will walk and not faint."
Earlier in the ceremony, before the eagle insignia were attached to the shoulders of her uniform to symbolize Col. Lawson's promotion, Maj. Gen. Thomas Solhjem, Army chief of chaplains, encouraged Col. Lawson to empower those beneath her to succeed.
"You're being recognized today not because you are a Black female," he said. "But you are being recognized today because you have exhibited to a board of what will soon be your peers and those superior that you have the potential to lead in this United States Army Chaplain Corps."
After Maj. Gen. Solhjem led her in an oath to the U.S. Constitution, the two exchanged elbow bumps instead of handshakes, in light of the coronavirus pandemic.
Col. Lawson, a native of Five Points, Ala., is a graduate of Spelman College and earned a master's of divinity from Turner Theological Seminary, the A.M.E. Church's school on the campus of Atlanta's Interdenominational Theologi- cal Center.
Her military assignments include serving as a battalion chaplain at Fort Story, Va., and Fort Jackson; a family life chaplain at Fort Bliss, Texas; a deputy cadet command chaplain at Fort Knox, Ky.; a command chaplain at Fort Bragg, N.C.; and a deputy Pentagon chaplain.
In her remarks, Col. Lawson paid tribute to several men and women who were among the earliest Black or female military chaplains or colonels in the chaplain corps. They paved the way for her, she said.
"Too many times when people write history, we tend to leave out the history of those who made it possible for us to achieve our historic moments," she said.
"I wanted to allow the world to see that you can make history and still embrace the history of other people. Acknowledging other people's accomplishments, regardless of race, religion or gender, does not diminish your accomplishments."