Black Jesus version of Michelangelo's Pieta divides Catholics on race and politics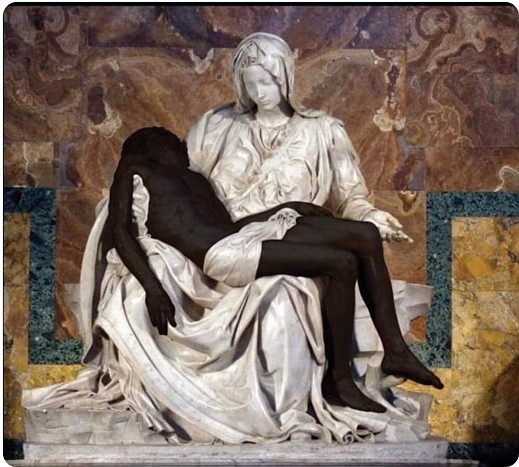 VATICAN CITY - An interpretation of Michelangelo's iconic Pietà featuring a Black Jesus has unexpectedly caused a debate about Black Lives Matter, the sanctity of art and the evangelization of Africa after the Pontifical Academy of Life, an official Vatican think tank, tweeted out a photo of the reimagined statue on Sept. 12.
The tweet, posted by the academy with the caption, "An image that is worth a speech," was liked more than 1,000 times and received numerous retweets, with many commenters praising its message against racism. But others on Twitter criticized the photo for politicizing the figure of Jesus.
"Jesus died for all, and this is racist to say the least," wrote Philip Murrell, who calls himself a conservative and a Roman Catholic in his bio. He said the image was posted "to appease marxist communists and the arsonist terrorist (Black Lives Matter)."
The conservative Catholic news website Church Militant used the image, which it said "profanes the Pieta" to criticize the head of the academy, Archbishop Vincenzo Paglia, saying the agency has been in a "downward spiral" since Pope Francis tapped Archbishop Paglia to lead it in 2016.
In an email to Religion News Service, Archbishop Paglia explained that the image the academy issued was inspired by the work of Italian sculptor Fabio Viale, whose version of Michelangelo's Pietà, which is in St. Peter's Basilica in the Vatican, was exhibited in 2015 in Milan at the height of Europe's immigration crisis. His statue, called "Lucky Ehi," portrayed a 22-year-old Nigerian who fled his country to avoid persecution due to his Christian faith.
At the time, the artwork was praised for its support of immigrants and condemnation of the ongoing persecution of Christians all over the world.
The archbishop said that while the post didn't refer to any specific case of racism, "If there is an reference, it's to every unfair discrimination due to the color of one's skin," he said.
"I realize that in a different context it was possible to interpret the image in relation to cur- rent social and political battles," Archbishop Paglia said.
Answering those who said that it misrepresented the historical Jesus, the archbishop said Christians can't "pretend that the real body of Christ, his human flesh, like Mary's, are exactly the same as the white of the marble from Carrara," referring to the quarry where Michaelangelo is likely to have sourced his marble.