Celebrating 150th anniversary of Jackson Ward
4/22/2021, 6 p.m.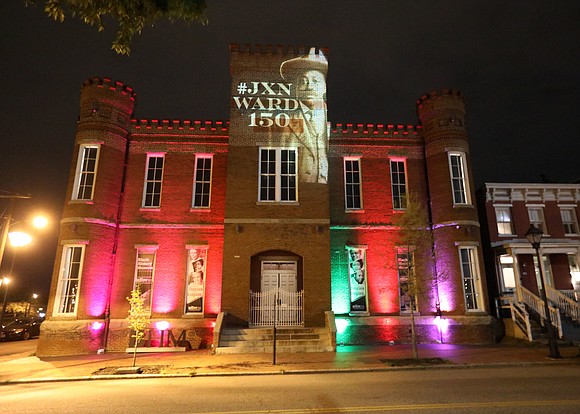 Hundreds of people gathered in Jackson Ward last Saturday for "Illuminating Legacies: Giles B. Jackson Day," the kickoff of The JXN Project's celebration commemorating the 150th anniversary of Jackson Ward. Known as the "Black Wall Street," Jackson Ward was a thriving center for Black commerce, entertainment and life in Richmond following the Civil War. It is the first historically registered Black urban neighborhood in the nation and has a long and rich legacy that sisters Dr. Sesha Joi Moon and Enjoli Moon seek to elevate and celebrate as co-founders of The JXN Project.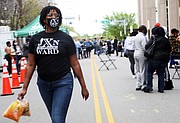 Participants and sponsors, including LaDora Carter of Chesterfield, left, enjoyed guided tours of the Jackson Ward community, art activities, music, food and history about Jackson Ward and its residents shared by organizers, local officials and families. A highlight of the celebration was the illumination of historical images throughout Jackson Ward, including one of the late Giles B. Jackson on the old Leigh Street Armory, now the home of the Black History Museum & Cultural Center of Virginia.
Mr. Jackson, who was born enslaved in 1853, was an attorney, newspaper publisher and civil rights activist who was thought to be the namesake of the community. Mr. Jackson was appointed chief of the Negro Division of the U.S. Employment Service in Washington during World War I, lobbied Congress to address interracial labor problems and the working conditions of Black people and organized an exhibit highlighting Black achievement at the Jamestown Tercentennial Exposition of 1907.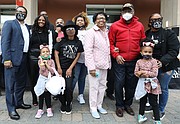 Mayor Levar M. Stoney declared April 17 Giles B. Jackson Day and a proclamation was presented to Mr. Jackson's descendants Saturday by state Delegates Jeff M. Bourne of Richmond and Lamont Bagby of Henrico, members of the Virginia Legislative Black Caucus.
The JXN Project co-founders, sisters Dr. Sesha Joi Moon, front center in JXN Project T-shirt, and Enjoli Moon, behind her in JXN Project T-shirt, pause for a photo Saturday with descendants of Giles B. Jackson. Among them are Mr. Jackson's great-great grandson, William Carter IV of Philadelphia, left, and his two daughters, Gabby Carter, 3, left, and Eva Carter, 5, the great-great-great-granddaughters of Mr. Jackson; and Mr. Jackson's great-granddaughter and great-grandson, Dr. Patricia Carter Sluby of Temple Hills, Md., in pink, and her brother, Jerome Carter of Henrico County, in red.