Jamaican women and Black Italian man world's fastest
The new "World's Fastest Man" runs for Italy in the Olympics, but was born in El Paso, Texas.
Lamont Marcell Jacobs, 26, the son of an Italian mother and African-American father, won the 100-meter dash in 9.80 seconds last Sunday at the Tokyo Olympics.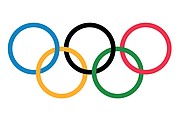 American Fred Kerley won the silver medal in 9.84 and Andre De Grasse of Canada won bronze in 9.89.
The pre-Olympics favorite, Ameri- can Trayvon Bromell, ran the 100 in 10 seconds in the semifinals and failed to advance. Bromell had the world's fastest times leading up to the Olympics.
Jacobs'father was a career military man. At the age of 18 months, Jacobs moved with his mother to Italy and became a citizen. The powerfully built 6-foot-2 Jacobs is the first European to win the Olympic 100 meters since Great Britain's Linford Christie in 1992.
Now retired, Jamaican Usain Bolt three-peated winning the gold in 2008, 2012 and 2016, posting an Olympic record of 9.63 in 2012.
The last 100 meter champion from the United States was Justin Gatlin in 2004.
---
Elaine Thompson-Herah is not only the fastest woman in the world now, she just may be the fastest woman in the history of the world.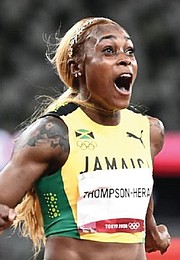 In winning the 100-meter dash last Saturday at the Tokyo Olympics, the 29-year-old Jamaican set an Olympic record of 10.61 seconds.
That is one 100th of a second faster than the 10.62 that American Florence Griffith Joyner—the late "FloJo"—posted in 1988.
Joyner still holds the world mark of 10.49 for non-Olympic competition. The event was a sweep for Jamaican runners. Thompson-Herah was joined at the finish line by Jamaican teammates Shelly-Ann Fraser- Pryce, who took silver in 10.74, and Shericka Jackson finishing third at 10.76. Teahna Daniels was the fastest American, finishing seventh at 11.02.
Thompson-Herah is a repeat winner. She also captured gold in the event at the 2016 Olympics in Rio de Janeiro with a time of 10.71. She also won the gold in Rio in the 200- meter race.
Fraser-Pryce was the champ in the 100 in 2008 and 2012 Olympics.
Other back-to-back winners were Americans Gail Devers (1992 and 1996) and Wyomia Tyus (1964 and 1968).
The United States might have fared better with the presence of Olympic Trials champion Sha'Carri Richardson, who was suspended for a positive drug test. Richardson's winning time at trials was 10.86, although she had run faster in qualifying races.