Efforts start to reconnect parts of Richmond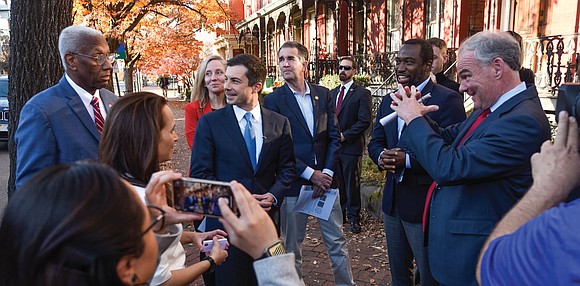 U.S. Secretary of Transportation Pete Buttigieg promoted a new program to spend $1 billion to reconnect neighborhoods torn apart by the construction of the interstate highway system 66 years ago during a visit to and tour of Richmond last Friday, Dec. 3.
During the tour, Mayor Levar M. Stoney expressed pride that Richmond was the place Mr. Buttigieg chose to promote the reconnection program.
The mayor is to announce Thursday that his administration and the Virginia Department of Transportation are starting the process with a feasibility study to determine how best to reconnect Jackson Ward and Gilpin Court, which were split by the construction of Interstate 95. The study is to be phased and allow for community feedback and engagement, city officials said, and will complement planning for redevelopment of Gilpin Court.
A bit surprisingly, Mr. Buttigieg's brief walking tour stuck to Leigh Street, with renovated homes and historic places that bear no sign of the devastation the 1955 construction of I-95 had on Jackson Ward, which was once dubbed the "Harlem of the South." The highway's development destroyed 1,000 Black-owned homes and businesses, displaced 10 percent of Richmond's Black residents and began a three decades-long depression in the once thriving commercial, social and civic center of the Black community.
Tour leader Maritza Pechin, deputy director of the city's Office of Equitable Development, said the aim was to show Mr. Buttigieg the positives of Jackson Ward and its rebound rather than the lingering impacts of that long ago highway work.
"People are aware of what it feels like to be next to a highway," she stated, "but we wanted to show the strengths of Jackson Ward and how the streets and the solid building pattern end."
Mr. Buttigieg, who also toured Henrico's planned GreenCity development, called his walk in Jackson Ward enlightening. He called it "embarrassing" that the interstate has an exit that allows vehicles to enter Gilpin Court, but lacks an on-ramp for residents to access the highway.
"Transportation is about connection," Mr. Buttigieg said. "What you see in Jackson Ward is how transportation dollars can disconnect communities. What you see is a community cut through by a highway. Whether it's through more crossings or capping the highway, transportation should always be about connecting and not dividing," he continued.
"Twenty-first century planning has to be about how any new transportation asset is integrating the surrounding areas. How do we knit it all together in a way that benefits all?"
Answering that question is a priority in the city's new Richmond 300 master plan, which calls for installing infrastructure to connect the two areas.
Congressman A. Donald McEachin said he hopes that Richmond will rank high in competing for a share of the $1 billion that could be used to cap or bridge the interstate to expand the connection between the two halves of Jackson Ward and the rest of the city.
Currently only 1st Street and Chamberlayne Parkway provide such connections into and out of Gilpin Court, home to nearly 3,300 people and now a city target for redevelopment into a mixed-income community.
"We as a government — whenever and wherever we can — need to make up for and correct past wrongs," Rep. McEachin said. "It's not enough to just say, 'I'm sorry.' You have to back up regret with restorative actions.
"This is a way for us as a nation to atone for what we did to that community and help current residents come together and be that vibrant hub of entertainment, business and culture again that it once was."