Personality: The Rev. John Brian Sawyer
Spotlight on co-founder and board chairman of Bridging RVA
12/16/2021, 6 p.m.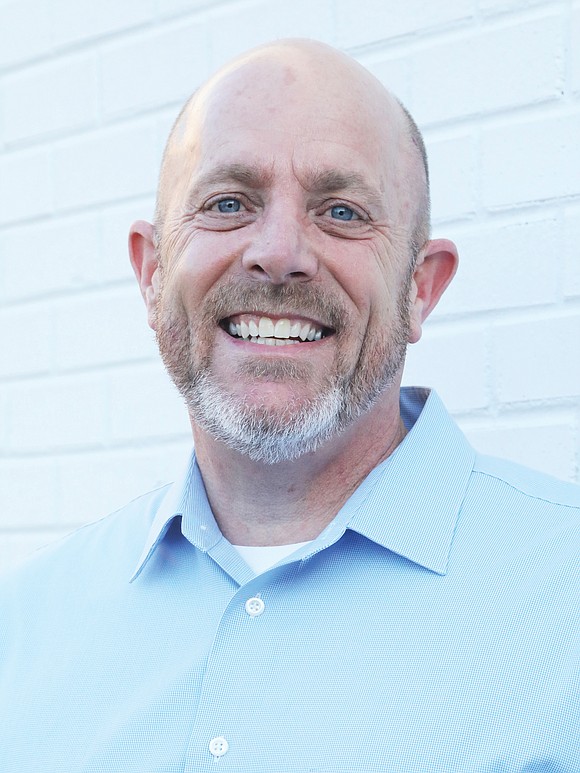 The Rev. John Brian Sawyer has lived a life driven by his passions.
In the midst of a corporate career, inspiration drove him to a role with the church and led him to the seminary to become an ordained pastor.
That same passion led him to co-found in 2014 Bridging RVA, a nonprofit organization that connects people, groups and causes to work together for the good of the community.
Now, in this time of COVID-19 and great need, Rev. Sawyer and Bridging RVA have responded through its "Rapid Response Initiatives" as well as its ongoing and annual initiatives.
During the start of the pandemic when schools shut down, Bridging RVA learned from Communities in Schools of Chesterfield and Richmond that many area families didn't have access or transportation to food pantries. Bridging RVA launched a rapid response initiative called Drop-Knock-Leave.
"Volunteers gathered every Saturday, loaded their vehicles with bags filled with food, cleaning supplies and hygiene products, received a detailed delivery route and made deliveries to the doorsteps of families without access to food pantries," Rev. Sawyer says.
The volunteers left the bags of food on the family's doorstep, knocked and left, all in line with health and safety protocols.
"We initially thought this initiative would last six to eight weeks," he says. "However 60-plus weeks later, we had made 7,026 deliveries. Along the way, we picked up requests for food assistance from area hospitals sending people home to quarantine, from Resources for Independent Living, the Better Housing Coalition and others."
The program was put on pause once things began re-opening, Rev. Sawyer says, but Bridging RVA has continued to help families dealing with food insecurity on an "as needed, rapid response basis."
"COVID-19 disrupted and changed the world as we knew it, but our desire to spread hope, peace, joy and love throughout our city has remained unchanged," Rev. Sawyer says. "We had to learn the value of the 'pivot'and find creative ways to do life and live out our mission during COVID-19."
Rev. Sawyer sees major value in being an active part of solutions to community needs. His faith underlines for him the importance of not standing by in the face of others' struggles, especially if one has the means to help.
"Let's not think for a second there's a shortage of food in our city," Rev. Sawyer says, adding that he views the area's food insecurity problem as due to a lack of proper food distribution. "If you have a pantry full of food, don't ask God to magically deliver a bag of groceries to a hungry person. Don't sit by idly while people are hungry around you. Be a part of the solution!"
Currently, Bridging RVA is preparing for its annual Christmas Day Dinner, which, like last year, will be switched from an in-person dinner to preparing and delivering dinner to several thousand people. Last year, more than 250 volunteers delivered more than 2,000 meals to people on that special day.
Meet an advocate and bridge for the common good and this week's Personality, the Rev. John Brian Sawyer:
No. 1 volunteer position: Co-founder and board chairman of Bridging RVA.
Occupation: Pastor, Bon Air Baptist Church's James River Campus in Midlothian.
Date and place of birth: Feb. 6 in Lynchburg.
Where I live now: Midlothian.
Education: Bachelor's in business administration, Averett University, and master's in ministry leadership, Portland Seminary at George Fox University in Oregon.
Family: Wife: Lee Ann; and children, Justin, married to Amy and lives in Kansas, and Katie, engaged to Matt; and grandchildren, Joel, Lily and William.
Bridging RVA's mission: Connecting individuals, groups and causes to advance common good in our community.
Bridging RVA is: Fortunate to have so many wonderful and selfless donors and volunteers. We strive to meet people where they're at and provide meaningful experiences where the lives of both the volunteer (giver) and recipient (need) are impacted in a significant way.
No. 1 goal of Bridging RVA: Creating opportunities for individuals and disparate groups of people to discover common ground while addressing matters pertaining to the common good of our community.
Strategy for achieving goal: Ideation labs, rapid response initiatives and annual initiatives.
Racial equity and Bridging RVA: We realize needs vary within any community and are often directly related to racial and socioeconomic status. Our mission involves promoting and advancing matters pertaining to the common good of our community, which includes working towards racial equity. We aim to meet and engage people where they are and serve them justly, depending on their need or circumstance. Connecting people to resources that are necessary to thrive is at the core of our efforts. While assessing or meeting these needs, we strongly encourage all of our volunteers to turn away from judgment and toward wonder.
Who benefits from Bridging RVA: From our donors and volunteers to those being served, everyone benefits.
How to contact Bridging RVA if in need of assistance: Most of our needs come in through local schools, community groups and communities of faith. There are many needs in our community and vetting these needs adds a level of complexity to the process. So, we rely heavily and depend upon vetted referrals from schools, social workers, health care professionals, counselors and faith leaders.
When Bridging RVA wished it could have done more: Six young children attended our Christmas Day Dinner four years ago. As they sat around a table filled with food, desserts and sodas, it became apparent these children weren't related to each other or the adults who brought them. These children had no families and were being chaperoned by workers from a home where they lived. It was hard to imagine children waking up alone on any morning, let alone Christmas morning. After dinner, all of the children would get in the line for an opportunity to see Santa and pick out a nice gift. As these six children looked in amazement at all of the toys, games, etc., they weren't drawn to the latest gadgets and tech toys. They were opting for practical gifts. One of the children, a young boy between 5- and 7-years old, walked past all the popular toys and picked out a big snuggly stuffed animal.As he stood there with his eyes closed holding the stuffed animal against his cheek, it ripped the hearts out of the volunteers who were standing nearby. It is hard to imagine a child without a family, especially on Christmas morning, and we all wanted to do more. Knowing there was little we could do at the moment, we did have enough pull with Santa to work out a special second visit and extra toys for these children.
How to get involved: Visit BridgingRVA.org and sign up for specific initiatives and to receive updates on volunteer opportunities and news.
A perfect day for me: A snow day.
What I am learning about myself during the pandemic: The gift of slowing down and embracing the fact that we, as humans, are limited. As a friend of mine often says, "Living a life without limits inflicts damage to our souls." Simply put, we are called human beings, not human doings, for a reason.
Something I love to do that most people would never imagine: Based on the past couple weeks, I'd have to go with decorating the outside of our home for Christmas.
Quotes that I am inspired by are: "We must live together as brothers or perish together as fools." — Dr. Martin Luther King Jr. "Learning how to live in the greatest peace, partner- ship and brotherhood with all men and women, of whatever description, is a moving and fascinating adventure." — Bill Wilson
Friends describe me as: Thoughtful, genuine, personable and intuitive.
Best late-night snack: Ray's Italian Ice and Dairy Queen. Best thing my parents ever taught me: "Never give up on people." Not only was this taught, it also was modeled both inside and outside the home.
Book that influenced me the most: "Emotionally Healthy Spirituality: Unleash a Revolution in Your Life in Christ" by Peter Scazzero.
What I'm reading now: "Incarnate: The Body of Christ in an Age of Disengagement" by Michael Frost.
Next goal: Raise enough funds and volunteers to cover the cost of our Christmas Day Dinner and ongoing rapid responses by year's end.