Personality: Beth Furgurson
Spotlight on Birdhouse Farmers Market board co-chair
7/13/2023, 6 p.m.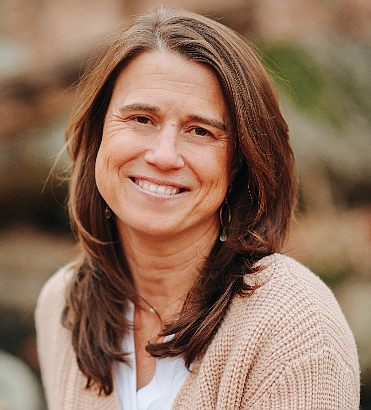 Several years ago, Beth Furgurson began paying closer attention to what she and her family were eating when she was experiencing some health issues. She started visiting farmers' markets, learned about local foods, volunteered at a farm and began working with local food organizations.
Now she is part of the board of the Birdhouse Farmers Market, serving as co-chair alongside Erin Lingo, and helping to provide several programs and activities to the community. A popular program is the weekly farmers market that runs 3 to 6:30p.m. every Tuesday afternoon from May through November in the Randolph Community's Petronius Park.
"I have a passion for supporting local farmers, healthy eating and building community," the Bon Air resident said. "Serving on the Birdhouse board felt like the perfect way to continue to fuel my passion for supporting healthy foods.
The weekly outdoor market provides access to both organic produce and everyday items from more than 30 vendors in an area, including several that are Black or minority-owned. Because the area lacks access to a grocery store, Birdhouse helps meet community needs by providing fresh produce and healthy foods.
"Birdhouse also is committed to reducing food inequities in our community. We operate a Food Pantry Support Program that connects BFM farmers and producers with the local food pantry at Second Baptist Church (on Idlewood Avenue) located adjacent to the market. The program includes two facets — direct donations from weekly market vendors," says Mrs. Furguson. "And a USDA grant that aims to support long-term relationships between producers, food assistance organizations, and customers to help reduce food insecurity across the Commonwealth.
Mrs. Furgurson says Birdhouse Farmers Market is working to support its core value of "strengthening us all by feeding us well."
The group manages a year-round online market and addresses food insecurity by partnering with a neighborhood food pantry to help more than 200 families per week. Its latest project is the Birdhouse Community Garden — a space that organizers hope will become a permanent resource for community members to grow healthy food and learn about gardening and cooking.
"Beds have been prepped, plants have gone in the ground, and we're currently working on adding benches and more to create a welcoming and inviting space for all to enjoy," Mrs. Furgurson says.
The past several years have seen a lot of growth and change for Birdhouse. Mrs. Furgurson says managing that growth while continuing to act as a hub in the community's local food system is a big challenge.
"Birdhouse changes lives every single day," adds Mrs. Furgurson. "The value of human connection and interaction enabled by farmers markets cannot be overstated."
Meet a Richmond community advocate for healthy eating and healthy living and this week's Personality, Beth Furgurson:
Volunteer position: Board co-chair, Birdhouse Farmers Market.
Occupation: Business support coordinator with the InnerWill Leadership Institute.
Date and place of birth: July 30 in Richmond.
Where I live now: Bon Air.
Education: Bachelor's degree, James Madison University; associate degree in photography, Art Institute of Atlanta.
Family: Husband, Ryan; son, Brycen.
Birdhouse Farmers Market is: The hub of an ecosystem of healthy, food-related community activities designed to strengthen our local food system and improve the health and well-being of our community. The anchoring activity of that hub is the farmers market — a friendly, open-air, all-weather, mid-week, food- focused, SNAP-accepting market promoting healthy eating and a love of the environment.
Mission: Strengthening our local food system to improve the health and well-being of the Richmond community.
Brief history: Birdhouse Farmers Market began as Byrd House Market, a project of the William Byrd Community House in 2007 in Oregon Hill. In addition to the farmers market, WBCH included a community garden, cooking classes, a mini farm, and nutrition education for children and local families. Our goal is to recreate the critically important work of WBCH in our new home in Randolph, an area just a few blocks west of our original home.
Founder(s): After the closing of the William Byrd Community House a group of vendors along with Ana Edwards, the last WBCH market manager, joined forces to found Birdhouse Farmers Market. Within six months a volunteer advisory board was formed to oversee the organization, which included Patty Parks and Dominic Barrett, both long-time food access and community engagement leaders.
How Birdhouse Farmers Market serves the Randolph community: Birdhouse Farmers Market is a weekly event where people can gather as a community to purchase healthy food options in an area that lacks access to a grocery store. We are proud to accept EBT/SNAP at both our in-person and our online market. Additionally, we participate in the Virginia Fresh Match Program, doubling the purchasing power for our SNAP customers.
How Birdhouse Farmers Market works to have diverse racial representation of its vendors and shoppers: Birdhouse is a part of the Racial Equity Workgroup of the Virginia Farmers Market Association. This group, formed in 2022, comes together to address among other things, the recruitment and retention of minority owned farms and businesses in our markets.
How I became involved with Birdhouse Farmers Market: Prior to joining Birdhouse Farmers Market, I was the executive director of a local food organization focused on making connections and growing the local food system – Real Local RVA. This organization operated similar to a small chamber of commerce. I have a passion for supporting local farmers, healthy eating, and building community.
Number one goal or project: Birdhouse has seen tremendous growth over the last few years, implementing 2-3 new programs in a short amount of time. My goal is to help Birdhouse continue to do what it does well and stabilize the growth we've had over the last few years.
No. 1 challenge facing Birdhouse Farmers Market: Birdhouse's growth over the past four years has exceeded all expectations. Managing our growth is proving to be our greatest challenge. While it is gratifying to see hundreds of customers flock to our outdoor market on Tuesday afternoons, we are also managing a year-round online market, while serving an ever-increasing number of SNAP recipients, addressing food insecurity by partnering with our neighborhood food pantry, and operating an educational garden.
Other ways to become involved in the Birdhouse Farmers Market: There are lots of ways to get involved! We are always looking for volunteers.
All of the information to volunteer, sponsor or join Friends of Birdhouse is on our website, https://birdhousefarmersmarket.org.
Upcoming events:
• Saturday, July 15, building compost bins, making signs and garden markers.
• Saturday, Aug. 19, prepping for the berry patch, installing rain barrels.
• Sunday, Sept. 17, The Birdhouse Farmers Market's 6th Annual Farm Dinner at ZZQ Restaurant in Scott's Addition.
How I start the day: I try to start my day with some type of exercise, a walk, yoga or strength training.
The three words that best describe me: Organized, pragmatic, empathetic.
If I could host a dream dinner party, the one special guest I would invite: My dad who passed in 2018. It would have to be a simple dinner party though — he was a meat and potatoes kind of guy.
Best late-night snack: Sea salt dark chocolate.
The music I listen to most: I just attended an Ed Sheeran concert!
Something I love to do that most people would never imagine: Watch Premier League Soccer — or any soccer really!
A quote that inspires me: "There is always light. If only we're brave enough to see it. If only we're brave enough to be it." — Amanda Gorman.
At the top of my "to-do" list: Complete our basement renovation.
The best thing my parents ever taught me: The importance of family.
The person who influenced me the most: My mom.
Book that influenced me the most: In terms of my food journey, "Animal, Vegetable, Miracle," by Barbara Kingsolver. I was inspired to start shopping at farmers markets and learning more about the local food available in our area. I started to volunteer at a local farm and the rest is history.
What I'm reading now: "Homegoing" by Yaa Gyasi. Incredibly written, emotional, beautiful and gut wrenching all wrapped up into an amazing work of art.
Next goal: This year involves a lot of changes for me and my family. New responsibilities, new jobs, new schools and new schedules. My goal is to find some stability in all the chaos life brings.