Personality: Sharon Parham Blount
Spotlight on Shalom Farms board chair
4/13/2023, 6 p.m.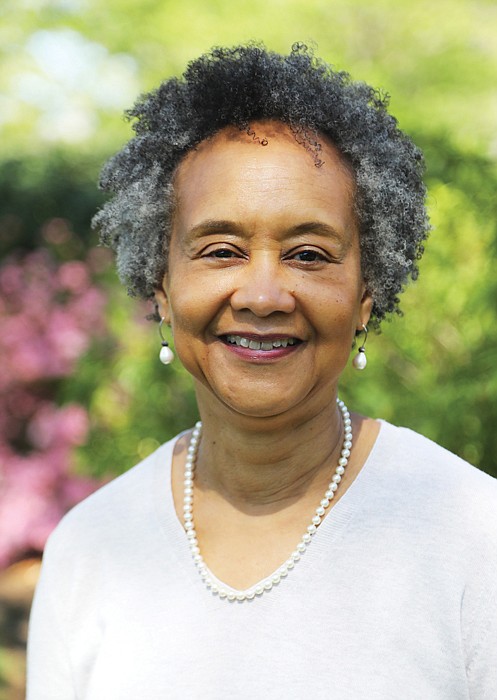 Sharon Parham Blount is bringing a new kind of peace to Richmond's hungriest residents.
The new board chair of Shalom Farms, Mrs. Blount has assumed a key part in the leadership of an organization that has worked since 2009, when it was originally a social program led by the United Methodist Urban Ministries of Richmond, to expand food access in the Richmond area.
For Mrs. Blount, who joined Shalom's board of directors in 2019, the group's mission fits her own life experiences, and resonates with her beliefs and interest in aiding Richmonders in need of assistance.
"Iwantedtobeapartofan organization that directly impacts the lives of Richmonders," says Mrs. Blount, when asked why she accepted the position. "As an African-American woman with diabetes, I know how important it is to have good choices about what we eat and how we care for our bodies."
Mrs. Blount first learned of Shalom Farms through its work at Union Presbyterian Seminary, where one of its community farms is located. She was encouraged by the group's former executive director, Dominic Barrett, to join their efforts.
Since joining Shalom, Mrs. Blount has chaired the Shalom Farm's Programs Committee, and has been part of the nonprofit's board of directors throughout the length of her time with the organization.
"As food insecurity rates across Richmond continue to rise, Shalom Farms' mission to bring fresh produce to the most vulnerable in our communities becomes even more necessary," she says.
Mrs. Blount board leadership coincides with Shalom Farms' efforts to expand food access. Food insecurity continues to be a major issue in the United States, with Richmond having an overall food insecurity rate of almost 14 percent, with 22.7 percent of children in the city lacking food access, according to Feeding America.
At the same time, food access advocates are working to shift their approach to this issue according to Mrs. Blount. This shift includes moving away from the idea of "food deserts" toward "food apartheid," emphasizing the nature of this problem as man-made and systemic, rather than a natural occurrence.
Mrs. Blount and Shalom Farms' current work fits in well with this moment, as the organization's work shifts more toward racial equity. She currently chairs the nonprofit's Racial Equity Committee. The nonprofit also is moving forward on a new, three-year strategic plan centered on racial equity.
"As we look to the future, we want to do more than just be an input that is part of an unjust system," Mrs. Blount says. "Rather, we want to collaborate with others, sharing our resources, to create a new and better food system together."
"In all of this work we continu- ally ask ourselves if what we are doing best serves and honors the communities for whom and with whom we work."
Saturday, May 6, will see the return of the group's annual Savor Shalom at the Powhatan Farm, marking the first time the gala has taken place since 2019. For Mrs. Blount, these events and others are a critical part of the nonprofit's work and success, and highlight the other meaning of the word "shalom" for the group — not just peace, but the creation of a healthy, sustained Richmond community.
"Every encounter brings us closer as a community and ex- pands our thinking about what food accessibility and equity in our food system looks like," Mrs. Blount says. "I'm so glad I get to be a part of this vibrant and thoughtful organization."
Meet a leader for food advocacy and equity and this week's Personality, Sharon Blount:
Volunteer position: Board chair, Shalom Farms.
Occupation: Retired.
Date and place of birth: Oct. 6 in Greenwood, Miss.
Where I live now: Richmond's North Side.
Education: Bachelor's degree, Hampton University, and MBA, Old Dominion University.
Family: Brian Blount, husband, Joshua Blount, son, Kaylin Blount, daughter.
Shalom Farms is: A nonprofit farm and food justice organization working for an equitable food system in Richmond. Each year, we grow and distribute more than 200,000 pounds of certified naturally grown produce through our network of community partners and our own innovative food access and education programs, including our Mobile Market and Community Food Skills Education Classes.
Why the name: "Shalom" is a Hebrew word often translated as "peace." However, its meaning goes beyond just the absence of violence or oppression, to suggest the active presence of health and happiness, and an understanding that this wholeness and well-being belongs to everyone.
Number one goal or project as board chair: I am excited about our organization's desire to look at everything we do through a racial equity lens. This is a bold and challenging concept, and I am enjoying working with the board and staff to see how we might grow and change through this process.
Shalom Farms, Black and Brown Richmonders and food injustice: Everyone deserves access to good food. Food that is good for their bodies, their families, their community and the environment. Unjust and uncaring systems create barriers to persons and their families in accessing food, disproportionately affecting Black and Brown communities in our region. This is not OK. We envision a food system that is rooted in racial equity, and not oppression and white supremacy, where all persons have equitable access to nourishing food and meaningful opportunities to grow, choose, cook and enjoy fresh, afford- able food.
Number one challenge facing Shalom Farms: Connecting with the communities in our region most affected by the inequities in our food system and ensuring that the partnerships and programs we develop are responsive to their needs.
How Shalom Farms works: Shalom Farms is a nonprofit organization that relies on community support to meet our mission of building a healthier Richmond by growing and sharing healthy food. Each year, more than 5,000 volunteers come together to help us produce over 200,000 lbs. of Certified Naturally Grown produce. That produce is distributed through our innovative and collaborative food access and education programs, which include our Mobile Market, Community Food Skills Education Classes, Produce Rx, and Nutrition Distribution Program. All of our produce is distributed at low-to-no cost directly to individuals and through collaborative partnerships with community organizations doing complimentary work here in Richmond.
What Shalom Farms grows and distributes: We grow and distribute more than 25 different kinds of vegetables, including: collards, broccoli, cabbage, kale, onions, strawberries, cucumbers, eggplant, bell peppers, tomatoes, potatoes, zucchini, spinach and herbs such as basil, cilantro, and parsley.
Where Shalom Farms distributes its harvest: Our Mobile Market Distributes produce throughout the Northside, South Side, and East End of the city. Mobile Market locations include Highland Park SeniorApartments, Mosby Court, VCU Massey Cancer Center, Stonewall Senior Apartments, the Sarah Garland Jones Center, the Boys & Girls Club Teen Center, Broad Rock Elementary School, Southside Plaza, and others. Our Nutrition Distribution Program partners with food pantries and feeding programs across the city, including Feed More, St. Thomas' Food Pantry, Nationz Foundation, MAD RVA/RVA Community Fridges, Underground Kitchen: Community First, MARCH Food Pantry, Belmont Food Pantry, and others.
Shalom Farms on wheels: First launched in 2016, our Mobile Market offers consistent access to fresh food in neighborhoods across Richmond where physical and economic barriers are prevalent. The Market provides a dollar-for-dollar match on SNAP purchases and sells produce at a significantly discounted price: $3 of produce at the market would cost about $12 at farmers markets and grocery stores.
Upcoming events: Savor Shalom on May 6 at the Powhatan Farm. Our annual on-farm gala returns for the first time since 2019. Guests will enjoy creative dishes featuring Shalom Farms produce, a silent auction, live music and more! Funds raised will support our food access, education, and advocacy work.
How I start the day: With gratitude for all that I have been given and go from there.
The three words that best describe me: Kind, supportive, capable.
Best late-night snack: Rarely eat late-night snacks.
How I unwind: Love to walk, read, watch movies and spend time with friends.
Something I love to do that most people would never imagine: I love a good romance! Can always count on a happy ending!
A quote that inspires me: "Peace. It does not mean to be in a place where there is no noise, trouble or hard work. It means to be in the midst of those things and still be calm in your heart." —Unknown
At the top of my "to-do" list: My husband and I are taking a trip to celebrate his retirement in July. Top of my "to-do list" is to finish planning for that trip!
The best thing my parents ever taught me: Self-reliance, an appreciation of beauty and to be of service.
Book that influenced me the most: "The Autobiography of Malcom X" as told to Alex Haley. I read it in high school, and it opened up a world and way of thinking that I had not experienced before.
What I'm reading now: I just finished "The 1619 Project" by Nikole Hannah-Jones and have just started "The Poetic Justice: A Memoir" by John Charles Thomas. Both books speak to the resilience of African-Americans despite poverty, violence, horrific racism and systemic injustice.
Next goal: Learn to speak Spanish.