Woodland Restoration Foundation hopes descendants will help with continuing cemetery upkeep, plans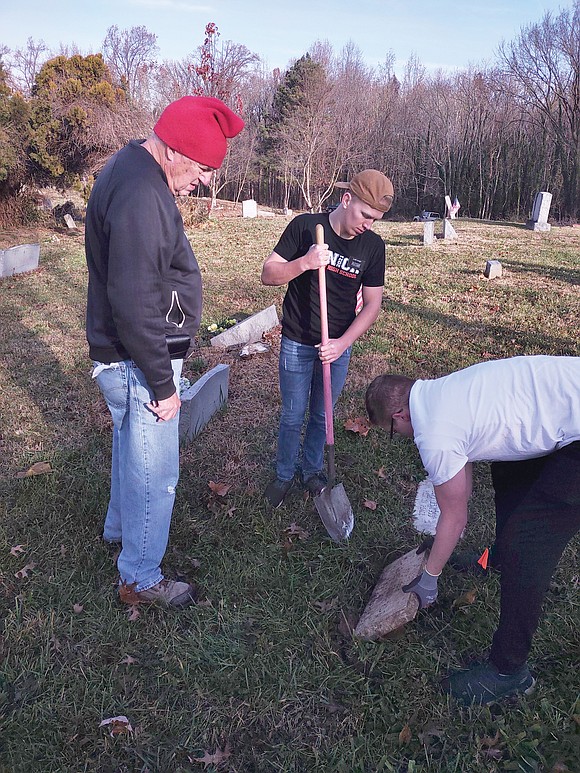 Call him the headstone hunter.
For the past 14 years, Richmond area resident John Shuck has spent much of his spare time hunting grave markers in his- toric private Black cemeteries, including Woodland Cemetery in East Highland
Park, and East End and Evergreen cemeteries, located in the East End.
Mr. Shuck is known for leading cadres of volunteers in removing tangles of weeds, ivy and other vegetation that has long obscured the cemeteries.
But he has a special passion for finding and recording grave markers.
Since 2007, he estimates he has documented 11,000 graves in those three cemeteries, plus dozens more in other neglected Black cemeteries in the Richmond area, such as the Sons and Daughters of Ham near the University of Richmond.
A retired banker, the 74-year-old carries a long metal probe to gently push into the earth around grave sites to find stone markers hidden by grass, dirt and leaves.
Once the gravestones are dug out and put in place above ground, Mr. Shuck photographs each find, marks the GPS, or global positioning system, coordinates and posts the results on the online site Find A Grave, which has become a crucial repository of such information since the website's creation in 1995.
Mr. Shuck now is focusing most of his hunting in Woodland Cemetery, which has undergone significant improvement thanks to legions of volunteers and supportive businesses after a private foundation acquired it in August 2020 during the pandemic.
Woodland Cemetery dates to 1917. The cemetery was launched through the leadership of fiery Black newspaper editor, banker and civil rights advocate John Mitchell Jr. and is best known as the final resting place of Richmond-born tennis great and humanitarian Arthur Ashe Jr.
Mr. Shuck said the gravestone search has to be done because so much information has been lost. An estimated 30,000 burials have taken place in the cemetery since it first opened, but only about 11,000 records survive, Mr. Shuck said.
A major share of the records contains information that is not helpful in locating graves, he said. Many of the graves also are unmarked, he said.
Before and after burial, virtually all the graves had a temporary marker made of tin or aluminum. The majority of those temporary markers were never replaced with stone markers, he said. Through the years, the metal markers disintegrated, were chewed up by mowers or were lost, he said.
Undaunted, he continues to probe for buried headstones. On a recent Saturday, he had help from four Mormon missionaries who pitched in to dig up headstones at locations Mr. Shuck had marked, wash off the dirt and set the markers in place again.
His probing work has been made a little easier as the result of volunteers clearing out smaller trees that have filled 10 acres, or about one-third of the property where an estimated 12,000 people are buried.
Mr. Shuck's efforts, which have documented about 4,000 grave sites at Woodland Cemetery in the more than a decade since he started his initiative, are among the improvements made at the cemetery since the Woodland Restoration Foundation, founded and headed by real estate broker Marvin Harris, purchased the burial ground and took charge 16 months ago.
The grounds now look cemetery-like after volunteers cleared away tall grass. The exterior of the original chapel that doubled as an office has been improved and whitewashed.
Mr. Harris credits donations from Henrico County, Dominion Energy and the Ashe family with enabling the foundation to end the neglect and the energy of volunteers with beginning the transformation.
He also praised a local concrete firm, Liquid Inc., with replacing concrete elements at the front gates and on a central fountain that volunteers dug up.
"That's the real story," Mr. Harris said. "Our foundation has been blessed. Without the help and support that has come in, nothing would have happened. And much of it has come from people and companies who have no family connections with the cemetery. It has been amazing."
He said as money is raised, the foundation envisions installing a small museum in the chapel to highlight contributors to the Richmond area who are buried on the grounds, including doctors, lawyers, ministers and other professionals.
Other things on the foundation's to-do list include repaving the cemetery's roads that are now mostly dirt and building an education center next door to the chapel to provide programs and classes for students and the community.
Mr. Harris said the foundation has hopes of receiving grants to support its work. He said the foundation also is encouraging those with loved ones in the cemetery to begin
making small, but consistent monthly contributions to help pay for the upkeep and future improvements.
"When this cemetery opened," he said, "there was no requirement to pay for perpetual care as one of the burial expenses. We need families to join us so the foundation can build on the progress that has already been made."