Friends of East End Cemetery end work at historic cemetery after rift with new owner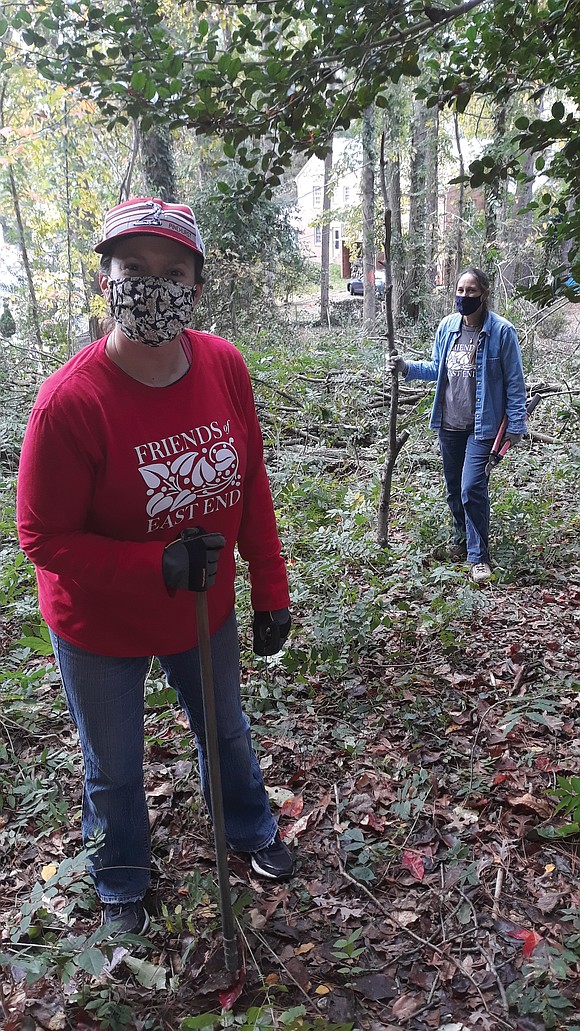 The all-volunteer Friends of East End Cemetery no longer is involved in restoring the once abandoned historic African-American burial ground.
Mark Schmieder, president of the Friends group, said the group no longer feels welcome and has not tended the grounds since March in the 123-year-old private cemetery off Nine Mile Road in Henrico County on the eastern border with Richmond.
For more than six years, the group had been dedicated to removing vines, trees and other overgrown vegetation to create a neatly tended 16-acre site that is part of a complex of African-American cemeteries that includes the older Evergreen Cemetery, where such luminaries as renowned businesswoman Maggie L. Walker and fiery Richmond newspaper editor John Mitchell Jr. are buried.
Mr. Schmieder said the group initially had to halt its weekly work because of COVID-19. But the group did not return in June when volunteering was again permitted after a major disagreement arose between the group and the new owner of East End and Evergreen, the Enrichmond Foundation.
"Enrichmond wanted us to sign a waiver, but the waiver the foundation wanted us to sign went far beyond liability. The foundation claimed ownership of any photographs that were taken and wanted them turned over," Mr. Schmieder said.
"The foundation," he said, "also sought ownership of the digital map we had created of the cemetery through a partnership" with Virginia Commonwealth University and the University of Richmond. The map documents the gravestones that have been located and includes the name or names that are legible as part of efforts to provide information on the individuals and families buried there.
"We just couldn't go along with that, so we left," Mr. Schmieder said.
The Friends and other independent groups involved in reclaiming East End and Evergreen have been increasingly at odds with Enrichmond Foundation.
Created to support city parks and recreation programs and nonprofit groups involved with them, Enrichmond became connected to the cemeteries in 2016 after the state became interested in reclaiming neglected African-American graveyards and tapped the foundation to gain ownership of Evergreen, which opened in 1891.
The foundation bought that 60-acre cemetery in 2017 from the family that owned it. Two years later, the Henrico Circuit Court granted the foundation ownership of East End, which dates to 1897.
Among members of the Friends of East End Cemetery who have walked away is John Shuck, a retired SunTrust Bank official, who in 2013 began the effort to reclaim the neglected East End Cemetery when no one else was interested.
Now 73, Mr. Shuck previously spent part of every week at East End Cemetery and is credited with enlisting the volunteers who pitched in with him and generating the interest that led to the creation of the Friends group a few years ago.
Piqued by his interest in genealogy, Mr. Shuck started working in Evergreen in 2008 after learning about its overgrown, unkempt condition, and switched to East End after the previous owners of Evergreen withdrew permission for him and his corps of volunteers to work there.
"I'm still working," Mr. Shuck said Saturday as he and others from Friends of East End Cemetery pitched in to help remove overgrowth at the Sons and Daughters of Ham Cemetery, a rediscovered 1-acre African-American cemetery bordering the University of Richmond and the city's Bandy Field.
Mr. Shuck also is a regular volunteer at Woodland Cemetery, a 1916 African-American cemetery at 2300 Magnolia Road that also borders Henrico. Humanitarian, tennis great and Richmond native Arthur R. Ashe Jr. is buried in Woodland Cemetery. That cemetery is now under the ownership of a nonprofit created by Marvin L. Harris, a real estate broker who once worked in Evergreen but also found Enrichmond too controlling.