Evergreen Cemetery sold to Enrichmond Foundation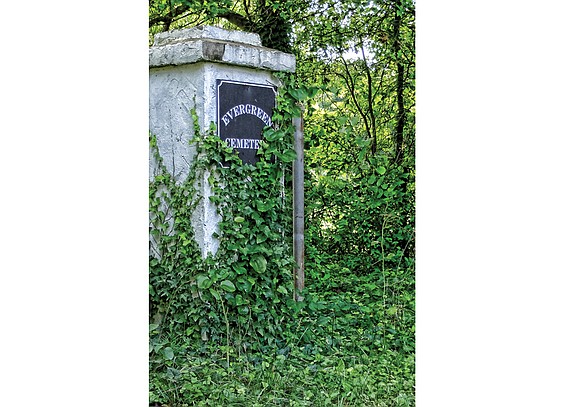 Unkempt, but historic Evergreen Cemetery has a new owner eager to preserve and protect the burial ground for banker Maggie L. Walker, crusading journalist John Mitchell Jr. and as many as 50,000 other African-Americans.
After months of talks, Enrichmond Foundation, the nonprofit support arm for city parks and recreation, completed the purchase of the 60-acre cemetery from a private family corporation.
"This is huge for us," John Sydnor, the foundation's executive director, told the Free Press on Tuesday. "I am humbled, scared and excited to take on the task of preserving and protecting this historic place."
The 49-year-old Richmond native described the purchase as a first step in an ambitious effort to restore Evergreen — created in 1891 as the African-American rival to the whites-only Hollywood Cemetery in Richmond — and three adjacent African-American cemeteries, private East End Cemetery and two owned by the city, that are equally neglected and almost as historic.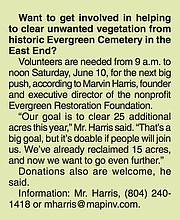 Evergreen, East End, a portion of Oakwood and Colored Pauper's cemeteries sit on land at the city border with Henrico County, just north of the city's Oakwood Cemetery, with access from Evergreen Road, Stony Run Parkway and East Richmond Road.
The foundation purchased Evergreen through its for-profit element, Parity LLC, Mr. Sydnor said. The transfer of ownership was effective May 24, and is one of the biggest for the Enrichmond Foundation that Mr. Sydnor has led for six years.

City records show Parity paid $140,000 to buy it from the previous owner, UK Corp., led by now aged and ailing Richmond resident Isaiah Entzminger and his family. Mr. Sydnor said most of the money went to pay off longstanding federal and state tax liens on the property that the UK Corp. couldn't afford to pay.
The foundation's purchase price is expected to be reimbursed by the Virginia Outdoors Foundation, which has set aside $400,000 to create a conservation easement that would maintain the property as a public cemetery in perpetuity.
The next steps include working with the Chicora Foundation, a Columbia, S.C.,-based preservation group that, among other things, works on the preservation and development of African-American cemeteries and grave records.
Mr. Sydnor said Chicora is being called in to create "a master plan, with community input, for the restoration and protection of the gravesites, including the recording of names and locations of graves in a database. The plan will be extensive and detailed and will provide a blueprint for us to follow."
In addition, he said Enrichmond is moving to hire a full-time caretaker who would work with churches and nonprofit groups like Preservation Virginia and volunteers who have been working to clear the overgrown vegetation from Evergreen and East End cemeteries.
That includes Evergreen Restoration Foundation, led by real estate broker Marvin Harris, and Friends of East End, led by retiree John Shuck and Brian Palmer.

Mr. Sydnor said the foundation also hopes to ink an agreement with the federal AmeriCorps service program to bring a cadre of paid participants to work at the cemetery sites by the fall.
Mr. Sydnor said Enrichmond also would be in court soon to gain control of the 12-acre East End Cemetery, which is partly in Richmond and which has been abandoned for decades.
In addition, he said the foundation is working on getting Richmond City Hall to cede ownership of the 5 acres of cemeteries it owns next to Evergreen, a once segregated portion of Oakwood Cemetery and a former burial ground for African-American poor people.
Mr. Sydnor, who became involved with Evergreen 10 years ago as a volunteer, said, "This is a property that grabs you and does not let go."
The Evergreen purchase did not include UK Corp.'s other holding, Woodland Cemetery, 2300 Magnolia Road, where tennis star and humanitarian Arthur Ashe Jr. and others are buried.
"That is in Henrico County," Mr. Sydnor said, "and our charter does not allow us to buy outside of Richmond."
However, he said the foundation's payoff of liens included those on Woodland Cemetery, which would enable another nonprofit to consider taking over and restoring that cemetery.