Justice Goodwyn to become second Black chief justice of Virginia Supreme Court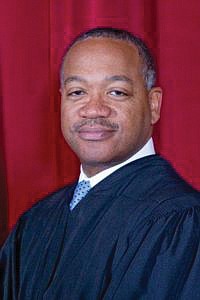 Virginia will soon have its second Black chief justice of the state Supreme Court.
Justice S. Bernard Goodwyn, who has served on the state's highest court since 2008, will move up to chief justice of the seven-member court on New Year's Day, Jan. 1.
The late Justice Leroy R. Hassell Sr. became the court's first Black chief justice on Feb. 1, 2003, and served in that capacity until days before his death on Feb. 9, 2011, at age 55.
Justice Goodwyn, 60, a former Chesapeake Circuit Court judge, will succeed current Chief Justice Donald W. Lemons, who is serving his second term in the top post.
The court announced Wednesday that Chief Justice Lemons also is retiring from the court on Dec. 31 and provided a copy of the two sentence resignation letter he sent to Gov. Ralph S. Northam.
Chief Justice Lemons' departure comes 2½ years ahead of the expiration of his current 12-year term that would have ended in 2024.
Now 72, the chief justice has been on the bench in Virginia for 25 years. He was first elected by the General Assembly to the state's highest court in 2000, and he was chosen as chief justice by his colleagues in 2015, and again in 2019.
Justice Goodwyn is a native of Southampton County and earned his undergraduate degree in economics from Harvard University in 1983 and his law degree from the University of Virginia School of Law in 1986.
Justice Goodwyn was appointed to the Virginia Supreme Court by then-Gov. Tim Kaine in October 2007 to fill the vacancy created by the retirement of former Justice Elizabeth B. Lacy. He then was unanimously elected in February 2008 by the General Assembly to a 12-year term and re-elected in early 2020.
Justice Goodwyn has served at nearly every level of the court system in Virginia, including service from 1995 to 1997 on the Chesapeake General District Court before being elected to the Chesapeake Circuit Court, where he served from 1997 until his appointment to the state's highest court in 2007.