An occasion for his honor
S. Bernard Goodwyn is second African-American to serve as chief justice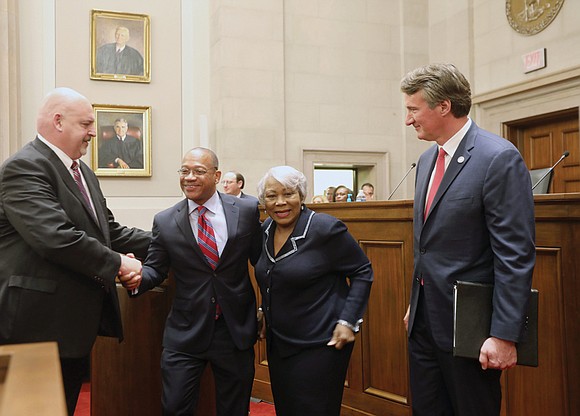 The investiture of S. Bernard Goodwyn as chief justice of the Supreme Court of Virginia took place Wednesday in the Chambers of the Supreme Court of Virginia before family, friends, colleagues and fellow Supreme Court of Virginia Justices at 100 N. 9th St.
Chief Justice Goodwyn, 60, was appointed to the Supreme Court by Gov. Timothy Kaine in 2007 and was unanimously elected by the General Assembly to the court in 2008 and re-elected in 2020. He succeeds former Chief Justice Donald W. Lemons who served on the bench for 25 years before announcing his retirement last December. Chief Justice Goodwyn assumed his current position on the seven-member court on New Year's Day, Jan. 1.
Chief Justice Goodwyn is the second African-American to serve as chief justice. The late Justice Leroy R. Hassell Sr. became the court's first Black chief justice on Feb. 1, 2003, and served in that capacity until days before his death on Feb. 9, 2011, at age 55.
Justice Goodwyn previously served as a circuit court judge in Chesapeake for 10 years and as a general district court judge for two years.
Prior to going on the bench, Justice Goodwyn served as a research associate professor at the University of Virginia School of Law and as a litigation partner at a Norfolk law firm. He earned his undergraduate degree from Harvard University in 1983 and his law degree from UVA in 1986.
The husband and father of two adult children was feted by President Pro Tempore of the Senate of Virginia Louise Lucas who referred to the chief justice in her remarks prior to the swearing in as "Little Brother," as did a former colleague and now senior judge Barbara Milano Keenan of the United States Court of Appeals for the Fourth Circuit. Gov. Glenn A. Youngkin spoke admirably about the new chief justice, who also swore him in during his January inauguration.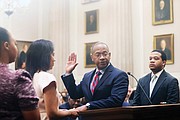 The room was filled with many from Chief Justice Goodwyn's native Sussex County, including his pastor, Rev. Willie Lowell Diggs of Galilee Baptist Church in Branchville, who delivered a short benediction that was received with applause and laughter.
Following the investiture, the court adjourned and a reception followed at St. Paul's Episcopal Church next door to the State Supreme Court.