The Rev. Franklin D. Harvey Sr., inventor of the Afro Master and former owner of Harvey's Progressive Barber Shop, dies at 88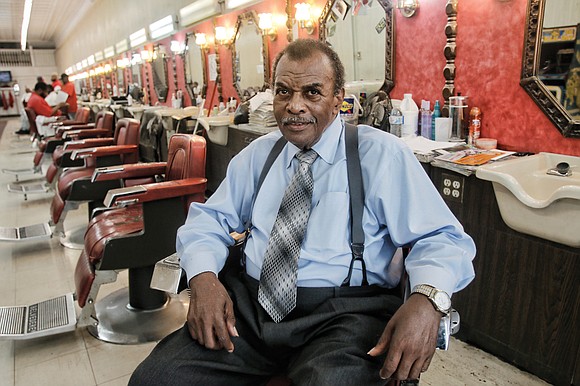 For decades, the Rev. Franklin Deheart Harvey Sr. ran one of the largest barbering operations in Richmond.
A master barber himself, as well as an associate pastor of St. John Baptist Church in North Side, Rev. Harvey operated Harvey's Progressive Barber Shop at 22 E. Broad St. and at 100 E. Broad St. in Downtown, drawing hundreds of customers weekly.
The Air Force veteran also invented the Afro Master comb in 1971 to help people pick out and shape natural hair. Advertised on "Soul Train", the comb was hugely popular when the bush or Afro hairstyle was a popular Black hairstyle. A generic version called the detangling comb is still in use by barber and beauty shops today, said Rev. Harvey's son, the Rev. Franklin D. Harvey Jr., a barbering instructor at the Bon Air Correctional Center.
"That comb was a godsend," said Rosa Jiggetts, a Richmond community minister and a friend of the Harvey family. "We didn't know what to do with the bush until that comb came along."
A native of King and Queen County, Rev. Harvey succumbed to illness Friday, Dec. 17, 2021. He was 88.
His life will be celebrated during a service 9:30 a.m. Thursday, Dec. 30, at March Funeral Home's Chapel, 2100 E. Laburnum Ave., with burial in Forest Lawn Cemetery.
One of nine children, Rev. Harvey got his start in barbering cutting the hair of his siblings and others in the rural area where he grew up. After his military service, he went to barbering school and opened his first shop in 1961 on North 2nd Street in Jackson Ward, he recounted in a 2016 Free Press interview.
In 1966, Rev. Harvey moved his expanding operation to 1st and Broad, a Jackson Ward gateway. 15 chairs there, with 14 rented to other barbers. He purchased the building in 1973, and three years later, added a second shop with the purchase of 22 E. Broad St., where he installed 15 more barber chairs.
He stopped cutting hair in 1990 when he began studying for the ministry at Richmond Virginia Seminary in Church Hill, but continued to manage the operation.
He retired in late 2016 after completing the sale of both locations, saying, "I'm looking forward to what's next."
Rev. Harvey devoted much of his spare time to being an active volunteer in ministry at St. John Baptist Church, where he presided at funerals, visited the sick and assisted with the church's charitable work, said his son, who also is an associate pastor at the church.
Rev. Harvey was predeceased by his wife of more than 55 years, Christine E. Harvey.
In addition to his son, he is survived by two other children, Katrina H. Gray and Steven V. Harvey; four sisters, Mary Bishop, Jeraldene Hill, Rachel Cosby and Gladys Archer; three brothers, Winston Harvey, Thomas Harvey and Milton Harvey; and three grandchildren.