Big-name football coaches talking the helm at Grambling and Tennessee State
Fred Jeter | 12/30/2021, 6 p.m.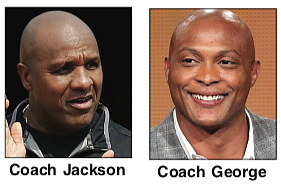 Hiring a big-name football coach has worked so far for Jackson State University. Grambling State and Tennessee State universities are hoping for the same results with their programs.
Hue Jackson, former NFL head coach with the Oakland Raiders (2011) and the Cleveland Browns (2016 to 2018), has been named coach of Grambling State University, a SWAC affiliate in Louisiana.
Coach Jackson, 56, replaces Coach Broderick Fobbs, who was let go following a 3-7 season.
Tennessee State has named former Heisman Trophy winner and NFL standout Eddie George as its new coach. Coach George, who competed as a postgraduate at Fork Union Military Academy in Virginia, replaces Rod Reed.
Coach George, 48, already is very popular in Nashville, where he starred for the NFL Tennessee Titans. Tennessee State is a Division I HBCU program that competes in the Ohio Valley Conference.
Under Coach Deion Sanders, Jackson State posted an 11-2 record and won the SWAC Championship in his first full season at the school in Jackson, Miss. Jackson State then lost to South Carolina State University in the Celebration Bowl.