Richmond siblings' film, 'Slave Cry,' to be shown at the Pan African Film & Arts Festival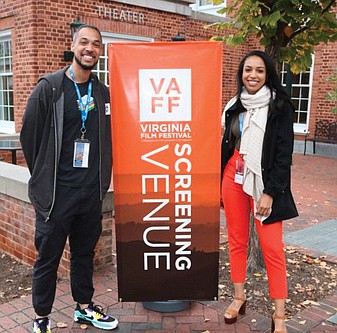 "Slave Cry," a film by Richmond filmmaker Jai Jamison that stars his sister, Courtney Jamison, will be screened at the 29th Annual Pan African Film & Arts Festival that runs Feb. 28 through March 14.
The festival, which started in Los Angeles in 1992 and has become the largest international film festival featuring the work of Black artists from throughout the African diaspora, will feature 207 films from 45 countries in 43 languages. All will be shown online or on demand this year because of COVID-19.
"Slave Cry," a 14-minute film shot in Richmond, addresses the city's glamorization of Confederate history while juxtaposing the stereotypical roles African-American actors have been relegated to play despite their talent.
Many early roles for Black actors are steeped in slavery notions, filled with servants, halfwits, hustlers or being inferior to white people. That type of casting has been an age-old problem since the early days of mainstream American filmmaking.
In "Slave Cry," Ms. Jamison plays a young actress whose side gig is working as a historical interpreter. The film opens with her in a slave costume standing in front of the statue of Confederate Gen. Robert E. Lee on Monument Avenue.
" 'Slave Cry' is a reflection of our experiences as we grew up in Richmond," Ms. Jamison, told the Free Press.
It delves into the current life for people of color in America while pulling back the layers of how African-American history resonates in today's culture, she said. It also exposes the limits for growth for actors of color.
Ms. Jamison, 28, graduated from James Madison University and earned a master's degree from the prestigious Yale School of Drama in New Haven, Conn. Mr. Jamison, a 35-year-old writer, producer and director, graduated from Hampton University and earned a master's in film from American University.
Ms. Jamison said a classmate at Yale who is of South Asian descent could relate to the message in "Slave Cry" and the stereotypes forced upon actors of color. "I wanted to scream if I had to be asked to act in another arranged marriage scene (using) an accent," her friend told her.
The Jamison siblings have been pleased with the overall reaction to the film, which also was shown at the Virginia Film Festival in 2019. They believe there are a lot of seeds in their work. It is very personal for them to reach people throughout the African diaspora. Their goal: To make sure people are portrayed as their original selves in the fullness of the character they play.
Mr. Jamison said working with and directing his sister was easy.
"Because we grew up together watching all of the same things, we have a similar aesthetic and an amazing shorthand between us on the set," he said. "It was like having the same brain between us. As I was giving her production notes, I didn't have to finish my sentences. She knew what I wanted in her performance."
Both of them are bicoastal. They live together in Los Angeles while making frequent trips back to the East Coast and to Richmond to see their mother, former Richmond District Court Judge Birdie H. Jamison.
The film's cast includes noted actor, director, producer and writer Tim Reid, who starred in numerous television show, including "WKRP in Cincinnati," "Sister Sister" and "Frank's Place."
In the early 2000s, Mr. Reid selected Ms. Jamison to play 16-year-old Barbara Johns in a film about the 1951 historic walkout at the Moton School in Prince Edward County that laid the groundwork for the landmark Brown v. Board of Education ruling by the U.S. Supreme Court striking down the "separate but equal" doctrine of racially segregated schools as unconstitutional. Ms. Jamison was a student at the Maggie L. Walker Governor's School at the time.
Details about the festival, the films and the screening of "Slave Cry" are available at www.paff.org.