Beloved slugger, MLB Hall of Famer Hank Aaron dies at 86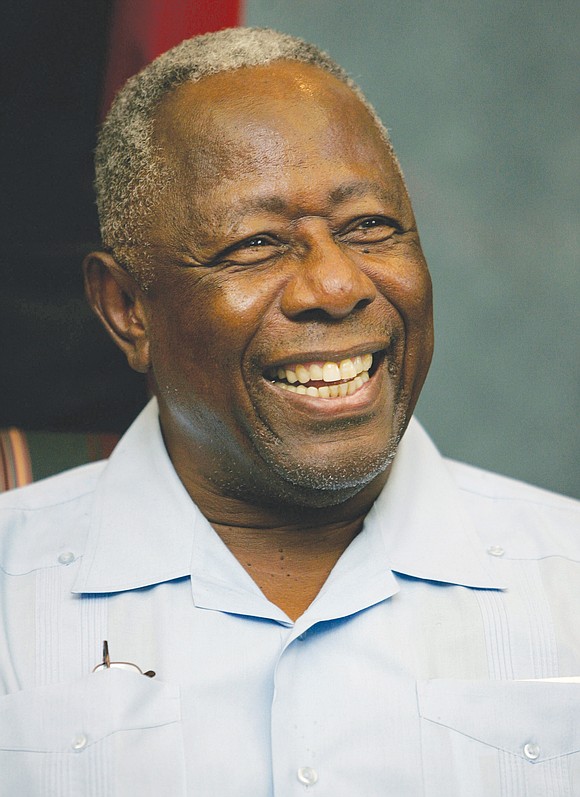 Growing up poor in Mobile, Ala., during the Great Depression, Hank Aaron began playing baseball by hitting bottle caps with sticks.
From those humble roots, he became one of baseball's all-time greats and among the most admired men in all of sports history.
Mr. Aaron is being remembered by the sports world and people around the globe following his death Friday, Jan. 22, 2021, at 86.
A private memorial service was held Tuesday, Jan. 26, at Truist Park in Atlanta, while a private funeral attended by former President Bill Clinton and former Major League Baseball Commissioner Bud Selig were held Wednesday, Jan. 27, at Friendship Baptist Church in Atlanta.
Survivors include his wife, Billye, their children, Gaile, Hank Jr., Lary, Dorinda and Ceci and several grandchildren.
Called an "agent of change" in the post-Jim Crow South, Mr. Aaron was a hero on and off the diamond. His brilliance as an athlete was combined with a quiet dignity in the face of racial prejudice.
Known as "Hammerin' Hank" because of his record at one time as baseball's all-time home run king, he was a beacon of unmatched grace during the height of the Civil Rights Movement in the 1960s. President Joe Biden referred to Mr. Aaron as "unbreakable."
The right-handed swinging outfielder with the Milwaukee Braves and the Atlanta Braves from 1954 to 1974 and the Milwaukee Brewers from 1975 to 1976 compiled a list of records as long as an interstate highway. Mr. Aaron sits at or near the top of virtually every significant hitting category.
He's most remembered for his pursuit of the career home run record of 714 that was set by the iconic Babe Ruth decades earlier.
Under the national spotlight, it all came to a head on April 18, 1974, when Mr. Aaron swung and launched No. 715 in a Braves home game against the Los Angeles Dodgers.
The epic finale had a Richmond touch.
Mr. Aaron hit the homer off former Richmond Braves pitcher Al Downing, and it was caught in the left field bullpen by another former player for the Richmond Braves, Tom House.
Here's what television announcer Vin Scully said as Mr. Aaron crossed home plate and into the open arms of his parents, Estella and Herbert Aaron.
"What a marvelous moment for baseball! What a marvelous moment for Atlanta and the state of Georgia! What a marvelous moment for the country and the world! A Black man is getting a standing ovation in the Deep South ... and it is a great mo- ment for all of us!"
As Mr. Aaron inched closer and closer to Babe Ruth's record and the publicity grew, there were bigoted remarks from the stands, evil letters and even death threats. Only partly in jest, Mr. Aaron's Black teammates suggested they didn't want to sit by him in the dugout, fearful a bullet could be coming in that direction.
Mr. Aaron's home run record was later broken by Barry Bonds in 2007 with 763.
Wearing the No. 44 jersey, Mr. Aaron was much more than just a home run slugger. He is first all-time in runs batted in (2,297) and total bases (6,856), third in hits (3,771) and fourth in runs (3,630).
And that's not all.
Here's what teammate Dusty Baker, another former Richmond Braves player and current manager of the Houston Astros, said: "The 755 homers overshadow the fact he was a better pure hitter, base runner and defensive player than almost anyone."
The 755 home run total could nudge upward.
Earlier this year, Major League Baseball announced it was reclassifying the Negro Leagues as Major Leagues and that the Negro Leagues statistics would be incorporated into MLB stats. Mr. Aaron hit five homers in 1952 with the Negro Leagues' In- dianapolis Clowns, along with 41 hits, 33 RBI and nine stolen bases. That would push Mr. Aaron's career total to 760 homers, but still three short of Barry Bonds' record.
Mr. Aaron began his pro career as a cross-hand hitting short- stop. Instead of his right hand on top, he gripped the bat with right hand closest to the knob. Before long, he was talked out of the non-traditional grip by the Clowns and moved to the outfield where he flashed considerable speed in his younger years.
The name "Aaron" is well known around Richmond, and not just because of Hank. Mr. Aaron's brother, the late Tommie Aaron, was MVP of the Richmond Braves'1967 International League championship team.
Tommie Aaron later became a Richmond manager, making him the International League's first Black manager.
The Diamond, home of the Richmond Braves, was named "Tommie Aaron Field" until 2010, when the San Francisco Giants-affiliate Richmond Flying Squirrels arrived.
Mr. Aaron played in several exhibition games at the former Parker Field in Richmond when the parent A-Braves took on their AAA farm club.
A particularly memorable appearance was in August 1968. Pitching in the first inning for Richmond was the legendary Satchel Paige, who was already in his 60s. Mr. Paige had been signed by Atlanta so he could earn his major league pension.
Both Mr. Aaron and Mr. Paige were from Mobile, Ala., and had known hard times in the Deep South. You could feel the love.
Somehow, the elderly Mr. Paige induced Mr. Aaron into pop- ping out to third. With that, Mr. Aaron smiled and saluted his "home boy" before jogging back to the dugout.
A great Black player during Mr. Aaron's era was the late Chi- cago Cubs' Ernie Banks, another Hall of Fame selection. When Mr. Aaron hit his record-breaking homer, congratulatory letters poured in, including one from Mr. Banks that stated: "My heart and feelings are with you and your friendship will mean more to me than any other person in life. Proud to be your friend."
Mr. Aaron was inducted into the Baseball Hall of Fame on the first ballot in 1982 with 97.8 percent of the votes.
Still, he was humble. He took up golf following his retirement from baseball after the 1976 season and was quoted as saying: "It took me 17 years to get 3,000 hits in baseball. It took one afternoon on the golf course."
Humor was typical Mr. Aaron.
A man's greatness isn't only measured in statistical success, by black and white numbers on paper or a computer screen. The greatest talent of all might be being loved and admired by those that know you or know of you.
Hank Aaron was a Hall of Famer in that category, too.