Richmonder recalls meeting legendary pitcher Satchel Paige
Fred Jeter | 5/19/2015, 9 a.m. | Updated on 5/19/2015, 9 a.m.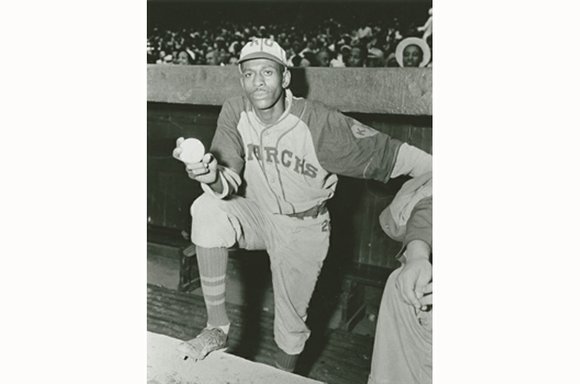 Thanks to Richmond Free Press reader Joe Brown for alerting and informing us that Satchel Paige's legendary baseball career included an historic trip to Virginia's capital city.
In fact, the last time Paige hurled a horsehide in a competitive game just may have been at the old Parker Field, then home of the Richmond Braves — the AAA International League affiliate of the Atlanta Braves.
The Diamond, home of the Richmond Flying Squirrels, was built on the site.
In 1968, Atlanta owner Bill Bartholomay signed Paige to a "player/coach/trainer" contract for the purpose of qualifying him for a Major League Baseball pension, a benefit requiring five years of service.
Paige was 61 in 1968.
While he never got into the National League game for Atlanta, he was chosen to pitch against Atlanta in the team's annual preseason exhibition against Richmond in April 1969 at Parker Field.
Paige wore jersey No. 65, representing what his age would be when the pension kicked in. Instead of his famed fastball, Paige relied on deception and slow, arching deliveries, aimed at getting younger hitters off stride.
The 6-foot-4 right-hander threw two full innings, allowing a bunt single to speedster Ralph Garr, but getting iconic slugger Hank Aaron out on a soft liner to third.
Covering the game for The Atlanta Journal was Wilt Browning. Here's his account of the classic Paige versus Aaron (both from Mobile, Ala.) confrontation before a packed house at Parker Field.
After seeing Aaron retired on a one-ball, two-strike count, Browning wrote:
"The old man pounded his bony fist into his glove with the sort of youthful joy all of us could understand."
After the game, Joe Brown, who played locally for a sandlot team called Elite, got to know the man many regard as the best pitcher ever.
"Satchel stayed after the game to talk to fans. That's how he was," recalled Brown. "I believe he was waiting for a cab … and when one didn't come right away, he asked me for a ride Downtown."
The rest of the Atlanta team was staying overnight at the old Holiday Inn-West on West Broad Street.
Instead, Paige asked Brown to drive him to the Eggleston Hotel and Neverett's Place restaurant in Jackson Ward.
"Satchel knew about the soul food," said Brown.
In 1969, black athletes could stay in accommodations anywhere. That wasn't the case in 1956, 1957 and 1958, when Paige pitched for the Miami Marlins, the Philadelphia Phillies' farm team, in the International League against the Richmond Virginians.
In 1958, then age 51, Paige was 16-10 for Miami, with a 2.95 earned run average.      
Paige made several trips to Richmond during those seasons and became familiar with the black-owned Eggleston Hotel. The Second Street establishment attracted an all-time celebrity guest list, including the likes of Count Basie, Louis Armstrong, Redd Foxx, Moms Mabley, Joe Louis and Willie Mays.
Although the Paige-Aaron faceoff drew the main thrust of the account the next day in the Atlanta paper, it was something else Paige most talked about.
"I remember on the ride to the Eggleston how Satchel said he couldn't believe Ralph Garr would bunt on the 'old man,'" Paige called himself.
"He went on and on about that."
Paige made his professional debut in 1926 with the Chattanooga Black Barons of the Negro National League. In 1948, at age 42, he got his first chance in white big leagues with Cleveland, going 6-1, 2.48 ERA.
In 1971, he became first Negro Leagues player inducted into the National Baseball Hall of Fame in Cooperstown, N.Y.
Mr. Paige died in 1982 at age 75 in his beloved Kansas City. In 1999, he was rated No. 19 on Sporting News' list of 100 Greatest Players of All-Time.