'Telling the whole story'
Statue of Virginia segregationist Harry F. Byrd Sr., architect of 'Massive Resistance,' removed from Capitol Square
George Copeland Jr. | 7/8/2021, 6 p.m.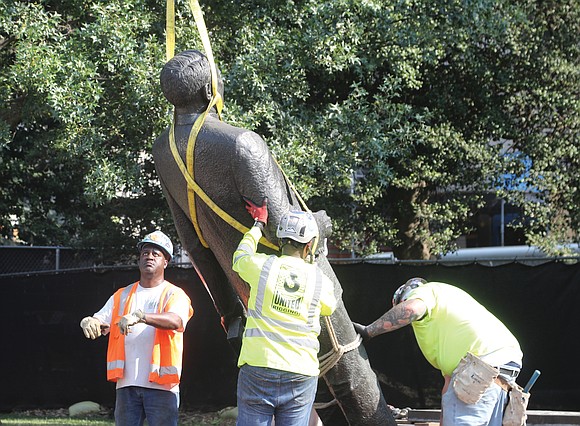 After 45 years in Capitol Square in Downtown, the statue commemorating arch-segregationist Harry F. Byrd Sr. was removed Wednesday morning, marking the latest undertaking in Virginia's long reassessment of and reckoning with its history of oppressing Black people and other people of color.
With federal papers tightly held in one hand and a small smile on its face, the 10-foot statue was separated from its pedestal, lifted and secured to a truck by contractors with the state Department of General Services around 9:40 a.m.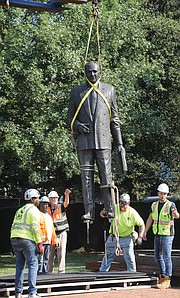 The department removed the statue as a result of a new law that went into effect July 1.
For Norfolk Delegate Jay Jones, who introduced the bill that allowed for the statue's removal, it was "a long day coming."
He made the journey to Richmond to observe the process with Gov. Ralph S. Northam.
For Delegate Jones, the statue's removal held personal meaning.
Mr. Byrd, a former governor who also represented Virginia in the U.S. Senate, was the architect of "Massive Resistance" to desegregation in the South in the wake of the landmark 1954 U.S. Supreme Court decision in Brown v. Board of Education that outlawed the "separate, but equal" doctrine that had allowed the government to block school integration.
In response, Mr. Byrd led the effort to shut down public schools rather than let Black children and white children attend class in the same building.
Among those impacted was Delegate Jones' father, Norfolk Circuit Court Judge Jerrauld C. Jones, a former delegate. In the 1950s, Judge Jones was barred from attending a Norfolk public school because of Mr. Byrd's policies.
For Delegate Jones, the story of the shabby treatment of his father cast a shadow on his occasional visits to the Capitol as a child.
"My father was a member of the General Assembly, and I had to walk by (the statue) with him," Delegate Jones said. "And I asked him, 'Who is this man?' and he choked up a little bit, knowing that man didn't want him to go to school, in the public school system in Virginia.
"Today is another step in our journey to tell our true history in Virginia."
First placed in 1976, the Byrd statue gained greater attention in 2020 when Republican Delegate Wendell S. Walker of Lynchburg introduced a bill into the General Assembly to have it removed. At the time, he did it to highlight Democratic efforts to remove numerous Confederate statues and memorials on the Capitol grounds. Delegate Walker withdrew his legislation after he found it gaining strong support from Democrats.
But he inspired Delegate Jones to introduce his own bill in this year's General Assembly session to remove Mr. Byrd's likeness. The Jones version passed the House of Delegates on a 63-34 vote, and the state Senate 36-3.
"We talk about being inclusive, we talk about diversity and we really have to put our money where our mouths are and do the right thing," Gov. Northam said Wednesday.
The Byrd statue is being stored in a separate location. General Services is awaiting a General Assembly decision on its final destination. There is no timeline for when that discussion will begin or what new statue will take Mr. Byrd's place on Capitol Square.
Also unclear is whether further action will be taken on other contentious memorials and statues to Confederates, including those honoring Confederate Gens. Thomas "Stonewall" Jackson and William Smith, who also served two terms as governor.
Delegate Jones said he had no power to remove them. He pointed to various Capitol departments and officials who have such authority. He said he hopes someone will take appropriate action.
He also acknowledged that removing these statues is only one aspect of the racial reconciliation needed in Virginia.
"Today is one step in that journey. We've got a long way to go, whether it's (criminal) justice reform, housing, our health care system, to make this place more equitable and just," Delegate Jones said. "We know everybody knows the origins of this state, the origins of this commonwealth, are not equal to begin with. When we tell our stories, I think we want to make sure we are telling the whole story, and that's what's most important here."