On the battlefield:
City schools, agencies and government work to find strategies to combat gun violence
Ronald E. Carrington | 5/6/2021, 6 p.m. | Updated on 5/10/2021, 8:31 p.m.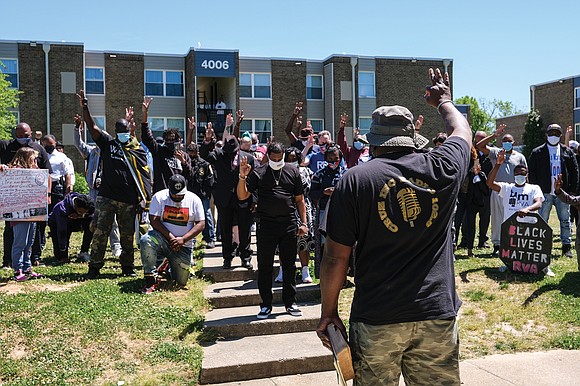 South Richmond residents are preparing to bury a mother and her infant daughter, two of the latest victims of a spate of indiscriminate violence that has left families devastated and in tears over the unnecessary loss life.
Sharnez "Shy-Shy" Hill, 30, and her 3-month-old daughter, Neziah, were killed last week when gunfire erupted at the recently renovated Belt Atlantic Apartments on Midlothian Turnpike, near George Wythe High School.
Also hit by gunfire were a 29-year-old woman and two girls, one a 15-year-old student at George Wythe High School and the other an 11-year-old student at Westover Hills Elementary School.
Since the April 27 shooting, the Richmond Police Department arrested Donald Hemmings, 22, Shyheem Martin, 23, and Shamondrick Perry, 19, in connection with the violent crime and are searching for others.
On Wednesday, Richmond Police announced that a fourth person, Kavon Bynum, 18, had been arrested Tuesday night with help from the U.S. Marshals Regional Fugitive Task Force in connection with the slayings of Ms. Hill and her baby. The department also announced that a manhunt is underway for his twin brother, Kevon Bynum, who also is facing charges in the case.
Richmond Police believe the gunmen targeted a single apartment in the complex and, with complete disregard for a play area full of children enjoying the evening sun, shot the five female bystanders.
While Richmond has long been plagued by gun violence, the increasing involvement of children, teenagers and young adults as perpetrators or victims has escalated the calls for intervention.
The South Side shooting is a prime example. The horrific event shone a spotlight on the increasing number of public school students who are being impacted.
According to Richmond Public Schools Superintendent Jason Kamras, more than 40 city students were shot during the past 12 months, with hundreds more impacted as witnesses or by the death or injury of a relative or a friend.
In response to the mounting numbers of students experiencing such mental and emotional trauma, the RPS administration along with the Richmond School Board, City Council and the office of Mayor Levar M. Stoney are working to address social and emotional health issues.
The school district has been focusing on increasing mental health services for students, staff and families who, like soldiers on a battlefield, end up suffering post-traumatic stress disorder due to the violence.
According to the RPS Reopen With Love 2.0 plan, the school district plans to materially demonstrate its commitment by investing in more professional mental health services.
"I am more than supportive of combating gun violence," Mr. Kamras said of a district-wide initiative proposed by the School Board to address the impact of gun violence on students.
However, Mr. Kamras said he is uncertain the initiative could be ready by fall and the start of new school year.
"I don't want to rush into something and not do it well," he said. "Gun violence is a very complicated and mentally difficult topic."
He said planning would involve working with teachers, counselors and social workers as well as community
organizations to create a program that has a desired, long-lasting impact. The first step, he said, would be improved funding to hire additional mental health staff.
Mayor Stoney separately is looking for ideas and solutions from the Gun Violence Steering Committee he established last October. That committee, headed by Osita Iroegbu, the mayor's senior policy adviser for equity and inclusion, is comprised of city officials, residents with personal experience with gun violence and representatives from the Richmond City Health District and the nonprofit RVA League for Safer Streets. The task force also includes academic experts from the Division of Epidemiology in the Virginia Commonwealth University School of Medicine and the collaborative Healthy Communities for Youth.
The committee is to deliver recommendations on short- and long-term prevention and intervention strategies to deal with the root cause of the violence.
"That root cause is poverty," Mayor Stoney said during a Free Press interview.
"Since the coronavirus epidemic began (in March 2020), poverty has exacerbated across this country as well as in this city," he said. In addition to illness and death, the epidemic has resulted in a "loss of the human service safety net— libraries, parks, community centers, as well as other social services."
As vaccinations and immunity increase, the first step will be to restore those services to robust levels, several officials said.
Ms. Anderson said the task force wants to go further and is researching the mental health offerings available in existing community programs. She said the group is benefitting from the participation of people who have experience with such violence as they offer the committee a better understanding of what may or may not work and insight on what is needed in terms of programs, counseling, training and the potential design of services.
Committee member Torey J. Edmonds, who serves as VCU's community intervention coordinator, said the committee is being deliberate.
"We don't want to just throw something together for the sake of saying we are doing something," Ms. Edmonds said. "What we are doing is taking the information and trying to really understand what is going on with our young people as we see this challenging gun violence behavior," she said. "We are mapping out opportunities in the city where our children can connect so they can have positive environments, relationships and experiences while developing healthy behavior."
Meanwhile, City Council is considering putting $1.1 million into the 2021-22 budget to provide new funding for gun violence initiatives, including hiring one or more staff at the Richmond Health District to focus on the issue and ways to reduce it.
Separately, attorney Thomas P. Barbour Jr. announced the launch of a new nonprofit, the Virginia Holistic Justice Initiative, whose purpose is to provide a social worker to help people charged with nonviolent crimes connect with supportive services to keep them out of jail.
Mr. Barbour said that VHJI will work with the courts with the aim of diverting more people from serving time. He said the nonprofit already has started the RVA Justice Hub with support from CapTech, an information technology consulting firm that provides a directory of government and nonprofit social services programs and operations.
Staff writer Jeremy M. Lazarus contributed to this article.