Hanover Branch NAACP, others file legal challenge to planned Wegmans distribution center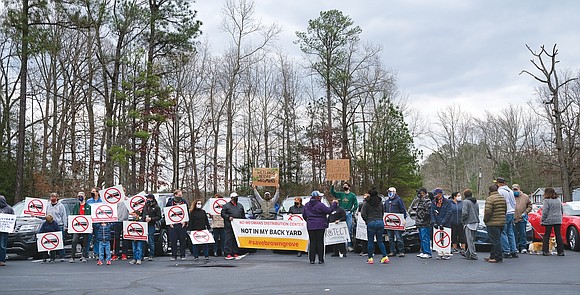 The battle over a proposed $175 million distribution center that Wegmans Food Markets Inc. wants to build in Hanover County is headed to court.
The Hanover County Branch NAACP, the nonprofit group Protect Hanover and 20 residents of the historic Black community of Brown Grove are asking Richmond Circuit Court to reject a crucial state environmental permit that the company must have to proceed.
The legal fight is expected to continue to tie up a project many regard as a potential economic boon for the county, but which Brown Grove residents and others see as creating a noisy and disruptive operation that could destroy their still rural community.
The petition filed April 13 by attorney Brian L. Buniva on behalf of the plaintiffs claims the Virginia Water Control Board's 4-3 vote on Feb. 26 to issue the permit was "arbitrary and capricious" as it ignored both state laws and regulations.
The state Attorney General's Office has yet to respond, and a hearing date has not been set on the petition that could wind up in the state Supreme Court and that has made it virtually certain the project will remain on hold for now.
One of the issues at the forefront of the petition: An allegation that the Water Control Board failed to properly take into account environmental justice issues, or the impact the immense project would have on the Brown Grove community and its Black residents, who would feel the brunt of the proposed 1.7 million-square-foot distribution center.
The petition also states that Wegmans provided inaccurate information on the cost of developing at least three alternative sites and argues that the board accepted the company's numbers without any independent verification.
As a result, the petition states that the divided board approved a permit that would allow the company to destroy 15 acres of wetlands at the heads of three creeks, when other sites and options are available that would reduce the destruction to a half-acre or less. The petition alleges that action violates the state's Chesapeake Bay Act and water quality laws.