Personality: Dr. Harold C. Sayles
Spotlight on the Veterans of Foreign Wars national chaplain
11/11/2021, 6 p.m.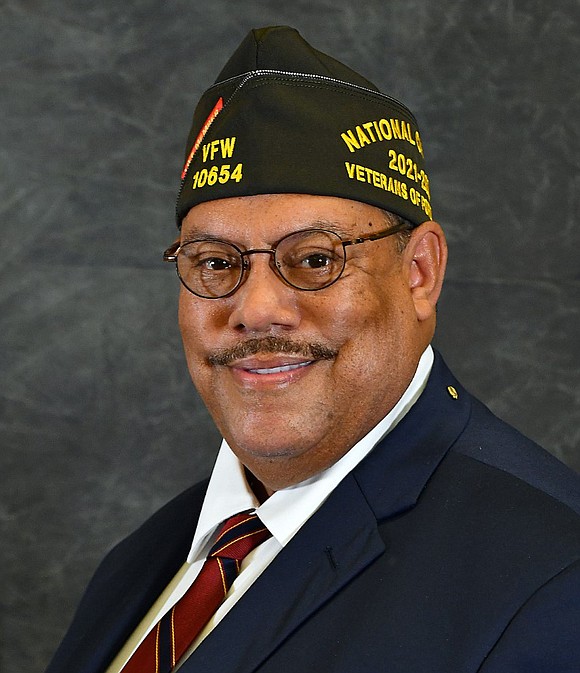 Thursday, Nov. 11, is Veterans Day, a time when the nation pauses to honor those who have served the nation.
Dr. Harold C. Sayles, who was elected during the summer as the 122nd national chaplain of the Veterans of Foreign Wars, plans to commemorate the day by attending the 65th Annual Commonwealth's Veterans Day Ceremony at the Virginia War Memorial at 621 S. Belvidere St. in Downtown.
The 11 a.m. ceremony, which will be held outdoors at the memorial's E. Bruce Heilman Amphitheater, will feature key- note speaker Kathleen T. Jabs, Virginia's acting secretary of veterans and defense affairs.
Patriotic music will be provided by the 380th Army Band, the Benedictine College Prepa- ratory Chorus and bagpipers from Benedictine and the St. Andrew's Legion.
If case of inclement weather, the ceremony will move indoors in Veterans Hall in the memorial's C. Kenneth Wright Pavilion and seating will be limited.
Veterans Day is important to Dr. Sayles, an Army veteran who served with the 82nd Airborne Division during Operation Urgent Fury during the 1983 invasion of Grenada, as is recognizing veterans and their service to the nation. Many veterans returning from Vietnam didn't get a warm homecoming, he notes.
He offers this advice to Richmond area residents seeking to honor veterans and commemorate the day: "If you know a veteran, just thank them for their service. It means a lot to them."
In his new national role, Dr. Sayles is tasked with overseeing "spiritual matters" for the VFW, which is committed to advocating for all veterans and serving more than 1.5 million members in nearly 6,000 posts. He serves
as an adviser to VFW chaplains within the organization, both in the United States and abroad, and serves on special committees devoted to dealing with such issues as mental health and suicide prevention.
He is busy already working on what he identifies as his top goal during his yearlong term in office – increasing awareness of suicide among Gulf War veterans and to provide help. He wants to establish a training program to help people identify and refer veterans experiencing mental health issues or suicidal thoughts to resources where they can find an open mind and an open hand.
"Although (some veterans) may seem alright on the outside, we need to talk to them to see how they are feeling, talk to them and let them know that there is help out there for them. They are our heroes," he says.
A native of Los Angeles, Dr. Sayles comes from a family of military veterans.
"We were taught that service to your nation should be part of your life's path," he says.
He served 11 years on active duty and later in the U.S. Army Reserve. He joined the VFW in 1988 while he was working in Germany.
With so little time to do so much work, he's aware of the challenges and ever more eager to see his job through to the best of his abilities.
"There is so much that I would like to do, but you only have one year to hit the ground running, hit your target and make a difference," Dr. Sayles says. "With so little time, you must stay focused on your goal."
Meet a veterans advocate, national leader and this week's Personality, Dr. Harold C. Sayles:
No. 1 volunteer position: National chaplain for the Veterans of Foreign Wars of the United States.
Occupation: Executive director of the Crater District Area Agency on Aging.
Date and place of birth: Aug. 1 in Los Angeles.
Where I live now: Henrico County.
Education: Bachelor's in sociology/psychology, San Diego State University; master's in public administration, Duke University; and Ph.D., American University.
Family: Wife, Dr. Cheryl Sayles, M.D.; three daughters, Joy, Jemise and Jasmine; and one son, Jovon.
The Veterans of Foreign Wars, or VFW, is: The largest veterans service organization for combat veterans. With more than 1.5 million members and 5,923 posts, our mission is to foster camaraderie among United States veterans of overseas conflicts. Our mission is to serve our veterans, the military and our communities and to advocate on behalf of all veterans. "No One Does More for Veterans" is our motto.
What led me to serve in the military: I come from a long line of military people. My father and his two brothers served in World War II and Korea. My mother's two brothers served, one in Korea and the other in Vietnam. I served, my brother and a sister served in the Army. We were taught that service to your nation should be part of your life's path.
Military recognition: I have received the Bronze Star, the Legion of Merit, five Army Commendation Medals, the Joint Service Commendation Medal, along with the Combat Infantry Badge, the Expert Infantry Badge, Master Parachutist, Canadian & Belgium Jump Wings, along with many other service awards. I have been voted the Veteran of the Year five times for the VFW Department of Virginia. And last year, I was the 4th Congressional District Veteran of the Year, sponsored by Congressman A. Donald McEachin.
When and where I initially joined the VFW: I joined the VFW in 1988 in Bamberg, Germany, when I was living there and working for the U.S. Department of the Army. Currently, I am a member of VFW Post 10654 located in Richmond.
When and where elected VFW National Chaplain: I was nominated by the Southern Conference, which is the 14 states in our region, and then elected at the 122nd National Convention in Kansas City, Mo., July 31 through Aug. 3.
Reaction when elected: I was very excited yet humbled, while my comrades have the confidence and faith that I can do the job.
National chaplain responsibilities and duties: To oversee spiritual matters for the VFW, as well as serving on special committees such as suicide prevention and mental health issues. I also serve as an adviser to the more than 6,000 state and post chaplains in the United States, Europe and the Pacific Islands.
No. 1 goal as national chaplain: To increase awareness of how many of our veterans who served in the Gulf Wars are committing suicide, to let them know that they are not alone and we are here to help them.
What I bring to this role that differs from previous chaplains: I am of a new breed, the younger version of the VFW. Other chaplains were much older and from the World War II or Vietnam era of veterans. I come with a younger outlook and thought process of the emerging future of the VFW.
How the pandemic is impacting my role as national chaplain: The pandemic has hampered my role considerably because hospital visitations are very limited. Many of the meetings now are via Zoom and access to veteran service groups is very limited as well. But we march on and do what we can, when we can. The veteran and his needs are what we are here for.
A perfect day for me is: There are no perfect days, but all we can do is our best and attempt to make the next day even better.
Three daily self-care tips: Prayer, meditation and a good meal.
Something I love to do that most people would never imagine: I love old television shows like "Sanford And Son," "M*ASH" and "The Andy Griffith Show." People would never believe I watch those shows.
Quote that I am inspired by: I actually live by two quotes from two of my heroes: "A life is not important, except in the impact it has on others." – Jackie Robinson; and "Service to others is the rent you pay for your room on Earth."—Muhammad Ali.
My friends describe me as: Funny and laid back.
At the top of my "to-do" list: Do some home chores that I do not get a chance to do regularly, like clean the garage and things of that nature.
Best late-night snack: Pretzels or ice cream.
Best thing my parents ever taught me: Whatever you do in life, do your best. If you dig a ditch, be the best ditch digger. If you mop floors, be proud of the work that you do. Don't do it for awards or rewards; do it because that is what you are supposed to do.
Person who influenced me the most: My father, on how to be a compassionate man not afraid to show his emotions. My mother, on how to care for yourself, from cooking, to washing clothes, to cleaning house and sewing. And both of them on how you should serve others.
Book that influenced me the most: "Who Moved My Cheese?" by Dr. Spencer Johnson.
What I'm reading now: "A Promised Land" by former President Obama.
Next goal: To establish a training program to help people identify and refer veterans who are experiencing mental health issues or experiencing suicidal thoughts. About 20 veterans die each day from suicide. This needs to stop, and we need to help facilitate our veterans getting the help that they need.