New courts, new spirit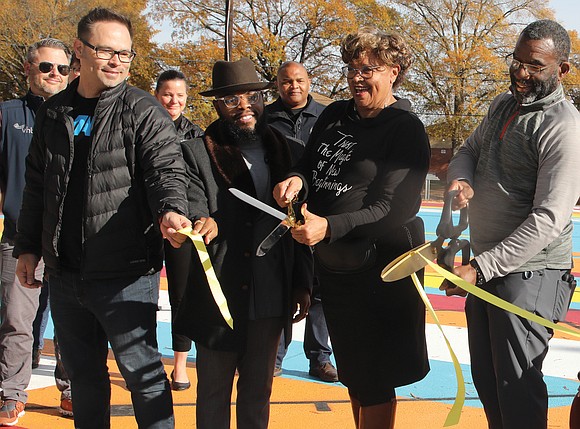 Call it Sharmar "Simba" Hill Jr.'s new house.
Last Saturday, a huge, colorful basketball court was dedicated in honor of the 3-year-old who was killed by a stray bullet in February 2020 while playing outside his family's home in the Hillside Court public housing community in South Side.
6th District City Councilwoman Ellen F. Robertson, who pushed the initiative with residents to redevelop the playground at Hillside Court, cut the ribbon to open the nearly 1-acre space that allows six half-court games to take place at one time.
She was joined by Richmond Police Chief Gerald M. Smith and others, including Nicholas J. "Nick" Cooper of Citizen HKS nonprofit that led the design effort with residents; her council aide, Tavares Floyd, who secured $325,000 in donated material and services from various companies; and Ralph Stuckey, director of resident services for Richmond Redevelopment and Housing Authority.
The court is the first phase of a $600,000 renovation of the playground in Hillside Court that sits behind the management office at 1500 Harwood St.
The second phase, to be completed next spring, is to include a new children's playground, a walking trail with exercise stops, a rope tunnel, a mini-soccer field and volleyball court, an edu- cational site, picnic tables and other amenities.
More than 50 residents from the public housing community pitched in to help design and paint a colorful mural on the bas- ketball court that was created by Richmond muralist Hamilton Glass. Mr. Cooper said that volunteers invested 50 hours and used 300 gallons of paint donated by Sherwin Williams to cover the concrete pad with the rainbow-style design, which also features Hillside Court's hawk mascot.
Sharmar Hill Sr. and Shaniqua Allen, the late child's parents, and sisters attended the ceremony, with Mr. Hill sharing artwork done representing his son.
Marthelia Houchens, president of the Hillside Tenants Association, and Joy Robinson of Hillside management staff, also were among those welcoming the new recreation space.
Ms. Robertson secured $150,000 in city funds, the RRHA donated $75,000 and the city's Public Arts Commission awarded the project a $50,000 grant to provide additional art, Mr. Floyd said, with the rest coming from donations.
Mr. Cooper credited team members Natsumi Oba, Marcos Borjas and Divya Nautiyal with playing key roles with residents in planning for the revamped playground.
Two construction firms, Michigan-based Barton Malow and Powhatan-based Colony Construction, teamed to install the concrete floor for the court and will be involved in building the second phase.
Virginia Sports Equipment of Lynchburg provided the outdoor basketball equipment and hoops and Lowe's also donated equipment.
Mr. Cooper said the planning work with residents and city officials stretched over 16 months, with construction and painting of the courts taking about two months. He and others praised the project as evidence of what can be done when everyone works together.
Police Chief Smith said that the new court reminds him of the playground in the low-income Hidden Valley neighborhood in Charlotte, N.C., where he grew up. He said that playing ball helped him stay out trouble and taught him life lessons. His hope is that the revitalization will help create positive outcomes for those who play on the courts.