New funding to add amenities, volleyball court and walking trail to Hillside Court playground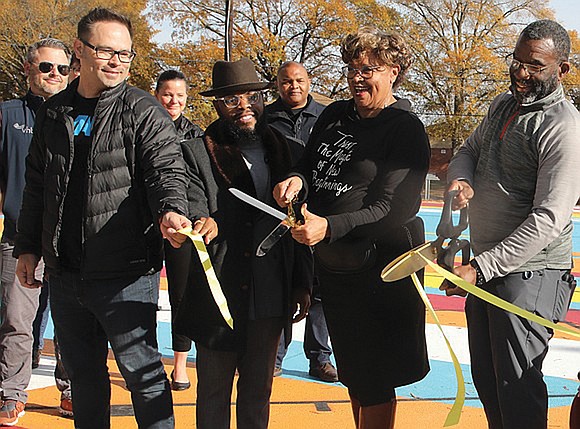 Another $150,000 is being poured into playground improvements at Hillside Court.
City Council approved spending the city tax dollars to make the playground more usable for the more than 500 children and youths who live in the public housing community located off Commerce Road in South Side.
The playground, dedicated to 3-year-old Sharmar "Simba" Hill Jr., who was fatally shot in February 2020 while playing outside his Hillside residence, reopened in November with new basketball courts and other improvements.
The new funding is to be used to add a children's playground and other amenities, including a walking trail with exercise stops, a volleyball court and picnic table, according to Nicholas J. Cooper of Citizen HKS, a nonprofit that joined with residents to create the design for the playground at 1500 Harwood St.
Work to add the latest additions is to begin this spring, Mr. Cooper said when the playground was reopened with its new courts and a dramatic mural.
The city funds add to $150,000 that the Richmond Redevelopment and Housing Authority has pledged to provide.
Tavares Floyd, legislative aide and citizen liaison for 6th District Councilwoman Ellen F. Robertson, said plans are to invest an additional $300,000 into recreation infrastructure in Hillside Court.
Mr. Floyd, who is credited with spearheading fundraising for the playground, said he has secured donations and pledges for $300,000 in funds and donated materials and services from various companies.
He said a second phase of improvements, still in the early design stages, would create even more recreational opportunities for children and families.