Surprised again, Richmond's Ashley Bland named state Region 1 Teacher of the Year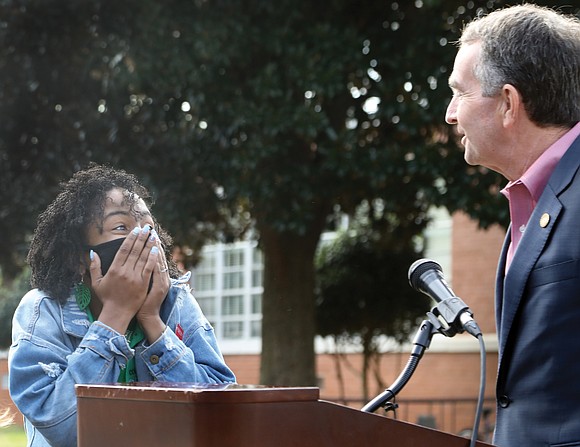 Ashley S. Bland thought she was giving a simple tour Monday of the outdoor environmental learning center she helped create at John B. Cary Elementary to Gov. Ralph S. Northam and his wife, First Lady Pamela Northam, Mayor Levar M. Stoney, Richmond schools Superintendent Jason Kamras and Richmond School Board Chairwoman Cheryl L. Burke.
But after speaking in glowing terms about Ms. Bland's work establishing the eco-lab and her efforts encouraging students interested in science, technology, engineering and math, Gov. Northam asked Ms. Bland to join him at a podium set up outside the near West End school and revealed the real reason for the gathering.
"We are all huge fans of yours and you are a superstar rock star," the governor told Ms. Bland. "I have a letter that announces that you have been chosen as the 2021 Virginia Teacher of the Year for Region 1." Surprise, surprise, surprise! Ms. Bland's stunned facial expression said it all. She stood in utter disbelief as thunderous applause and cheers rang out from an audience of teachers and students.
"I am beyond shocked and overwhelmed," said the 30- year-old Ms. Bland, who has been teaching since 2015.
"It is an extreme privilege to service Richmond Public Schools. The award is such an awesome experience.
"I also hope people will find out what RPS is all about, as well as witness firsthand what we are doing while providing awesome opportunities for our student scholars," she said.
In May, Ms. Bland was surprised by Mayor Stoney, Mr. Kamras and other school officials when she was named Richmond Public Schools 2021 Teacher of the Year during Teacher Appreciation Week.
With her latest selection, she is one of eight regional winners who will be vying for Virginia Teacher of the Year. She will have an interview with a panel put together by the Virginia Department of Education of classroom teachers, representatives of education and professional associations and members of the business community, with the new Virginia Teacher of the Year to be announced on Oct. 14.
"This is humbling," Ms. Bland told the Free Press. Gov.Northam announced that Ms.Bland will attend the 2021 Virginia Teacher of the Year selection event at the Governor's Mansion, where all regional winners will be present.
"I've never been to the mansion," Ms. Bland told the Free Press. "That represents a lot of opportunities, which are limitless."
Mrs. Northam, a former elementary educator, believes it is about time female educators, especially African-American women, are recognized for their tremendous dedication and service to young people.
"I love seeing Ms.Bland, a young woman, embracing all of this and passing it on to the next generation," Mrs. Northam said after Monday's program. "I am so excited about the work she does engaging children in their early years, sparking their love for learning, which will have a positive effect and trajectory for the rest of their lives."
A Westmoreland County native, Ms. Bland earned bachelor's degrees in bio-medical engineering and physics from Virginia Commonwealth University in 2013. During college, she served as the pre-college initiative chair for VCU's chapter of the National Society of Black Engineers.
It got her interested in teaching. During a master's program at VCU's School of Education, she participated in the RTR, formerly Richmond Teacher Residency, program at VCU. The program is a partnership between VCU and Richmond Public Schools to recruit, prepare, support and retain highly effective teachers and teacher leaders who are committed to the RPS students for the long term.
She is an instructional technology resource teacher working with students at three different schools, John B. Cary Elementary, Mary Scott Preschool and Binford Middle School, to enhance their learning and skills through exposure to technology.
Ms. Bland is a celebrity in her hometown. She remembers Matthew Loring, her sixth-grade math teacher.
"Mr. Loring took an extreme interest in all of us," she told the Free Press. "He knew a lot about math and encouraged me by making me feel like I could do anything. I hope I can leave the same legacy that he left. I hope I can inspire the next generation and come full circle."
Mr. Kamras and other school officials were beaming after Monday's surprise announcement.
"Ashley represents everything RPS stands for and what it means to teach with love," Mr. Kamras said. "I am so thrilled for her. She is just an incredible person, teacher and colleague. I want to make sure we keep her at RPS for a long, long time."