High marks for counselor
RPS Teacher of the Year honor goes to Thomas Jefferson High's Rahmah Johnson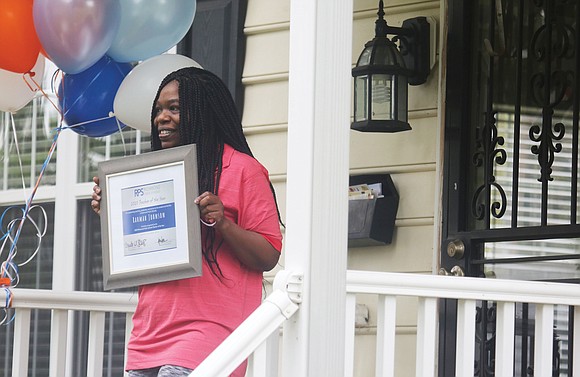 Like a Publishers Clearing House sweepstakes commercial, a band of dignitaries from Richmond Public Schools and the City of Richmond carrying bouquets of flowers and balloons followed by cameras and reporters marched down Ladies Mile Road last Friday morning to deliver a once-in-a-lifetime surprise.
Wearing masks and socially distancing, they stopped outside a home. RPS Superintendent Jason Kamras walked up to the door and knocked.
The door opened and Rahmah T. Johnson, a counselor at Thomas Jefferson High School, looked out.
Shock and awe suddenly swept her face as she recognized the high-powered people on her porch — Mr. Kamras, Mayor Levar M. Stoney; School Board Chairwoman Linda Owen; her school principal, Cherita Sears — and a cheering crowd in her front yard.
A beaming Mr. Kamras presented her with a certificate recognizing her as the RPS 2020 Teacher of the Year.
She stood breathlessly holding her heart as the cheers continued.
"Oh my God!" she said in a jolt of emotion as cameras flashed and local television stations recorded the jubilant scene.
"I love Richmond Public Schools and I love my students," Ms. Johnson said in a blend of tears and laughter.
"Public education is so phenomenal. We need to continue to support our schools. Our students will grow and become leaders in the community," she said, tears running down her cheeks.
"What I do is from my heart. This is amazing!"
Colleagues who had been clued in about the surprise drove past her home honking horns and shouting congratulations to celebrate her achievement.
The 1999 graduate of Virginia State University, who also earned her master's degree and an educational specialist certification in counseling leadership, has been working with students at Thomas Jefferson High School for the past four years.
"Ms. Johnson goes above and beyond her counseling duties every single day. She is more than a counselor," Ms. Sears said. "She is everything in our school.
"Ms. Johnson is adored by faculty as well as students and is deserving of this award," Ms. Sears continued.
For the Richmond school district, as well as school districts around the Commonwealth and nation, the coronavirus crisis has put pressure on students and their families, as well as teachers and counselors. That goes double for high school seniors and the teachers and counselors who are helping them get to graduation and the next step.
"We know how important counselors are, especially right now as they help to get seniors across the finish line," Mr. Kamras told the crowd.
"Ms. Johnson is a nationally certified counselor and she trains other counselors. An extraordinary number of T.J. students submitted her name for the award because they love her so much," he told the Free Press after the event.
Mayor Stoney said Ms. Johnson is a great example of RPS educators.
"It is apropos, during Teacher Appreciation Week, that we celebrate this amazing educator in our school system," Mayor Stoney said. "She is truly an asset to the district as well as to T.J."