VCUarts building now named for late dean Dr. Murry N. DePillars
George Copeland Jr. | 10/7/2021, 6 p.m. | Updated on 10/8/2021, 9:48 p.m.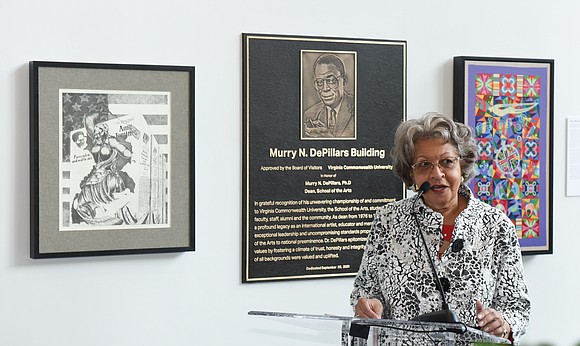 The sound of jazz broke through the commotion of traffic and people on West Broad Street as the sun set on the city last Thursday. Bands played outside and within the former Virginia Commonwealth University Fine Arts Building at 1000 W. Broad St. as guests gathered for a ceremony officially renaming the building after Dr. Murry N. DePillars, the late dean of VCUarts.
The jazz accompaniment was just one of several tributes to Dr. DePillars, an artist and jazz and blues aficionado who was the first African-American dean of the school from 1976 to 1995.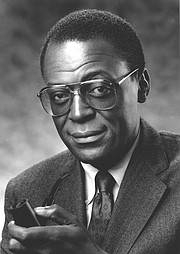 Dr. DePillars was a key force in developing VCUarts into one of the largest art schools in the nation. Under his guidance, enrollment nearly doubled to 2,400, the endowment grew and he led the expansion of the school's performing arts facilities.
Dr. DePillars, who was a member of the Richmond Jazz Society's advisory board, also helped organize jazz festivals and high-profile fashion shows on campus and in the city, giving art students showcases for their work.
He was a major influence on the arts within the university and within Richmond.
Alongside the 114,000-square-foot building's new signage displaying its new name, the lobby now includes a plaque of Dr. DePillars with some of his artwork. An exhibit featuring some of his works is open weekdays 10 a.m. to 5 p.m. to the public through Oct. 14 in the building's gallery.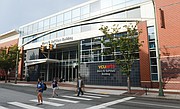 The exhibition was curated by Richard Woodward, founding curator of African Art at the Virginia Museum of Fine Arts, and includes pieces chosen by Mr. Woodward and Mrs. DePillars reflecting her husband's 40 years of creative efforts.
"I think that the commemoration is an absolutely wonderful thing to do," said his widow, Mary DePillars, during a news conference held earlier on Sept. 30 before the dedication ceremony.
"For so long, people who knew Murry and knew about his work wanted to see some public celebration of his legacy," Mrs. DePillars continued. "So today is just a phenomenal day in our lives. I just wish he could have been here to see many of the accolades that are coming his way. And Lord knows, he deserved every one of them and earned every one."
Dr. DePillars died in May 2008 at age 70.
The choice to rename the building for Dr. DePillars was approved by the VCU Board of Visitors in September 2020 during a time when the university was examining the Confederate memorials on VCU property. At the time, Dr. DePillars' name already adorned VCU Institute for Contemporary Art's new Learning Lab.
The arts building that now bears his name is the home to students from a variety of disciplines and houses the painting and printmaking, craft/ material studies, kinetic imaging and sculpture and extended media departments.
A native of Chicago, Dr. DePillars' importance to the university is clear. His tenure as dean issued in a focus on recruiting students, faculty and staff of color, bringing greater diversity and inclusivity both to the school and the artistic visions it nurtured and spotlighted.
Dr. DePillars' legacy extended beyond VCU. He was a true arts advocate, appearing before a House Appropriations subcommittee of Congress to defend funding for the National Endowment for the Arts. He also was a member of the AfriCOBRA artists' collective that started in Chicago in 1968. Throughout his life, his work also scrutinized harmful cultural biases, societal issues, institutional failings and more, that pushed against the status quo.
"It was very important to him, increasing representation within our community of the arts in an era before diversity and inclusion efforts were mainstream or even things that folks thought to pursue," Dr. Carmenita Higginbotham, the current dean of VCUarts, said during remarks at the event.
"For those of you who are in the audience who had him as a professor, as a mentor, you know about how his commitment to you, to your education, to how to thrive within your academic, personal careers is so important."
That impact was very clear for VCUarts sophomore Koi McAfee. The event held particular meaning for her family. She said Dr. DePillars was a key part in her mother Elba Anderson's time at VCU, writing a recommendation that helped further her mother's academic studies and paving the way for a career in art therapy.
"He had a great impact on her getting her doctorate," Ms. McAfee said. "He was a really great mentor to her, so I think it's cool that they're renaming the school building for him."
Other speakers at the ceremony included Mrs. DePillars and VCU President Michael Rao.
"While art was his passion, education was his vocation and excellence was the only acceptable goal and outcome," Mrs. DePillars said of her husband. "His legacy lives vibrantly, quietly, forcefully, always challenging the status quo. His legacy lives through you."